Women fighting cancer share hope with unique artwork on their heads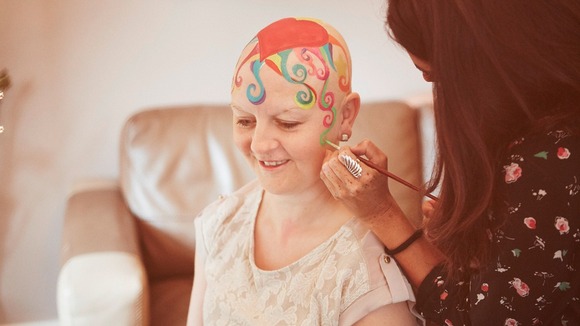 Katie Thorburn aged 16, Dawn Craddock aged 37 and 46 year old Pam Rhodes used their hair loss caused by chemotherapy to create bold artwork in a bid to raise money for cancer research.
The women all from Greater Manchester are kickstarting a huge fund-raising campaign £28.5m is needed to complete the Manchester Cancer Research Centre.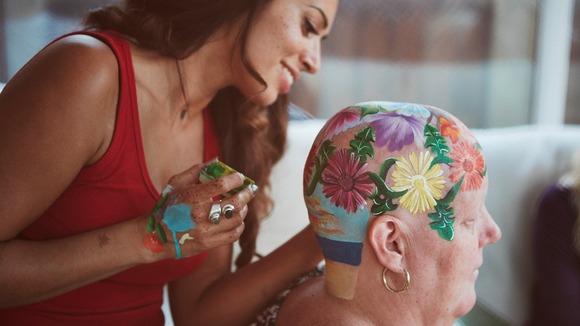 Being involved in the More Tomorrows art project has been so exciting and a real diversion for me during a tough time in my life. I was keen for a design which represented the key people in my life, including my sister in law who sadly died. We always associate butterflies with her, so it was lovely for them to be included in the design.
– Pam Rhodes from Flixton

Dawn Craddock, mum of 2 from Heywood, aged 37, is battling secondary breast cancer. Her cancer is being controlled thanks to a clinical trial, but the disease is sadly incurable.
I intend to be around for as long as possible for my family. Taking part in this project has been an absolute joy for me. I really loved the artwork on my head and cried when I had to wash it off in the shower! I wanted very bold, bright colours such as rainbows to my positive attitude to fighting the disease.
– Dawn Craddock

The campaign has been named the 'More Tomorrows' initiative and aims to generate the £6m needed to complete the new research centre - the largest of its kind in Europe which its hoped will open in 2014.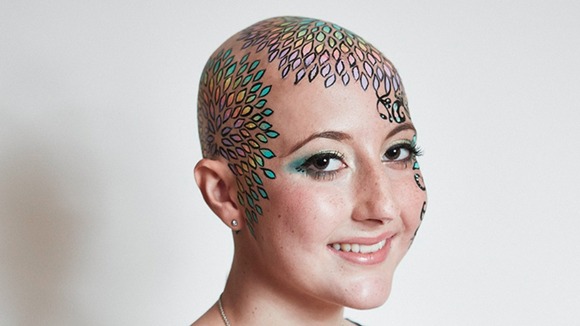 Aspiring model Katie, who is 16, developed pains in her leg in September 2012 and became worried when it stopped her playing netball. After an MRI scan the Stockport Grammar School pupil was diagnosed with osteosarcoma, a type of cancer in her bone, months of gruelling chemotherapy followed which saw her lose her long dark hair.
Being diagnosed with cancer at such a young age was a terrible shock, but I just needed to face it heard-on and cope the best I can for my friends and family.

I was thrilled with the design painted on my head. I love pastels and patterns and just wanted something simple and elegant. My head was painted the same week as my 16th birthday. The 'More Tomorrows' fundraising campaign is so important as the centre will help future generations affected by cancer and I want to make sure nobody has to go through what I've been through.
– Katie Thorburn from Heaton Mersey

You can find out more about the artwork and fundraising campaign on their website www.moretomorrows.org