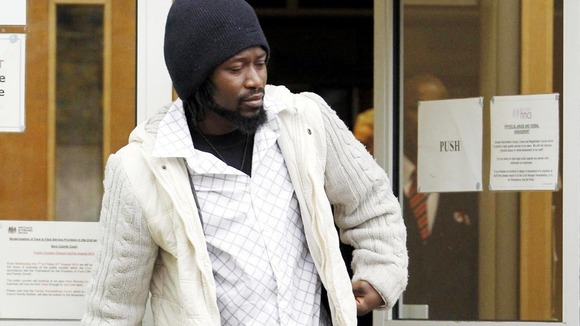 Five men who sexually exploited the "profound vulnerability" of a 15-year-old girl in Rochdale have been jailed for up to eight and a half years.
Many of her abusers plied her with vodka and cannabis before committing their offences, which took place in 2008 and 2009, Manchester Minshull Street Crown Court heard.
The majority of the defendants were only arrested last year after the grim portrayal of a largely Pakistani-heritage child sex ring preying on white girls in the town emerged into the public domain in a separate trial at Liverpool Crown Court which attracted huge publicity.
But one of the offenders, Congolese refugee Freddie Kendakumana, who received the longest sentence, was first arrested and interviewed by Greater Manchester Police (GMP) in December 2008 after the girl - also white - complained to police that he had raped her the month before.
The girl was told at the time by an interviewing male officer that it was important not to have any future dealings with Kendakumana - who had arrived in the UK earlier that year - while the investigation continued but she later confessed she had bumped into him at a flat.
The investigation against Kendakamuna, 27, was dropped before he was rearrested years later and finally charged, along with his co-defendants, in October 2012 - nearly four years after the girl made the initial complaint as several men went on to abuse her in the intervening period.
By that time the girl had undergone numerous video-recorded police interviews from the end of 2008 to October 2011, totalling more than 23 hours.
There have been other similar cases in Rochdale and other parts of the country.

"In this case we have heard evidence of other girls, friend and associates of (the victim), who were in similar situations to her.

"Just today the Rochdale Borough Safeguarding Children's Board have published their findings in relation to an investigation into the notorious Rochdale grooming case heard at Liverpool Crown Court.

"They have made findings about the liasions between police and social services in Rochdale.

"It emphasises the public concern about this sort of behaviour."
– Judge Jonathan Foster QC in sentencing remarks

In her victim impact statement, the complainant confirmed she had first gone to the police at the end of the 2008 but they told they had decided not to prosecute Kendakumana.

It was not until she was approached again by police in February 2011 when they began to fully investigate her claims, she said.

The court heard that she had chosen to give evidence in two trials "because I felt I didn't want other girls to be affected like me".

She said she found the court cases "the hardest thing I've ever had to go through".
I felt like my life and my personality was under the spotlight."I was being branded a liar and my life was shown to the wider public like something from a TV show."
– Victim impact statement read to the court