One lane closed and slow traffic due to vehicle fire on M602 Eastbound at J1 M60 / M62 (Eccles Interchange). Affecting traffic towards Manchester.
Al Qaida asked IS to release Mr Henning four days after he was captured, according to American filmmaker Bilal Abdul Kareem.
He told the Independent that Jabhat al-Nusra, a local commander of an al Qaida group in Syria, had criticised the kidnappers, saying they had no right to take Mr Henning hostage simply because he was non-Muslim.
Mr Kareem said he had spoken to Mr al-Nusra shortly afterwards and he seemed confident IS would release their British hostage.
Mr Kareem also claimed other rival groups had pleaded with IS to release the aid worker, saying it would harm those people who need food and help.
"One of the aid workers told them that the people rely on these convoys and actions like these would create problems for their efforts in helping the Syrian people," he told the newspaper.
"The Isis commander replied: 'We don't need convoys - we have Allah."'
Advertisement
Former Manchester United star and Champions League winner Paul Scholes believes Liverpool could be a good outside bet to win this season's competition.
Liverpool, the five-times European champions, are returning to the elite event this season after a five-year absence.
The Merseysiders begin their campaign later by hosting Bulgarian champions Ludogorets and will also play holders Real Madrid and Swiss side Basle in Group B.
Scholes, a member of the Manchester United side that won the 2008 final, expects Anfield to be a tough place for visiting sides. The 39-year-old, speaking in his role as a pundit for ITV's Champions League coverage, said: "Liverpool are the dark horse of the competition this year.
Liverpool qualified for the Champions League after a superb 2013-14 campaign in which they finished close runners-up to Manchester City in the Barclays Premier League.
Police are appealing for witnesses after a 14-year-old boy was attacked outside the DW rugby stadium in Wigan.
At around 10pm last Thursday, the victim and a group of friends were watching Wigan Warriors v Warrington Wolves when they noticed a group of youths glaring at them. Later, when they were leaving the stadium out of the South Stand, one of the earlier group approached and asked the victim if he had enjoyed the game.
The youth then punched the victim with such force that he knocked out several of the victim's teeth. The offender then ran off in the direction of the River Douglas.
A 16-year-old boy has since been arrested on suspicion of Section 20 assault GBH.
The Islamic State's brand of extremism needs to be snuffed out, according to US President Barack Obama.
Speaking at a fundraising event in Baltimore he said it was a "sobering time" but the threat from Islamic State has focused the world's attention on the need to "ultimately snuff out this particular brand of Islamic extremism that really has no place in the 21st century."
He added that he is leading an effort to form a coalition of Western allies and Gulf Arab states to take on the extremist group.
Downing Street has said David Cameron supports Barack Obama's planned air strikes against Islamic State militants in Syria but Britain is "not at the stage" of deciding whether to taking part in the military action.
The US President announced in a televised speech the military plans to "degrade and ultimately destroy" IS through air strikes in Syria and an expansion of strikes in Iraq.
Nearly 500 US troops will be sent to Iraq to assist its security forces while Mr Obama also wants Congress to approve a plan to train and arm Syrian rebel groups fighting IS.
The Prime Minister's official spokesman said:
Advertisement
The jury at the inquest into the death of a zoo keeper mauled to death by a tiger in Cumbria will visit the park where she died.
24 year old Sarah McClay was attacked at South Lakes Wild Animal Park in Dalton-in-Furness in 2013. Yesterday the inquest heard she was doing her "dream job",
The Foreign Secretary has said Alan Henning's family are "going through hell" after his capture by Islamic State militants.
Speaking to reporters in Paris, Philip Hammond said the Government was doing what it could but there were "limitations" to what they could do to help Mr Henning.
"We understand that Mr Henning's family are going through hell at the moment - it's a terrible time for them - we are doing everything we can to protect him," he said.
"They understand, because we've explained to them in detail, the limitations of our abilities and that we are dealing with a very barbaric organisation whose values are completely different to ours," Mr Hammond added.
Two 13 year old boys will be sentenced later for vandalising a Jewish cemetery in Manchester. The boys, who can't be named, pleaded guilty to criminal damage after deliberately cracking the headstones in Blackley.
The Foreign Secretary says the UK will play "a leading role" in the international effort against the Islamic State (IS) terrorist group.
Philip Hammond said today's meeting of 30 different governments was a "very positive step forward" in the process of building a coalition to take action against IS.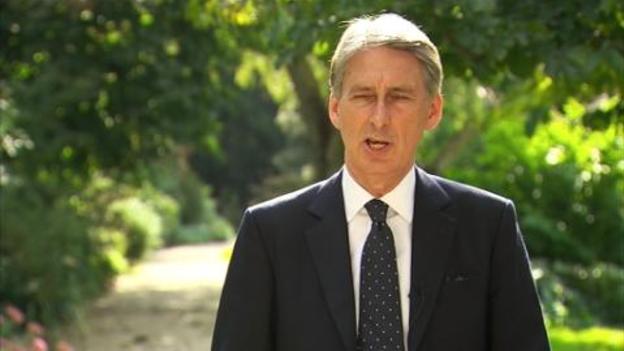 Load more updates
Back to top