A soldier who was injured in Afghanistan has raised thousands of pounds for the Help For Heroes charity by competing in one of the most gruelling races there is. The Tough Mudder challenge in Cheshire this weekend involves battling through obstacles designed by the special forces. And Mark Holloway completed it not once but twice, raising £5000 for the charity. His next goal is an even longer circuit in the US to double that amount.
One man's passion has landed him in the record books.
When Nick Bennett bought his first Aston Martin twenty years ago it started a life long fascination - not with cars but with James Bond.
Now, two decades on, his collection has more than 12,000 pieces in it and could be worth in excess of half a million pounds.
We sent our very own Odd Job, Matt O'Donoghue, to find out more:
Advertisement
A Bond buff from Leigh has got into the Guinness Book of Records for having the biggest collection of 007 memorabilia.
Our own Man with a Golden Pun, Matt O'Donoghue, has been out to meet Nick Bennett.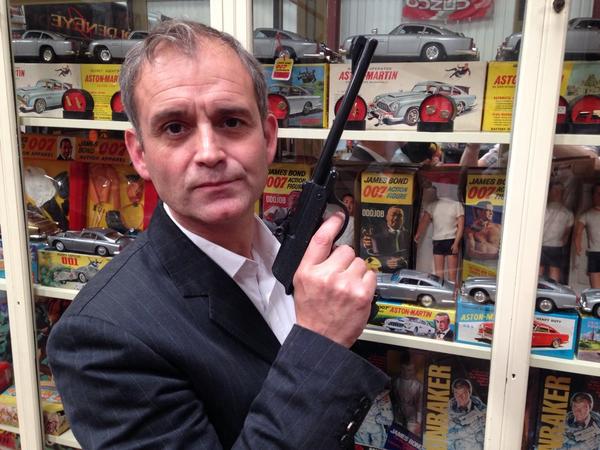 So what's your favourite Bond film? Who's the best, or can no one touch Connery? Let us know your thoughts on our Facebook page.
Sorry, this content isn't available on your device.
Nick Bennett is a collector of memorabilia. A record breaking collector. And his specialist subject is James Bond. The film buff has amassed more than 12 thousand different items all connected with the world's most famous secret agent. And they are lovingly looked after at his home in Leigh.
His collection is so extensive Nick's made it into the latest edition of Guiness World Records. He said "It's a dream come true. As a child I read the book from cover to cover and I cannot believe that I will actually be in this year's book as an official record holder."
Art lovers on Merseyside are coming together today to create a 'living' masterpiece. In tribute to the Dutch artist Piet Mondrian they will form a version of his work. Tate Liverpool is staging an exhibition of the influential artist's work including a reconstruction of his studio. People wearing different colour clothes will join together to mimic Mondrian's famous graphic and striking images. They'll gather at the Pierhead at 1pm and aerial photos of the work will be taken from the top of the Liver Building.
A World War two Spitfire pilot from Southport has done a skydive for charity.
Peter Proctor who is 92 said he did not feel nervous and he would love to do it again.
Olivia Patterson reports.
Advertisement
The life of a Salford born writer whose plays shocked a generation has been celebrated today.
Shelagh Delaney was just 18 when she created 'A Taste of Honey' which was staged on Broadway and even made into a film.
It explored themes like unmarried pregnancy and homosexuality which at the time were controversial in society.
Shelagh died three years ago but the artist Harold Riley today unveiled a tribute to his friend.
Ashley Derricott reports.
A 92-year-old World War Two veteran from Southport has taken part in a sky dive for charity.
Peter Proctor never had to use his parachute during the war but deployed one for the first time today in aid of an RAF charity.
Peter who was stationed in Africa, Egypt, India and Burma during the war made his jump with the RAF Falcons Parachute display team..
The money he raises will go to the RAF Association which provide welfare support to servicemen and their families.
A plaque has been unveiled at in memory of Salford writer Shelagh Delaney at her former family home.
The renowned artist Harold Riley revealed the plaque at the house on the Duchy housing estate where the playwright wrote "A Taste of Honey" when she was just 18 years old.
Artist Harold Riley will unveil a plaque in his home-city of Salford to commemorate one of his former subjects - Shelagh Delaney. Playwright Delaney received critical acclaim for writing "A Taste of Honey" when she was just 18 years old.
The plaque will be unveiled at a special ceremony commemorating Delaney's life at the house in Salford where she spent her childhood.
Load more updates