Sorry, this content isn't available on your device.
Three osprey chicks have finally hatched at a popular tourist attraction in the Lake District.
Just before Easter, the popular osprey couple arrived back at Bassenthwaite, laying three eggs in April.
The osprey chicks, which hatched on 18, 19 and 22 May, are doing well according to staff at the Lake District Osprey Project.
This is the fifth year that this particular pair of ospreys have successfully hatched chicks here at Bassenthwaite Lake. The female, known as 'KL' and her partner who is not ringed, are a successful pair and have captured the imaginations of the thousands of visitors who have come to see them over the last five years. I would encourage everyone, whether you are local or visiting the area, to come and see these magnificent birds this summer and get the latest updates on their fascinating story."
– Paul Brady from the Lake District Osprey Project
An exotic animal is settling into her new home at the Lakeland Wildlife Oasis in south Cumbria:
Advertisement
Isle of Man Railways have temporarily ceased all horse tram operations for approximately 10 days.
The decision has been taken after a number of the tram horses were found to be experiencing a respiratory issue, which is a common, non-fatal infection.
Action to contain the infection and to manage the recovery of the affected horses will be taken in line with veterinary advice.
The infection cannot be passed to humans.
These heart-warming pictures taken by Lancashire firefighter Phil Whittaker show the moment a horse was rescued from a ditch in Darwen.
Firefighters from Blackburn and Darwen rushed to the rescue to a farm off Private Road, Hoghton, at 2.30pm today.
Children playing in a nearby field noticed the horse, who is named Rosie, stuck in the ditch and called the emergency services.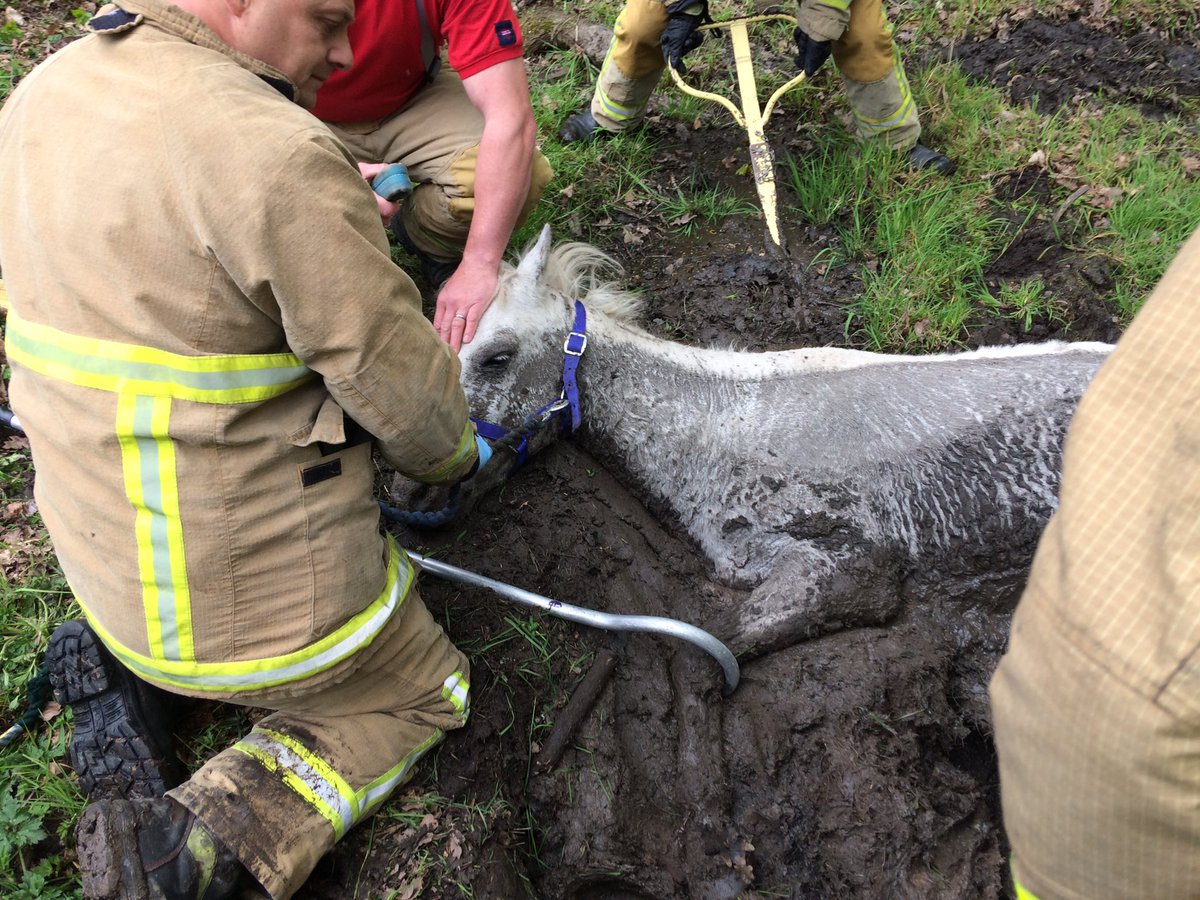 An abandoned dog which had two huge tumours hanging from its stomach is up for adoption following an operation to remove them.
Read the full story ›
Meet the latest and cutest arrival to the family at Knowsley Safari on Merseyside - a bouncing baby camel.
The tiny Bactrian camel, whose wild family is native to central Asia, arrived in the early hours of Sunday.
The youngster, who will be named later after a public competition, and mum, called Gertie, are said to be doing well.
"Conservation of species is the cornerstone of everything we do at Knowsley, so this new arrival is especially welcome.

"Our camels at Knowsley are classed as Domestic Bactrian Camels and our aim is to raise awareness for the plight of their wild cousins through events and visitor education.

"Gertie is a new mum so our expert animal team are keeping a close eye on how she's getting on with her first calf. She's seems to have really taken to motherhood and the new baby is already melting hearts with everyone. We're drawing up a shortlist of names which we are looking forward to seeing which the public decide."
– Eveline de Wolf, Head of Animal Collection at Knowsley Safari Park
Advertisement
Keepers at Chester Zoo are celebrating a very special arrival which took place as amazed visitors looked on.
They were fortunate to witness the birth of a critically endangered Bornean orangutan.
Staff are still to discover if it's a boy or a girl, but the zoo says the birth is a huge boost to conserving the species which faces an uncertain future in the wild.
The number of animal cruelty cases investigated by the RSPCA in the region has gone up. Merseyside, Greater Manchester and Lancashire are amongst the ten worst areas with more than 24 thousand cases in the last year. Even experienced staff like Vicky McDonald can be shocked by what they've seen.
Meet Billy - the smallest ever Zebu calf to be born at the Lake District Wildlife Park.
Read the full story ›
They may well be our best friend, but their behaviour can cost us thousands. Research released by Dogs Trust, the UK's largest dog welfare charity, has revealed that dogs with problem behaviours cost the average North West dog owner £335.88 a year, equating to £4030.56 over the average dog's lifetime. Shoes topped that list, with 58 per cent of dog owners in the North West replacing at least one pair of shoes a month.
Nearly a third of dog owners identified that their dogs displayed destructive behaviour when left alone. The charity is urging dog owners to consider getting their beloved animals trained to improve behaviour.
Load more updates