Bird keepers at Blackpool Zoo are feeling chirpy after welcoming the only Eastern White Pelican chick to be hatched in the UK since 2008.
Read the full story ›
The number of cruelty complaints investigated by RSPCA in the North West has gone up for the second year running.
Read the full story ›
Advertisement
Complaints of animal cruelty in the north west have gone up for the second year in a row. The animal charity, RSPCA, say there have been some very violent and often quite shocking incidents particularly in Greater Manchester and Lancashire.
Some of the more disturbing cases included a puppy that was filmed being thrown, kicked and his head trapped in a door. Also a cat was hit by a car and a passer by then kicked the animal like a football several times. In 2014, the RSPCA looked at more than 8000 complaints in Greater Manchester and 5200 incidents in Lancashire.
"Most of the complaints we receive involve animals being neglected or not receiving the right care. However, it is shocking that in 2014 people are still being deliberately cruel in what can be disturbingly inventive ways."
– James Yeates, RSPCA Chief Veterinary Officer
A woman who left a family of cats to live in cramped and filthy crates for two years has been jailed and banned for life from keeping animals.
Pauline Casey, 51, allowed the eight traumatised cats to reach such a state of filth and ill health that they were emaciated and on death's door.
Left untouched for 20 hours a day in a crate with no bedding and let out only to eat, they were forced to live in their own faeces and urine – completely at odds with a cat's instinct to keep clean.
Such was their 'horrendous' state, the vet who examined them said their case was the worst he'd seen in 30 years.
In a statement read out in court, vet Angus MacKenzie, said: "All the cats were in a filthy state when they were recovered, covered with faeces and urine.
"Their mental state is such that they may never recover."
He said their 'horrific ordeal' had left them seriously underweight, with one at starvation point.
All eight – four male and four female – had ear infections and their matted skin and fur was so filthy that not even fleas were prepared to live on it.
He described their tails as 'matted ropes' and their feet were swollen and sore.
It took two nurses 40 minutes to clean each cat. After their rescue, seven cats made a remarkable recovery. One had to be put down.
Appearing before Manchester Magistrates' Court, Casey admitted three counts of causing unnecessary suffering and four of failure to provide for the animals' needs.
The court heard a visitor to Casey's home on Bulrush Close, Worsley, spotted the cats.
At first, Casey lied saying they were in the crate for the RSPCA to pick up. But the RSPCA had no record of this and an inspector visited the house.
Prosecuting, David McCormick told the court: "She showed the officer a bedroom and the front of the property and the door had to be forced open.
"There were eight cats. They were filthy, smelly and thin. They had clearly been neglected." Casey also showed the officer a cockatiel in another room, in a filthy cage living in its own faeces.
Defending, Caroline Wilbraham said remorseful
Casey was the sole carer for her both her terminally ill mother and her disabled sister. She said Casey's original two cats had had kittens and she had become overwhelmed and unsure how to deal with them.
She said she had locked up the cats to keep them away from her mother's medical equipment and had not been 'intentionally' cruel.
Jailing Casey for six weeks, chairman of the bench Lesley Pickup told Casey: "You have kept cats for 18 years and you understand particularly well the level of care needed." She said the cats had endured prolonged suffering and one had to be put down as a result.''
A one-in-a-hundred-million albino lobster is to make his home at Sea Life Manchester. Theodore, as he's been named at the centre, was due to end up in a cooking pot before being spared that fate by Sea Life staff.
The lobster, which was found off the coast of Weymouth, has an absence of colour due to a lack of melanin. This extremely rare phenomenon causes the white colouring.
An elderly dog that was abandoned at a park in Manchester is being cared for at an animal hospital. The black and tan German Shepherd was found tied to railings at the entrance to Platt Fields Park at about 11.50 on Saturday morning. It is not known how long he had been there.
The dog's eyes were badly ulcerated and he was arthritic and underweight. He was wearing a black fabric collar but had no ID tag or microchip to identify him.
"This poor dog was desperately in need of some care and veterinary attention. But instead he had just been left on his own at the very time he really needed somebody.

"We know that sometimes it can be hard to afford veterinary care for your pets, but a caring owner should not be abandoning their animals like this.

"We want to hear from anyone who may have seen someone walking or leaving this dog or even someone whose friend or relative might have had a dog like this one until very recently."
– Natalie Avery, RSPCA Inspector
Anyone with information is asked to contact the RSPCA inspector appeal line on 0300 123 8018.
Advertisement
A 16ft python that would have been "capable of attacking a person" has been found dead in a canal sparking a police investigation.
Read the full story ›
The RSPCA is trying to find the owner of a cat that was rescued from a car engine in Stockport. The driver reported difficulty changing gear and a burning smell.
Greater Manchester Fire and Rescue Service freed the cat from beneath the battery. The cat only had some burnt hairs and has been nicknamed 'Lucky'.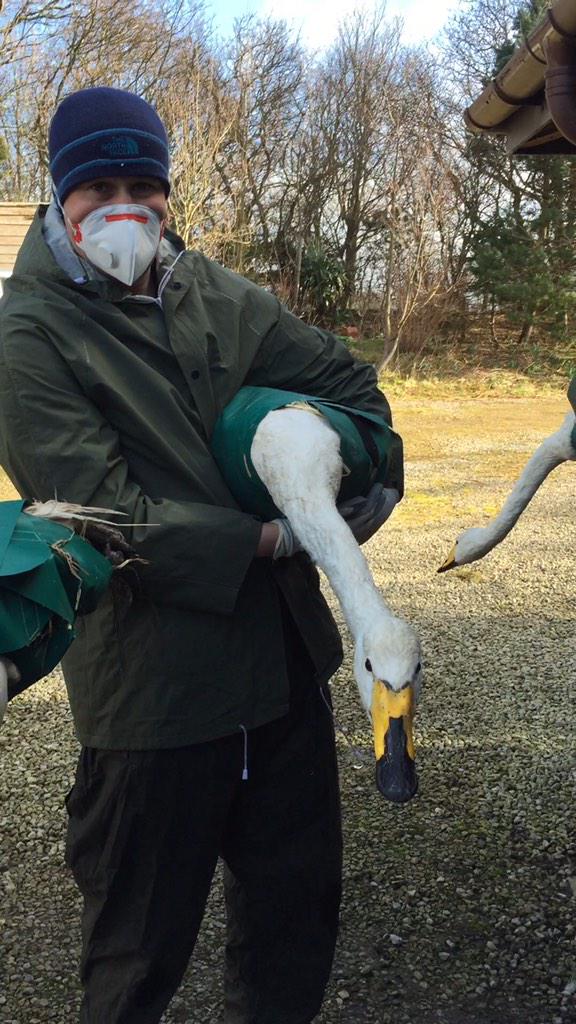 Participating in the #SwanCatch provided WRCOs with hands-on experience and the chance to learn from @_bto ringers and @wwtworldwide staff
Calls to the RSPCA reporting organised animal fighting have gone up by a third in the past five years. This is despite dog and cockfighting being banned for almost 200 years. Greater Manchester and Lancashire were two of the worst areas in the UK last year and Cheshire was also in the top ten for reported incidents.
"I've been investigating organised animal fighting for more than a decade and it still disgusts me, knowing that there are individuals who continue to take pleasure in watching animals brutally fight each other, often causing horrific and sometimes fatal injuries.
– Ian Briggs, RSPCA
Load more updates