Former chancellor George Osborne, axed under Theresa May, said the exit poll indicated a "catastrophic" night for the Conservatives. He told ITV:
It is early days, it's a poll, if the poll is anything like accurate this is completely catastrophic for the Conservatives and for Theresa May

It's difficult to see, if these numbers are right, how they would put together the coalition to remain in office.
– George Osborne
Tory Defence Secretary Sir Michael Fallon told the BBC:
This is a projection, it's not a result. These exit polls have been wrong in the past.
– Sir Michael Fallon
Shadow foreign secretary Emily Thornberry said it was still early but told Sky News:
They have been right for the last 20 years or so, 30 years, so I think we're on the verge of a great result.

Just think only seven weeks ago the hubris of the Prime Minister who was 20 points ahead, who wanted to have a blank cheque, she wanted to do whatever she wanted with the country with Brexit, with the economy, with our National Health Service and we said no and we meant it.
– Emily Thornberry
Ukip leader Paul Nuttall wrote on Twitter:
If the exit poll is true then Theresa May has put Brexit in jeopardy. I said at the start this election was wrong. Hubris.
– Paul Nuttall
Former England striker and Match Of The Day presenter Gary Lineker, referring to Mrs May's decision to call a snap election, wrote on Twitter:
I think Theresa May has won own goal of the season.
– Gary Lineker
It was a theme picked up by Christopher Snowdon, the Spectator writer. Referring to an interview Mrs May gave earlier in the week, he wrote on Twitter:
This is a new contender for the naughtiest thing Theresa May has ever done.
– Christopher Snowdon
Advertisement
Baffled by bellwethers? Mystified by marginals? This is your complete guide to the words used to discuss General Election results.
Read the full story ›
Sorry, this content isn't available on your device.
"May didn't go to Chester or Barrow or Wirral West, constituencies with tiny Labour majorities because the Tories saw them as a given."
Read the full story ›
Sorry, this content isn't available on your device.
Advertisement
We'll be posting updates, comments and results throughout the night here on our website and on Facebook and Twitter.
Read the full story ›
Follow Granada Reports and our social media accounts for all the latest update on tonight's General Election.
Read the full story ›
Theresa May's gamble on a snap election looks set to cost her overall control of the House of Commons, according to an exit poll released after the June 8 general election.
The BBC/Sky/ITV poll suggested the UK was heading for a hung parliament, with Conservatives 12 seats short of the 326 they need for an absolute majority in the Commons.
The poll put Tories on 314 seats, with Labour on 266, the Scottish National Party on 34, Liberal Democrats on 14, Plaid Cymru on three and Greens on one.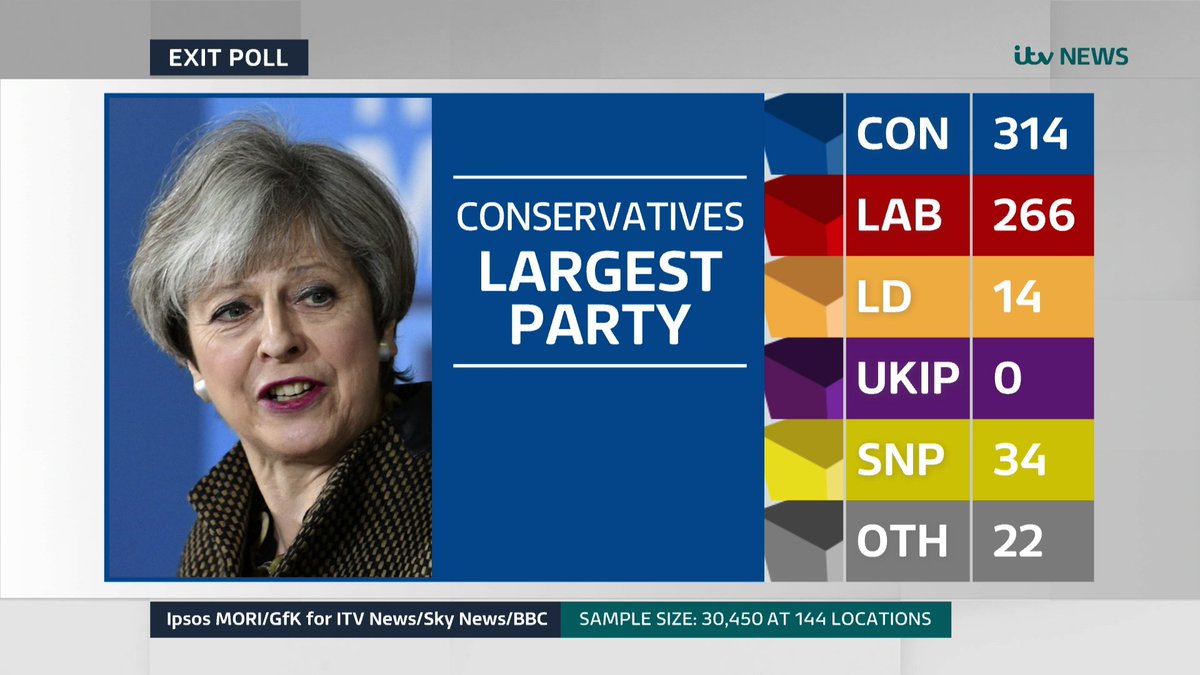 The polls are due to open this morning as voting in the general election gets underway.
Its been a hard fought campaign with a number of marginal seats in the region being hotly contested.
Load more updates