Attacks on Jewish people or their property in Britain have soared to record levels since the conflict in Gaza and Israel, figures show.
Read the full story ›
Advertisement
The Rt Rev Philip North who is opposed to female bishops has been consecrated at York Minster. The new Bishop of Burnley was consecrated by a bishop who has never ordained a woman.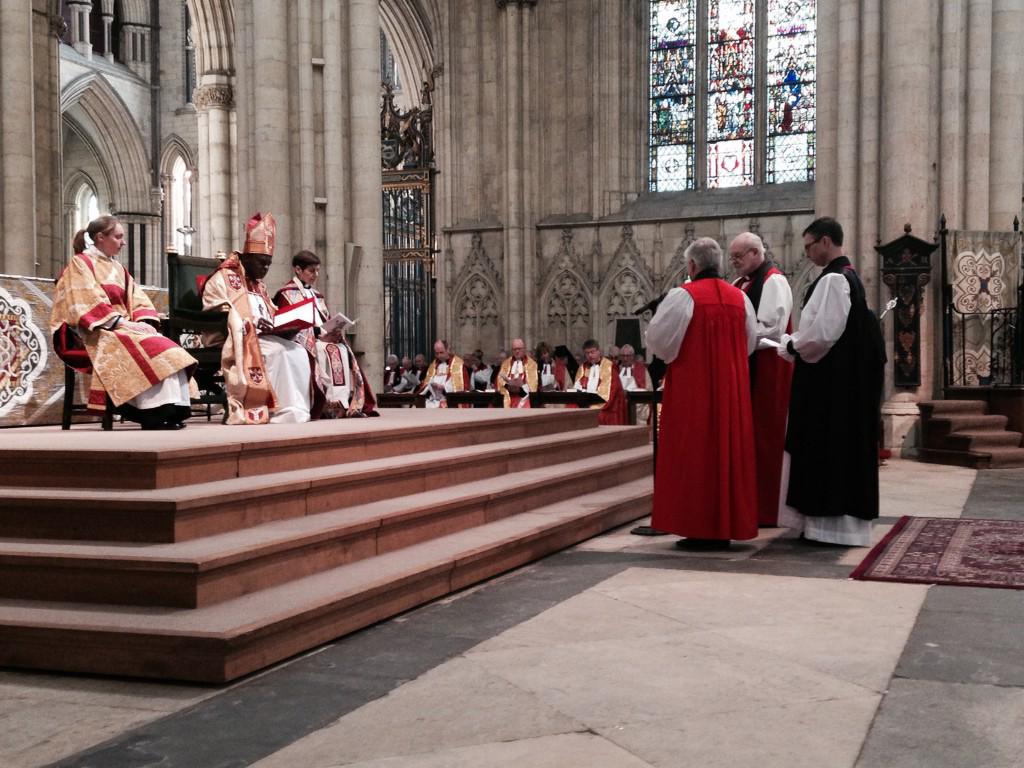 Controversial changes have been made to the Bishop of Burnley's ordination ceremony due to his opposition to women bishops.
Reverend Philip North is being consecrated at York Minster. But some bishops have said they won't be involved in the 'laying on of hands' part of the ceremony.
Read: Church of England's first woman bishop consecrated
Reverend Fleur Green of St Peter's Church in Darwen says it highlights divisions within the church.
History was made today when the Church of England consecrated its first ever woman bishop - the Reverend Libby Lane, who's the new Bishop of Stockport.
The service at York Minster saw an end to centuries of male leadership in the church.
It didn't go without incident, as one man in the congregation shouted out in opposition. But he failed to prevent the ceremony going ahead.
Advertisement
The Church of England's first female bishop is being consecrated in a ceremony this morning.
Reverend Libby Lane was named as the Bishop of Stockport in December.
Libby Lane, 48, is being ordained as the new Bishop of Stockport in a service, conducted by the Archbishop of York Dr John Sentamu, at York Minister.
It comes months after the General Synod formally adopted legislation allowing women bishops.
Speaking at the time her appointment was announced, the mother-of-two hailed the moment as "significant", adding: "I'm the first, but I won't be the only."
Libby Lane has been the Vicar of St Peter's Hale and St Elizabeth's Ashley, in the Diocese of Chester, since April 2007, and from January 2010 has also been Dean of Women in Ministry for the diocese.
After school in Manchester and University at Oxford, she trained for ministry at Cranmer Hall in Durham.
She was ordained a deacon in 1993 and a priest in 1994, serving her curacy in Blackburn.
Prior to moving to Hale, Libby was Team Vicar in the Stockport South West Team, and Assistant Diocesan Director of Ordinands in the Diocese of Chester, advising and supporting those considering a vocation to ministry in the church. She continues to be a Bishop's Selection Advisor.
Libby has served in the Diocese of York, as Chaplain in hospital and further education, and as Family Life Officer for the Committee for Social Responsibility in the Diocese of Chester.
She is one of eight clergy women from the Church of England elected as Participant Observers in the House of Bishops, as the representative from the dioceses of the North West.
Libby's husband, George, is also a priest; they were one of the first married couples in the Church of England to be ordained together.
George is Coordinating Chaplain at Manchester Airport, licensed in the Diocese of Manchester.
They have two grown up children who are currently studying in higher education.
Her interests include being a school governor, encouraging social action initiatives, learning to play the saxophone, supporting Manchester United, reading and doing cryptic crosswords.
The new Bishop of Stockport, Rev Libby Lane, will become the first woman to take the office in the Church of England today.
There will be a special consecration ceremony for Rev Lane at York minster.
Her appointment was announced just one month after Anglican leaders voted in favour of women Bishops.
It is an unexpected joy...it's a remarkable day for me and I realise an historic day for the church."
– Libby Lane, The Bishop of Stockport speaking in December
Click here to read more about Rev Libby Lane's nomination to become Bishop of Stockport.
Ashley Derricott, ITV News
Load more updates