The Duchess of Cornwall will be officially opening a new park in Chester today.
The Countess of Chester Country Park has been built on a former landfill site close to the city's hospital.
Camilla will be unveiling a plaque and a sculpture to mark the occasion.
Everton in the Community Chief Executive Officer and Deputy Chief Executive of Everton Football Club, Dr Denise Barrett-Baxendale, has been recognised in the Queen's Birthday Honours List.
She's being awarded a Member of the Order of the British Empire (MBE) for "services to the Merseyside community".
Since her appointment, the official charity of Everton Football Club has received a plethora of local, national and international awards in recognition of the life-changing work it undertakes in the community on a daily basis.
Advertisement
The Queen's Baton Relay will tour Manchester today, visiting local landmarks and celebrating the countdown to Glasgow 2014.
Read the full story ›
The Queen was in Blackburn today carrying out a tradition that dates back 350 years.
She was handing out Maundy money to 88 men and 88 women - a pair for each of her years.
And she even had time for a bite of Lancashire hotpot, as Amy Welch reports.
The Queen has given out Maundy money to 88 men and 88 women at Blackburn Cathedral.
Thousands of people have been lining the streets of Blackburn for a glimpse of the Queen.
The Duke of Edinburgh is also in town to give money to pensioners at the traditional Royal Maundy Thursday service.
Amy Welch reports.
Advertisement
The Queen commemorates Maundy by offering "alms" to senior citizens recommended by clergy and ministers of all denominations, in recognition of their service to the Church and to the local community.
During the service the Queen gives out the Maundy money to 88 men and 88 women - one for each of her 88 years.
Each recipient receives two purses, one red and one white.
This year the red purse contains a £5 coin, commemorating the 300th anniversary of Queen Anne's reign and a 50p coin commemorating the 20th Commonwealth Games in Glasgow this summer.
The white purse contains specially minted Maundy money.
This takes the form of one, two, three and four silver penny pieces, the sum of which equals the number of years of the monarch's age.
The Queen arrives at Blackburn Cathedral for the Maundy Thursday service.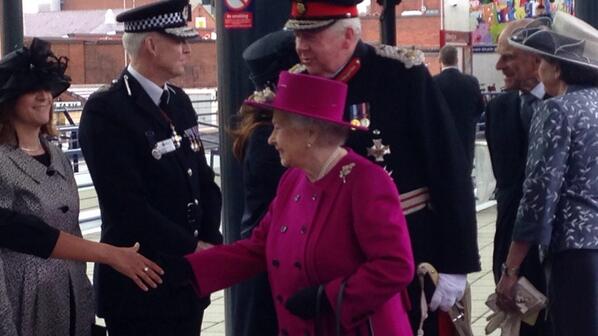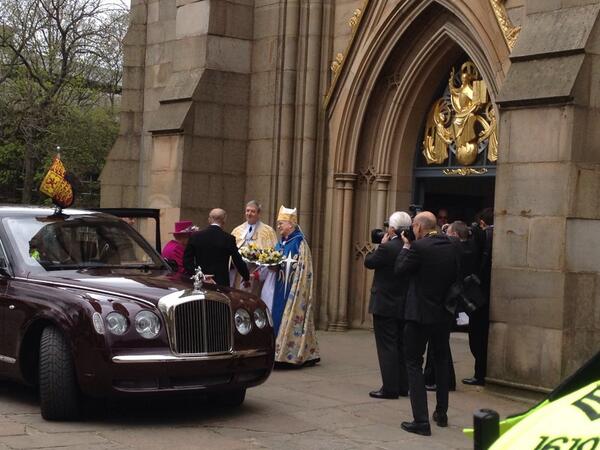 Load more updates