Former Liverpool defender Jamie Carragher says Mario Balotelli was a panic buy and would be surprised if he was at the club next season
Read the full story ›
Liverpool striker Mario Balotelli will be reprimanded by manager Brendan Rodgers after swapping shirts with Real Madrid's Pepe with his side 3-0 down at half-time.
Advertisement
Scott Quigg will defend his WBA World super-bantamweight title against Hidenori Otake in Liverpool next month.
Read the full story ›
Sir Alex Ferguson has backed the "formidable" Louis van Gaal to restore the club's fortunes.
The 63-year-old Dutchman is currently attempting to revitalise United after replacing David Moyes at Old Trafford in the summer.
Writing in his updated autobiography, Ferguson described Van Gaal as "a good choice".
He said: "Louis, who took the job, is what I would call a managers' coach. He's one of these committed ultra-professionals. Football is his life.
"Wherever he has managed, every footballer will have learned from him. He's strong, single-minded, as he showed again with the Netherlands at the World Cup - a marvellously entertaining tournament which supported my earlier point about teams counter-attacking nowadays en masse.
"I like Louis and have always had a good rapport with him. If I had to choose one word for him it would be 'formidable'.
"His urge is to play attractive football. He likes to watch players play and players train and to be involved at all levels, including in the development of young players.
"His background at Ajax shows that his faith in youth will not diminish. He was a good choice."
Real Madrid fans have started to arrive at Liverpool's John Lennon Airport ahead of their Champions League clash tonight at Anfield.
The Spanish side are firm favourites with the bookmakers but Liverpool, who have never lost to Real Madrid in a competitive match, will hope to looking upset the odds at home.
In a frustrating night for City in the Russian capital they surrendered a two-goal lead to draw 2-2.
Captain Vincent Kompany claims it is "unacceptable" Manchester City had no fans at their Champions League tie at CSKA Moscow while the home side apparently did.
CSKA appeared to have around 200-300 fans backing them at a game that was officially played behind closed doors at the Khimki Arena.
European governing body UEFA ordered the stadium to be closed as punishment for persistent offences by CSKA fans, who have been found guilty of racist behaviour three times in the past year.
Despite that, 650 people were still permitted to attend and the CSKA supporters who vocally backed their team were thought to have come from within an allocation of 300 tickets set aside for sponsors.
You say 'no fans' then all of a sudden you turn up and basically the only team that hasn't got fans is Man City. So who's getting punished? Who is being done for racism? Man City or Moscow?

I don't have a problem, they'll say it's sponsors and so on and they need to give certain allocations, but why are we getting punished?
– Vincent Kompany, Manchester City Player
Advertisement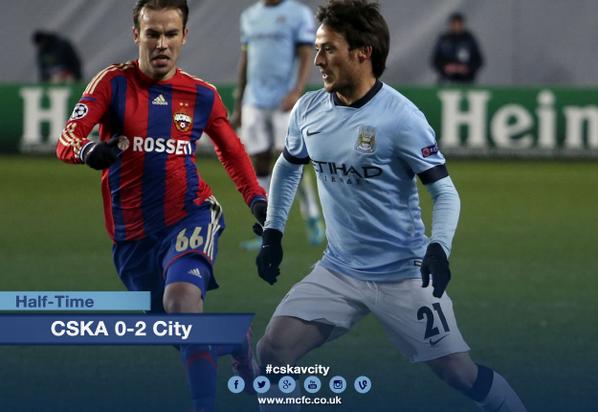 Manchester City midfielder James Milner was tackled by children from a school in Manchester on and off the pitch as he joined them for a kick about.
Sir Alex Ferguson said it was "nonsense" to suggest the correct processes were not followed prior to the appointment of David Moyes.
Read the full story ›
Fernandinho claims playing in an empty stadium in Moscow is of no benefit to Manchester City's Champions League quest.
No fans will be present as the Khimki Arena on Tuesday as City take on CSKA Moscow in a crucial Champions League Group E game.
CSKA have been ordered to play their next three European home matches behind closed doors as punishment for the racist behaviour of their fans.
The Russian side will therefore not have a partisan home crowd to motivate them but Fernandinho disagrees with suggestions that is to City's advantage.
I don't think it will be an advantage for us. It is always good when you play away because the fans support their team and it gives you more motivation to play well.

I don't think this is good for either team or for football.
– Fernandinho, Footballer
There are some anecdotal reports of City fans planning to watch from a neighbouring high-rise building, but the English champions will have to go it alone.
Load more updates