Unilever to invest in Port Sunlight factory
Unilever has announced it will invest £40m in Port Sunlight, its biggest UK factory while shutting sites in Swansea, Bridgend and Slough with around 800 jobs lost.
"This announcement is potentially fantastic news for Unilever Port Sunlight and Wirral and we will do all we can to support the company throughout their consultation process.

"We are tremendously proud of the quality of work that takes place at Port Sunlight and the relationship that has developed between Unilever and the village.

"The company'?s contribution to the culture, heritage and economy of Wirral is massive and I am pleased that a global company like Unilever continues to have confidence in Port Sunlight as a significant base for its operations.?"
– Cllr Phil Davies, Leader of Wirral Council
Unite, which represents some Unilever staff, says it is assessing the impact of today's Unilever announcement.
The firm said it is planning to close plants in Wales and Slough - but invest £40m at its Port Sunlight factory on the Wirral.
"Unilever's announcement is a long and complex one and we will be assessing the long-term impact for our members over the next few days.
"We have a meeting with senior management later this month and our prime concern is to ensure that there are no compulsory redundancies in the areas where we are represented.

"While we have no recognition in the plants in South Wales and Slough, we appreciate that this is a devastating blow to the workforces involved and the local economies, especially in South Wales which has been particularly hard hit by the recession.
"We have about 50 members at the Swansea site and we will be doing everything in our power to support those members at this very difficult time.

"The investment in the Port Sunlight plant is to be welcomed, but we need to study the statement and meet with management to see what it may mean in terms of increased employment opportunities in the future."
– Jennie Formby, Unite's national officer for food and drink
Advertisement
Unilever said its plans would "transform" Port Sunlight into a "significant centre of excellence" for the manufacture of shampoo and shower gel products, with growth potential for the next decade.
It added:
"There are two key drivers of today's proposals. The first is the company's strategy of making big acquisitions in key product areas to drive future growth, such as the purchase of Sara Lee's personal care business and Alberto Culver in 2010 and 2011 respectively, and then integrating them quickly into the business to maximise the potential of these new brands.
"The second is Unilever's focus on continuously improving how it is organised to fuel growth, including making the most of its global scale through the creation of fewer, bigger, better hubs for manufacturing and business services, and ensuring it is fit to adapt rapidly and efficiently to the ever-changing preferences of its consumers and customers.
"The proposed changes announced today both reflect this strategy and would substantially strengthen the company's platform for long-term competitive growth. They also demonstrate Unilever's long-term commitment to the UK as a key global location in terms of manufacturing, business services and as the home of its global headquarters."
– Unilever company statement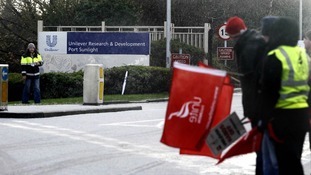 Unilever, which makes household brands including Persil and Hellmann's, is investing £40m in its Wirral plant - while others could close.
Read the full story
Unilver says the £40m investment plans for Port Sunlight would create 150 new jobs.
Transfers would increase workforce from 1,500 to 2,000.
Unilever has announced it's investing £40m in its biggest factory in Port Sunlight, Wirral, while shutting sites in Swansea, Bridgend and Slough with the loss of around 800 jobs.
The company makes household brands like Persil, Dove and Flora.
Advertisement
Back to top