Steve Prescott challenge
When former St Helens Rugby League player Steve Prescott was diagnosed with stomach cancer, he was given just six months to live. Six years on he's about to set off on the latest of his charity endurance challenges.
Prescott to start latest endurance challenge
Steve Prescott will start his latest endurance challenge this evening, as he swims the Humber on the first leg of a journey from Hull to Old Trafford.
Mike Hall caught up with Steve during training for the challenge.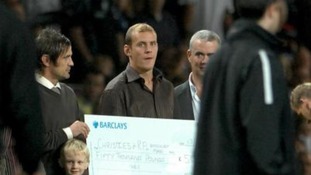 Former St Helens Rugby League player Steve Prescott is taking on a new charity endurance challenge
Read the full story
Advertisement
Back to top