Pride of Britain awards
A couple from Manchester and a teenager from Cumbria are honoured at the The Daily Mirror's Pride of Britain awards.
It's the awards ceremony where A-list celebrities play second fiddle to some of Britain's unsung heroes. The Daily Mirror Pride of Britain awards took place in London last night.
David Beckham, Prince Charles and Robbie Williams were there. Among the winners they paid tribute to - a couple from Wythenshawe who work with troubled young people and the Cumbrian schoolgirl Alice Pyne. Our reporter Sarah Rogers has more:
Advertisement
Ann Panks, 74, and husband Terry, 76, have opened their home to over 1,000 desperate, homeless young men. The pair from Wythenshawe converted an old police station into a family home taking up to 10 people, referred by social services, charitable organisations or by the probation service.
They've been awarded the Pride of Britain Local Hero award. Click the video to see the work they do. The ceremony will be shown on ITV1 at 8pm tonight.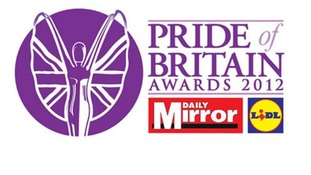 A Manchester couple and a Cumbrian teenager have been honoured at the 2012 Pride of Britain Awards
Read the full story
Back to top