Rugby star hit by bus
Sale Sharks rugby player Danny Cipriani is in hospital after being hit by a bus
Thank you for all the well wishes, means a lot. My ribs are a bit sore. Feel like I've been hit by a bus...
Thank you for all your kind messages - brightened up my day... Early night for me x
Big thank you to the paramedics doctors nurses and Kylie the policewoman - made a scary situation go smoothly #tramnights
Cipriani was involved in a collision with a First Bus vehicle.
A spokesperson for the company said today: "A pedestrian suddenly ran into the road and collided with a First Bus travelling at a safe speed.
"The police have investigated this incident and have reported that First and its driver are not at fault.
"We understand the pedestrian is an England rugby international, and we wish him a speedy recovery.
Advertisement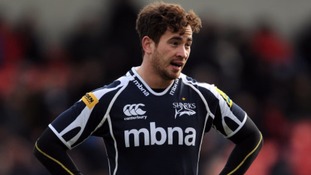 Sale Sharks rugby player Danny Cipriani is in hospital after being hit by a bus
Read the full story
Back to top