Olympic medalist Boardman says Britain is failing cycling
Wirral's Olympic gold medalist Chris Boardman says Britain is failing to embed cycling in every day culture
Members of a cycling club from Manchester have welcomed the introduction of British Cycling's ten-point plan to encourage people to get on their bikes.
Toby Burkill and Robbie Duncan from Manchester Wheelers say that there's still plenty to be done.
British Cycling has announced its ten-point plan as it aims "to transform Britain into a cycling nation".
Cycle-proofing
Meaningful consistent level of investment
Consistent political leadership
Cycling safety on the driving test
Strengthen cycling safety in the Highway Code
Road and cycle safety awareness
Reducing risk to cyclists from HGVs
Cycle training available for all children
Reduce speed limits
Advertisement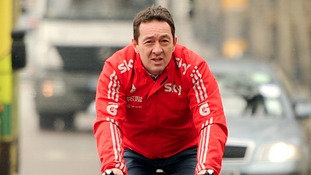 Wirral's Olympic gold medalist Chris Boardman says Britain is failing to embed cycling in every day culture
Read the full story
Back to top