Liverpool FC unveil plans for the new-look Anfield
Liverpool Football Club have unveiled plans for a major expansion of their iconic Anfield ground, which could see its capacity rise to 58,000.
Liverpool FC has unveiled plans to expand the capacity of their Anfield stadium.
If the club's proposals are agreed, two phases of development could see the stadium seat almost 60,000 fans.
The first phase has just gone on display to local residents..
Our correspondent Rachel Townsend reports:-
Liverpool managing director Ian Ayre believes "ambitious" plans to revamp Anfield demonstrate the progress being made by the club.
Great strides have been made on the pitch, with the side closing in on their first title in 24 years - and the club now hopes to match that off the field.
A public consultation programme will take place on proposals to rebuild the Main Stand to add 8,500 seats with a further 4,800 put into a revamped Anfield Road end with a planning application likely to be submitted this summer.
If there are no stumbling blocks work could start early next year and be completed in time for the 2016-17 season.
As part of our proposed stadium redevelopment project we have unveiled the detail of our ambitious plans for an expanded Main Stand and Anfield Road stand and are embarking on a consultation process which will shape and inform our planning application.
In order to move forward with our expansion plans we need to have certainty that we can navigate the complex planning process and secure the support of the community, local home owners, businesses and other key stakeholders. We started this journey just over 18 months ago and a lot of work has already been done, there is still an incredible amount to do, but good progress has been made so far and we are proud to be able to unveil our plans.
– Managing director Ian Ayre
Advertisement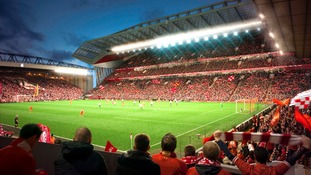 Liverpool FC have unveiled plans for the new-look Anfield - and a possible capacity of 58,000
Read the full story
Back to top