Breakthrough for campaigners calling for abuse investigation
David Cameron has ordered the most senior official at the Home Office to conduct a fresh investigation into what happened to a missing dossier of alleged paedophile activity at Westminster in the 1980s.
Advertisement
The Home Secretary Theresa May has ordered a comprehensive review into the handling of allegations of child sex abuse involving senior politicians at Westminster in the 1980s.
It follows a campaign by the Rochdale MP Simon Danczuk. He's welcomed news of an "overarching inquiry" into how public bodies have dealt with abuse claims over the years.
Alison Mackenzie has the story:
The Prime Minister's official spokesman said that he wants answers as "quickly as possible" over historic claims of child abuse by politicians at Westminster, but refused to confirm whether this would happen before the general election in May 2015.
"We want to make sure that answers are achieved as quickly as possible," Mr Cameron's spokesman said. "Clearly it needs to be a process that commands confidence and credibility as well."
The Prime Minister was said to have taken a "close personal and detailed interest" in the claims being made over the weekend and has held "extensive discussions" with his team.
An independent inquiry into the handling of child abuse cases by public bodies could be upgraded to a full public inquiry if the panel decides it is necessary, the Home Secretary said.
Home Office minister Norman Baker has said that the Government has made it clear it wants those responsible for "heinous" historical child sex abuse brought to justice.
Mr Baker said: "We do take these matters extremely seriously and all ministers have made it very plain that we expect the police, the Crown Prosecution Service and others to take all necessary (steps) to bring those responsible for heinous crimes to justice."
He added: "The fact that these matters are getting extra coverage these days, and the fact that the Government has made it very clear that we take these matters seriously, is encouraging people to come forward, including with historical allegations, and that is exactly right.
"We expect the police and Crown Prosecution Service to investigate them properly."
Advertisement
An online petition calling for a national inquiry into historic sex abuse allegations in Parliament has gathered over 77,000 signatures.
The petition, launched by Tom Watson, MP for West Bromwich East in the West Midlands, said if an inquiry does go ahead it must be equipped with the necessary powers to properly delve into the allegations.
He added: "Having talked to a number of survivors and retired child protection specialists I know one thing: if this new inquiry is not given the power to obtain all documents it wants to see, then it won't get anywhere."
David Cameron said it is vital police investigating historical child sex abuse allegations can go "wherever the evidence leads" to "pursue the guilty".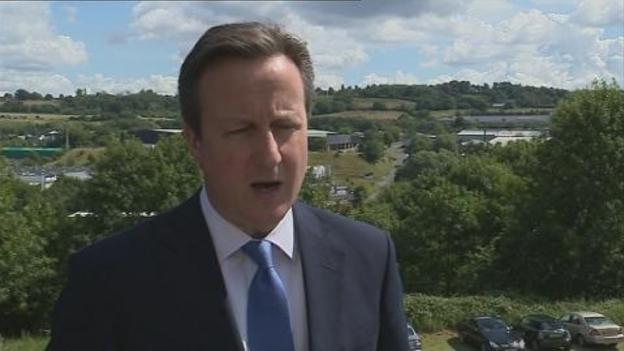 "Three things need to happen: robust inquiries that get to the truth, police investigations that pursue the guilty and find out what has happened, and proper lessons learnt so we make sure these things cannot happen again. That's what will happen under my government," the Prime Minister said.
Home Secretary Theresa May is expected to announce a review into claims of historic child abuse in the Commons later today.
Prime Minister David Cameron has said there will be "no stone unturned" by an independent inquiry into how public institutions handled allegations of child abuse, declaring it was "vital" to find out the truth of what happened and to learn lessons.
Home Secretary Theresa May is expected to announce a broad independent inquiry later today as she makes a statement to MPs about claims of organised child abuse at Westminster in the 1980s.
Conservative peer Lord Brittan has welcomed the probe, but insisted that claims he failed to deal adequately as home secretary with a dossier of information handed to him by campaigning MP Geoffrey Dickens in 1983 were "completely without foundation".
Load more updates
Back to top
Latest ITV News reports
Rochdale MP Simon Danczuk, who has been campaigning for a public inquiry into child abuse, writes for ITV News.

As the Government announces an inquiry into the handling of a 80s dossier alleging child sex abuse by MPs, here are some of the main facts.