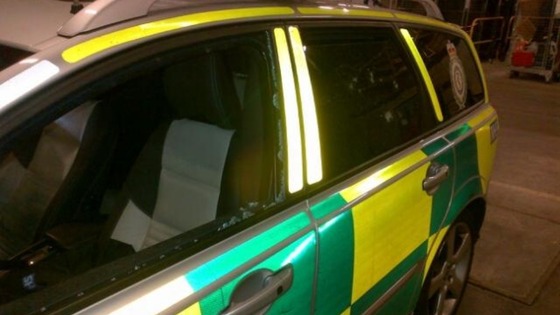 Police want to trace thugs who smashed the windows of an ambulance as paramedics attended an emergency in Manchester.
At around 2.40am on Sunday 7 July 2013, a Rapid Response Vehicle was called to a house on Polefield Circle in Prestwich.
Whilst the ambulance crew were inside, offenders smashed the nearside window and stole a mobile phone.
Detective Rob Leacy based at Bury Police Station said: "We believe this was an opportunist thief who saw that the ambulance was unattended and thought it would be an easy way to try and steal something.
"This mindless act had serious implications and forced the ambulance service to take one of their valuable vehicles off the road and unable to respond to further emergency calls.
I would ask anyone who may have witnessed the incident or knows who may be responsible to contact us."