A family leapt from an upstairs window just seconds before an explosion ripped through their home.
A quick- thinking neighbour rushed to get a mattress for them to jump onto. John and Hazel Wilson from Ashton-Under-Lyne were seriously ill and rushed to hospital.
Their daughter, who's in her 20s, was also seriously injured.
Our correspondent Rachel Townsend has the story.
A hero neighbour who helped rescued people from the bedroom of their blazing home has told of the horrific moment the entire house exploded.
Read the full story ›
Advertisement
The man who jumped out of an upstairs window of a house which exploded just seconds later had survived a double lung transplant.
Read the full story ›
Three people have suffered serious injuries after an explosion destroyed a terrace house.
Read the full story ›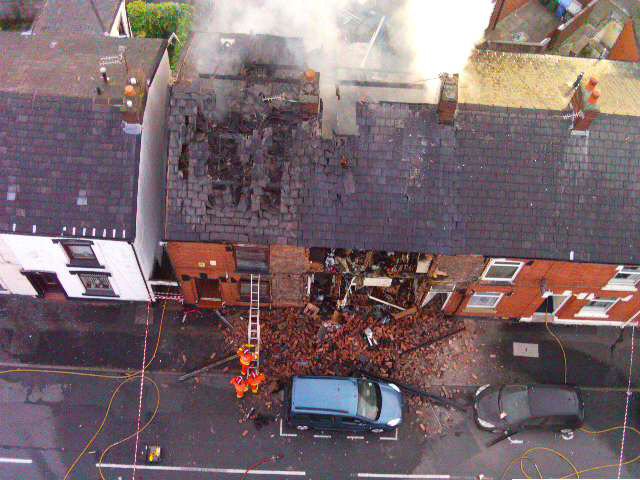 Up to 10 people are being treated after they were injured in an explosion at a house in Ashton Under Lyne this morning.
Emergency services were called to Curzon Street just after 5 am after reports of an explosion in a terraced house.
They found a number of people lying injured on the floor. Firefighters and paramedics gave first aid before the casualties were taken to hospital.
As crews tackled the blaze gas and electricity supplies to neighbouring properties were turned off and surrounding roads closed.
Up to 30 firefighters have been at the scene as investigations get underway to establish the cause of the explosion.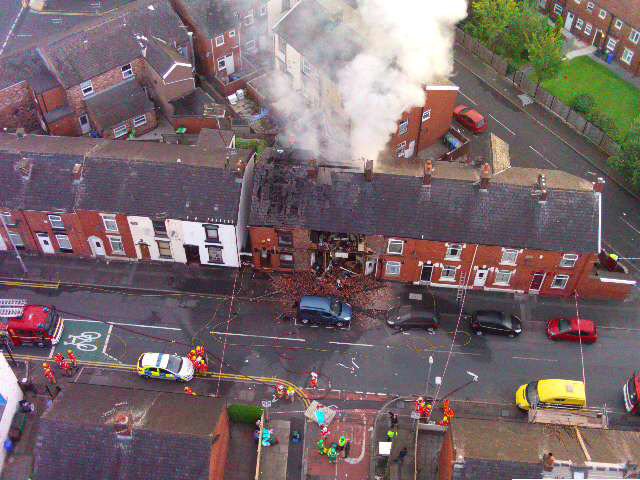 When crews arrived there were a number of people injured on the floor and it was obvious there had been an explosion in the house. We helped them but they were later treated by paramedics from North West Ambulance Service while we tackled the fire using covering jets. We haven't been able to go inside the house as both the front back walls have completely collapsed.
– Station Manager Alan Ashworth, GMFRS
This shows the extent of the damage caused by a gas explosion to a house in Ashton. We've rescued several people. https://t.co/ACRSA19Sgu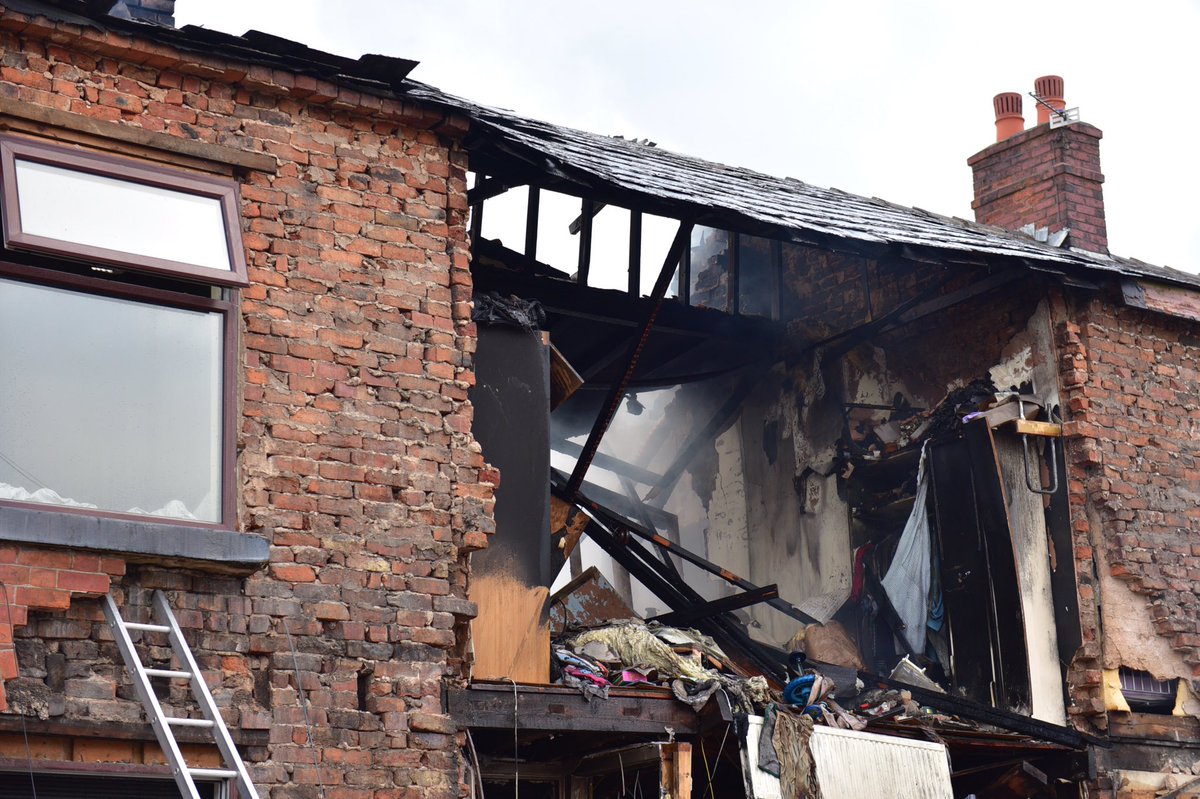 Major damage to the house where the explosion was 10 people now thought to have been hurt, some seriously https://t.co/NFvrXvTaDk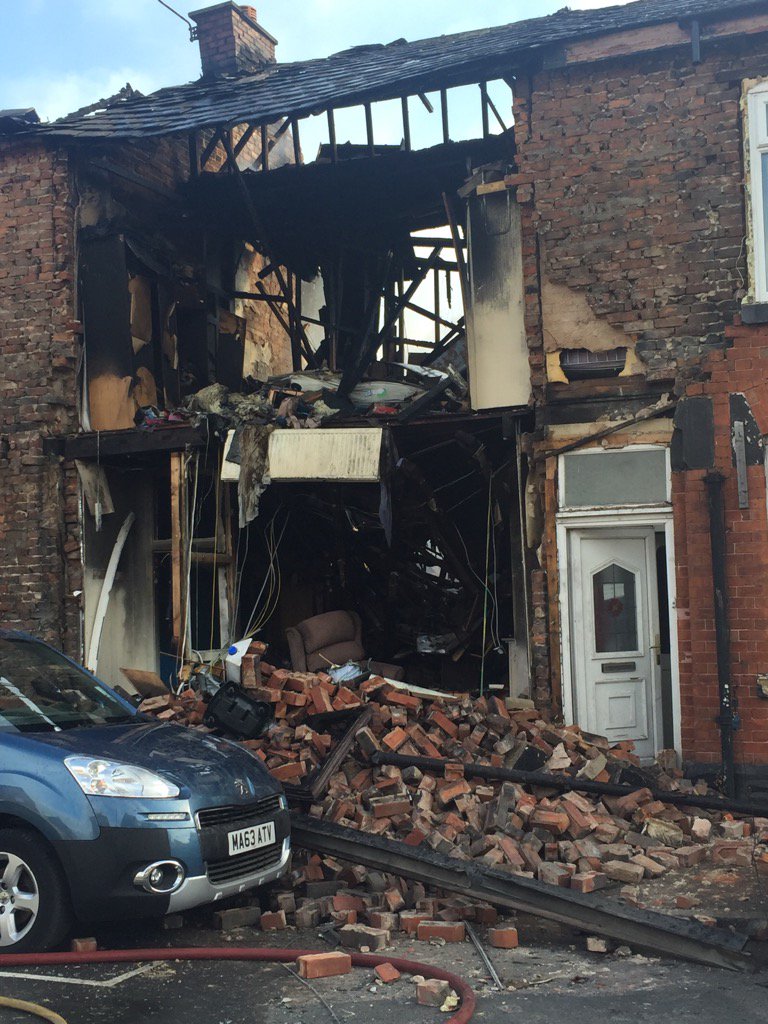 Advertisement
A man has been arrested in connection with the death of Bradley Moore in Ashton-under-Lyne.
Police say Bradley may have been hit by a car shortly after being assaulted.
A 44-year-old man has been arrested on suspicion of causing death by dangerous driving .
Four youths - a 12-year-old boy, two 16 -year-old boys and a 17-year-old boy- have been charged with murder and appeared at court.
The family of a Bradley Moore, 43, who was murdered in Ashton-under-Lyne says he will forever be in their hearts.
Read the full story ›
A boy who is just 12-years-old is facing a murder charge at a court in Manchester. He can't be named for legal reasons, but he is one of four youngsters charged with killing 43-year-old Bradley Moore in Ashton-under-Lyne.
Tributes have been paid to Mr Moore who died following an incident near a fast food restaurant in the centre of the town.
Tim Scott has this report:
A man who was murdered in Ashton-under-Lyne has now been named as 43-year-old Bradley Moore.
Shortly before 10.50pm on Wednesday 27 July 2016 police were called to Warrington Street in Ashton town centre to reports of an assault.
Bradley, who is from Ashton, was taken to hospital where he sadly died in the early hours of Thursday 28 July 2016.
Four boys appeared at Oldham Magistrates' Court charged with murder today, Monday, 1 August 2016.
The boys, who are aged 12, 16, 16 and 17, will appear at Manchester Crown Court this afternoon.
Load more updates