Aussie plots Corrie marriage proposal from 9,000 miles away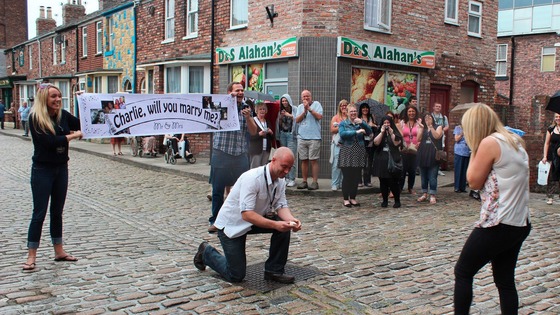 The boyfriend of an Australian Coronation Street fan plotted a surprise marriage proposal on the cobbles from 9,000 miles away.
Charlie Acton had no idea what Keith Monks had in store when she began the tour of the former Corrie set in Manchester.
She stepped onto the street and saw childhood sweat-heart Keith, 31, on bended knee holding a ring with a huge banner behind which read: "Charlie, will you marry me?"
She answered immediately 'yes'.
The pair, from Perth, had travelled to the UK to visit friends and Keith secretly enlisted the help of the Coronation Street Tour which began earlier this year when filming was moved from the old Quay Street set to Trafford Quays.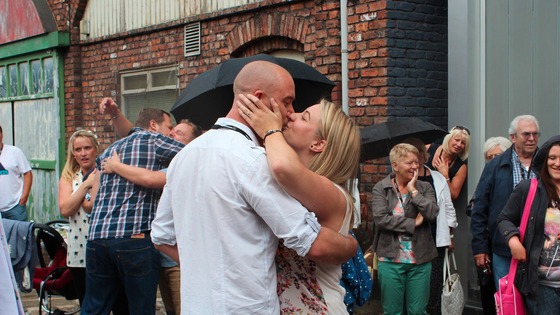 "Charlie is a huge fan of Coronation Street and so I thought it would be a great idea to propose on the tour.

"I was so happy that it was a surprise for her, it will be a fantastic story to tell our grandkids in the future."
– Keith Monks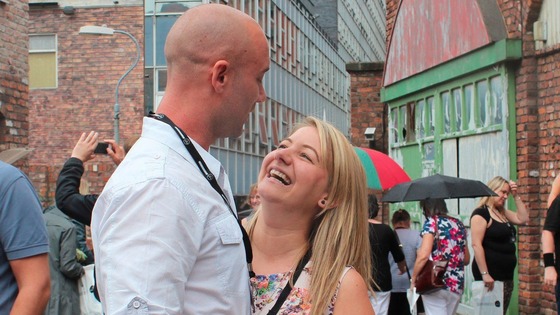 "I had absolutely no idea.

"I am a die-hard Coronation Street fan and this was just brilliant. "Even though we live in Australia I never miss an episode. "I am so happy."
– Charlie Acton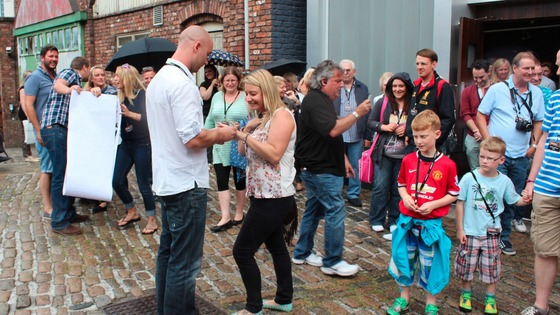 Charlie's tour guide, Andy Steele, made sure that she was the one to open the door to Nick's Bistro for the grand reveal onto the Street.
Waiting outside the doors were close friends Ellie-May Flannery and her partner Jay Pennington who were holding the banner and Keith who waited with baited breath on one knee.
A crowd of supporters also formed to cheer the couple and congratulate them on their engagement.