Blackpool chairman Karl Oyston is facing a Football Association disciplinary hearing today for sending insulting texts to a supporter.
Oyston, 47, has admitted to five breaches of FA rules for a text message exchange in which he called a Blackpool fan "a retard".
The FA launched an inquiry last December following a complaint by supporter Stephen Smith and in March charged Oyston with using "abusive and/or insulting words", with reference to disability.
Oyston denied the charge and challenged it as "unlawful", claiming the texts were private and had occurred outside business hours in response to unsolicited contact..
But the FA announced at the end of last month that Oyston's appeal had been dismissed by an arbitral tribunal and disciplinary proceedings would continue.
FA rule E3 is the same one former Wigan chairman Dave Whelan breached late last year.
Whelan accepted a charge of improper conduct following his comments about Jewish and Chinese people and was suspended from all football activity for six weeks and fined #50,000. He was also ordered to undertake a mandatory education programme.
Oyston's text row with Smith occurred after the chairman's mobile number had been posted on a social media website.
The chairman later apologised for his texts, in which he called Smith a "retard" and told him to "enjoy your special needs day out", via a statement on the club's website.
Blackpool chairman Karl Oyston has admitted using abusive language towards a supporter with reference to disability.
The FA charges arise from a text message exchange where Mr Oyston used abusive and/or insulting words towards a supporter of Blackpool FC, which were aggravated by a reference to disability.
An FA hearing is scheduled to take place on Tuesday 9 June.
Advertisement
New Blackpool manager Neil McDonald admits he faces a tough ride as Seasiders' boss, describing it as "a big challenge, but a brilliant challenge."
McDonald has served as Assistant Manager to Sam Allardyce at Blackburn Rovers and Bolton Wanderers, and played for Preston North End.
The new man in charge at Bloomfield Road says he wants to get Blackpool back to where they were but its going to be a huge challenge. Blackpool have hired former West Ham assistant Neil McDonald as their new manager.
The Seasiders, will start next season in League One following their relegation out of the Championship. And McDonald knows he'll have his work cut out giving the scale of problems at the club culminating in a pitch invasion by disgruntled fans at the end of last season. He has only seven professionals under contract - and there is no senior goalkeeper on the club's books so he'll have to build a squad virtually from scratch.
– Neil McDonald, Blackpool Manager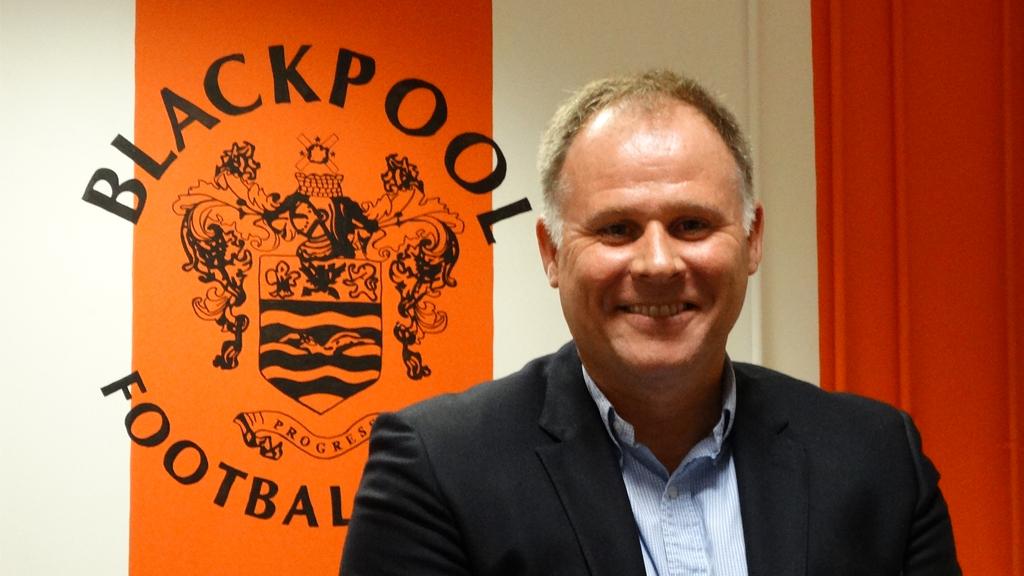 McDonald, 49, joins the club from Premier League side West Ham United, where he has spent the past four years as assistant manager to Sam Allardyce.
"This is a great opportunity for me, it's a massive football club in my opinion and I'm really looking forward to the challenge," McDonald told the Club's website.
"It's a challenge that's going to be difficult - wherever you go it's always difficult - but it's a challenge that I'm really up for and really excited about.
Blackpool FC has been charged by the Football Association over crowd incidents during the match against Huddersfield Town on May 2.
Read the full story ›
Advertisement
In an open letter to Blackpool FC's owner, Owen Oyston, the fan group Tangerine Knights has demanded he put the club up for sale.
Read the full story ›
Blackpool FC Chairman Karl Oyston has been charged by The FA in relation to comments made in a text message exchange.
It is alleged that the misconduct constituted five breaches of FA rules, and that during the text message exchange, Mr Oyston used abusive and/or insulting words towards a supporter of Blackpool FC.
It is further alleged that each of these five breaches of FA Rules are considered as 'Aggravated Breach' as each included a reference to disability.
Mr Oyston has until 6pm on March 30 to respond to the charge.
Hundreds of football fans have taken part in a demonstration against Blackpool FC's owners.
Protestors claim the Oyston family are destroying their club and say they will continue to boycott matches until changes are made.
The Blackpool fan being sued by the Oyston family for alleged defamation talked to Granada Reports about just how much the court case is costing him.
Beyond the legal fees and the potential fine he says the case has impacted on his plans to get married.
Load more updates