Lancashire police have responded to the protests at Blackpool Football Club which led to the match against Huddersfield being abandoned. There were no arrests following the trouble. The force released a statement:
Lancashire Police were notified of a protest that was planned to take place prior to the game against Huddersfield FC. Approximately 2000 people took part in a short march and static protest outside the club, both of which passed off peacefully. Two minutes into the second half of the match, approximately 150 people made their way out of the stands and on to the pitch to peacefully occupy the centre circle. All efforts made by stewards and police officers to ask them to leave were unsuccessful and eventually the match officials made the decision to abandon the game. Our priority is to ensure the safety of all supporters and those involved in the game. The protest was peaceful and non-violent at all times and the response from both the stewards and police officers at the ground reflected this.
– Lancashire Police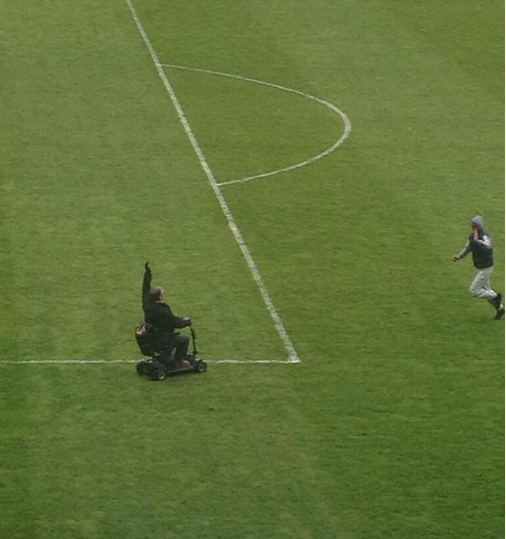 Advertisement
Blackpool's final match in the Championship has been suspended following at pitch invasion in protest against the owners.
The score against Huddersfield at Bloomfield road stood at 0-0, before fans ran onto the pitch in the 48th minute. Earlier today hundreds of fans turned out in protest against the Oystons.
48' - The game has been stopped for the moment with the referee taking the players off the pitch.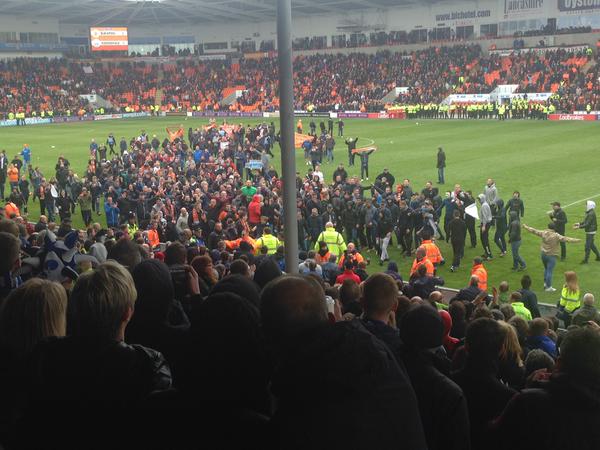 Following on from a huge protests at Bloomfield Road this morning Blackpool fans invaded the pitch shortly after half time. Demonstrators marched in protest against the clubs owners before the match with Huddersfield.
Hundreds of furious Blackpool FC fans turned out before todays game in in protest over the ownership of the club. Supporters are angry at the Oyston family's stewardship of the club. A tangerine army marched from the Bloomfield pub to the stadium ahead of the against their final game of the season against Huddersfield.
Fans with huge club banners and gathered at the spot of the recently removed of Pool legend Stan Mortensen statue. The club claim it was taken town temporarily for 'safety reasons'.
Hollywood 'A' lister Samuel L. Jackson has revealed he's in Blackpool. The actor posted a picture on instagram of his 'first look' at the place, although it appeared to look more like the Lytham area in the photo. It's thought he's filming with director top Tim Burton, (Edward Scissorhands, Batman) on his new movie 'Miss Peregrine's Home for Peculiar Children'. Burton was in the town to film a music video wit The Killers in 2012 where he declared his love for the town.
Samuel L. Jackson is in Blackpool this week shooting a new Tim Burton - Official Page movie! Very exciting times... http://t.co/2CDwmLKeiM
Can't contain my excitement that they are shooting a Tim Burton film in Blackpool and Samuel L Jackson and Eva Green are here??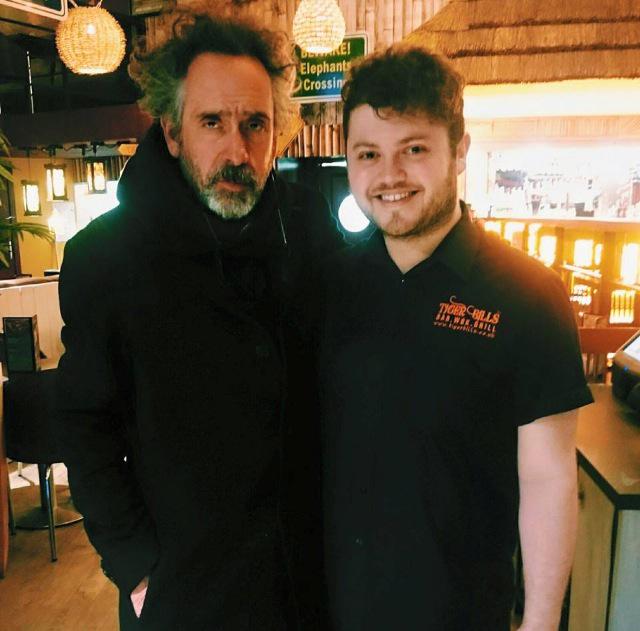 If you see any of the Hollywood stars out and about in the areas send us your pics to granada.reports@itv.com or tweet @granadareports.
Advertisement
A five-year-old boy from Manchester who melted hearts after created a superhero mask to help him face up to a gruelling three months of cancer treatment.
Harley Renshaw from Stretford has been given the all clear after battling the disease in his kidney, neck, lung and bones.
Harley was diagnosed with neuroblastoma - a rare and aggressive childhood cancer but his Ninja Turtle mask made him feel stronger while having his treatment. Today he got to meet his inspirations the Teenage Mutant Ninja Turtles' at Blackpool Pleasure Beach.
His Stacey Parker said "I'm so emotional it's just fantastic, Harley has loved it." She continued: "His end of treatment scans are clear but every three months we've got to go for follow ups and it's going to be a worry until 5 years are over and he gets the all clear hopefully." Stacey added that treats like today "makes us feel normal, it's nice to get out as a family."
5 year old Harley has also been awarded one of Cancer Research UK's Little Star Awards which acknowledges the unique challenges faced by youngsters who encounter cancer.
Two fly-tippers have appeared in court after CCTV caught them 'blatantly' dumping rubbish in a Blackpool alleyway. Ashley Derricott reports.
The damning video said it all - capturing the moment a gang of fly tippers were caught in the act, blatantly littering an alleyway in Blackpool.
The offenders don't even bother to stop as debris spills from the back of their moving vehicle.
It is a well- rehearsed procedure - for months Daniel Ashworth, 22, and friend Rick Taylor, 40, had been using their tipper truck for a spate of similar drops - making money by taking their customers' waste and simply dumping it around the corner.
The town's magistrates heard that Ashworth, of The Strand, Fleetwood, had already been handed a lifetime ban from collecting waste because of his previous fly tipping antics.
Ashworth has now pleaded guilty to 10 charges under Environmental Protections laws. Taylor, of Whinfield Avenue, Fleetwood, admitted four similar offences. He was made the subject of a three year CRIMBO - a criminal behaviour order.
Ashworth was given a 39 weeks jail suspended for 12 months and 100 hours of unpaid work, a four year CRIMBO and told to pay £1,000 compensation towards the clean-up operation.
An alleged murderer of a 15-year-old girl was told by police to contact social services when he sought their advice on what to do with the "problem child" up to a fortnight before he killed her, a court has heard.
It is said that Robert Ewing, 60, was "testing the water" to discover what the official reaction would be to Paige Chivers turning up on his doorstep after she had been thrown out of her home in Blackpool by her father.
Later that month, in August 2007, Ewing is said to have murdered Paige at his flat before he disposed of the youngster's body, which has still not been found.
The defendant had visited his local police station and told an operator on the outside phone that a 15-year-old girl who he "vaguely knew" had come to his house following a family row.
He said he let her in before later sending her home but was concerned he had "left her in limbo" and wanted to know what he should do next.
During the conversation he said: "She's permanently excluded from school. She's a problem child. Drinks, smokes ...you name it she does it."
Ewing revealed he knew her full name but was not asked to disclose either her or his name. After adding that he did not know her address, the operator suggested he ring social services.
She told him: "The only thing you can do is call them because without an address we can do a welfare check but without an address we don't know ... we're stabbing in the dark basically."
Ewing, formerly of All Hallows Road, Bispham, Blackpool, is on trial at Preston Crown Court for the murder of Paige between August 23 and August 27, 2007, which he denies.
He also denies intending to pervert the course of public justice by intimidating witnesses and providing false information to the police in their investigations.
A co-defendant, Gareth Dewhurst, 46, of Duncan Avenue, Blackpool, also denies intending to pervert the course of public justice.
Dewhurst has also pleaded not guilty to a offence and not guilty to assisting an offender in disposing of a body.
Load more updates