Live updates
Muamba leads heart campaign
Fabrice Muamba has helped launch a new heart campaign today. The former Bolton Wanderers footballer suffered a cardiac arrest on the pitch in March.
He joined Bolton Wanderers, and heart charities, to launch the Hearts & Goals campaign.
They aim to make life-saving equipment more accessible around the country.
Advertisement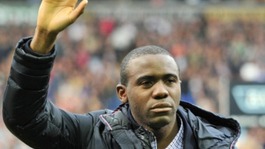 Fabrice Muamba has helped launch a campaign to prevent death from sudden cardiac arrest.
Read the full story
Muamba to attend Bolton game
The Bolton footballer Fabrice Muamba is set to return to the Reebok stadium tonight. He's made an extraordinary recovery since his heart stopped during a match six weeks ago - and tonight he'll address fans before the club's game against Tottenham.
Back to top