Fire crews are fighting a large blaze which has broken out in a Bolton foundry.
North West Fire Control received reports of a fire on Salop Street just before 3.15pm.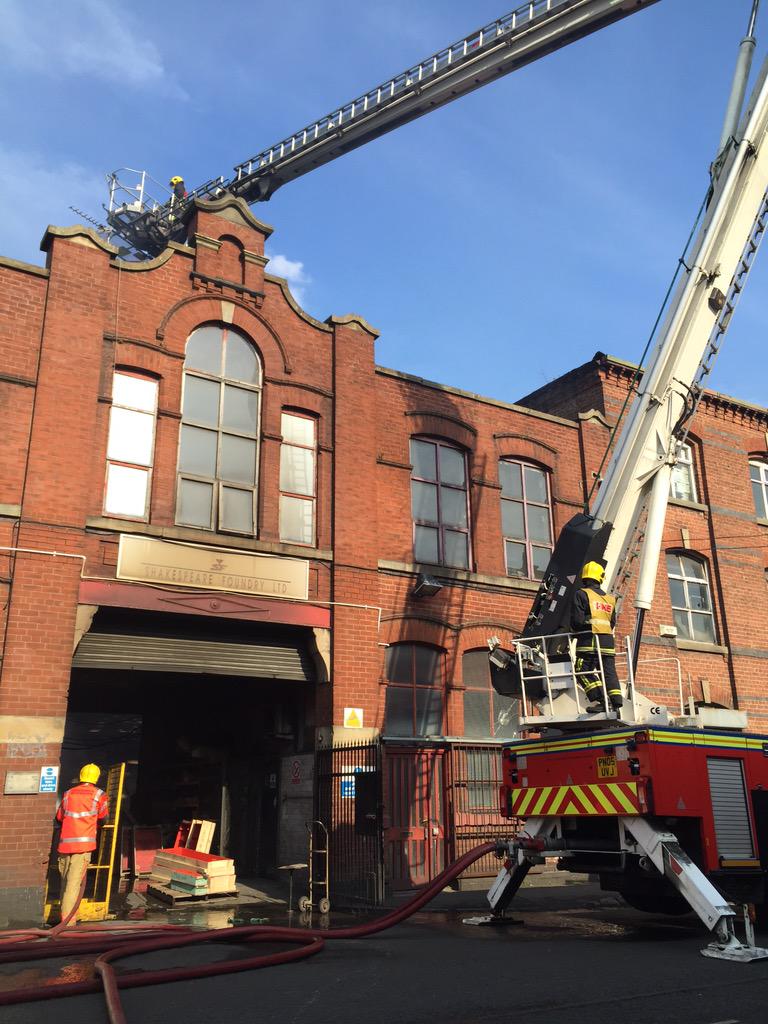 "Approximately 30 firefighters remain at the scene of Shakespeare Foundry and are working hard to get the fire under control which has ripped through the ground, first floor and roof of the three storey building."
– Greater Manchester Fire and Rescue Service
Police are appealing for help to trace a man suspected of breaking into an elderly man's home and attacking him with an iron bar.
Marcus Cameron, 25, from Bolton, is also wanted in connection with an assault in which a man smashed the window of a house and seriously assaulted a woman inside.
He has links to the Manchester and Huddersfield areas.
"These crimes are of a very serious nature and extreme violence was used against the female victims, some of whom are elderly.

"If you see Cameron, do not approach him, but contact police immediately. Should anybody be found to be assisting or harbouring this wanted man, they too will face being arrested and a criminal conviction and a possible prison sentence of their own."
– DCI Rick Jackson, head of Bolton CID, Greater Manchester Police.
Anyone with information should call police on 101 or Crimestoppers on 0800 555 111.
Advertisement
Sylvester Stallone has found a new slice of the action - baking bread in a TV ad for Warburtons.
The 68-year-old Hollywood star plays The Deliverer in the advert for the Bolton-based bakery.
In TV ad The Deliverers, The Expendables star gets up to work as a truck driver, transporting fresh loaves around the country.
Stallone said: "I thoroughly enjoyed my time in Bolton and particularly loved spending time in the bakery. Maybe I should have stopped beating up bad guys a long time ago and gone into baking instead."
A war hero who battled with post-traumatic stress disorder died after taking a fatal overdose of prescription drugs, an inquest has heard.
Read the full story ›
David Cameron took a few hours off wooing the voters of today by trying to impress the voters of tomorrow at a school near Bolton.
The Prime Minister read to a group as he visited the Sacred Heart Roman Catholic Primary School in Westhoughton. They read The Paper Bag Princess by Robert Munsch, but the cameras and encounter with the Tory leader seemed too much for Lucy - who rested her head on the desk.
Meanwhile, Mr Cameron appeared confused about the plot of the book, which sees a princess rescue an ungrateful prince from a dragon.
"Complicated stuff, this," he said.
The PM was in the Bolton West seat - held by Labour in 2010 with a wafer-thin majority of just 92 - to promote the Conservative Party of making children resit exams at secondary school if they do not reach the standard in core subjects at primary.
Four people have been charged after two women and a child were rescued from a house in Bolton.
Officers rescued the woman from the address on Spa Road on Thursday 27 March.
Two women, aged 30 and 20, as well as a 1-year-old, who is the child of one of the women, were rescued. All are Hungarian nationals.
Police believe the women were forced to work as prostitutes, beaten, and subjected to abuse over a period of several months.
Ferenc Dardai, 21, Ferenc Dardai, 41, Melania Kiraly, 42, and Daniel Dardai, 19, have been charged with trafficking.
21-year-old Ferenc Dardai has also been charged with rape.
Advertisement
Police are appealing for information after two different groups of men repeatedly attacked a man in what was believed to be a racially motivated attack.
The man was left with a broken nose and damaged eye socket.
The attacks happened near to Back Cheapside in Bolton town centre at about 1.45am on Sunday 1 March 2015.
Police have now released an image of three men they wish to speak to in connection with the attack.
A 19-year-old man has been stabbed in the leg in what police say appears to be a motiveless assault on Union Road in Tonge Moor last Thursday morning.
It was a special day for pupils at schools and nurseries in Bolton as they wore pyjamas all day.
The children in Little Lever were taking part in a special event called Goodnight to Brain Tumours.
It was in memory of six year old Jessica Green, who had a brain tumour and died a year ago. This from our correspondent Victoria Grimes:
Robbers in Bolton snatched jewellery from the neck of a 70-year-old woman in her own home.
Three men wearing balaclavas went to a house on Green Lane at 11.45am on Thursday 19 March.
They went inside through the front door that was closed but not locked and went upstairs and attacked the pensioner.
They forced jewellery from her arm and neck before leaving on foot in the direction of Bradford Park Road.
"There was a brief struggle between the woman and the men and she has been left with slight injuries to her arm and neck because of the force the men used to rip the jewellery from her.

"It is likely the men had a vehicle parked near by so I would ask if anyone saw three men around the time of the offence in that area that they contact us and tell us what they saw."
– Detective Inspector Sarah May
Police are appealing for information and witnesses.
Anyone with information should call police on 101 or the independent charity Crimestoppers anonymously on 0800 555 111.
Load more updates