Police are appealing for information after a house in Bolton was set on fire whilst an elderly couple slept inside.
The couple, aged in their 80s, were asleep in their home on Eldon Street, Tonge Moor, when they were awoken by the sound of their fire alarm at around 4am today.
They got out of bed to find the living room full of smoke and quickly managed to alert their neighbours by banging on the internal wall of the property.
With help from their neighbours, the couple were able to make it out of the property alive and were taken to Royal Bolton Hospital suffering the effects of smoke inhalation.
The couple are now safe and well and are being cared for by family members.
A joint investigation between police and the fire service is underway to establish the exact circumstances leading up to the fire.
Police say it's believed to be an isolated incident.
"This is a terrible incident and enquiries are ongoing to try and establish who would target such a vulnerable elderly couple.

"We have stepped up police patrols in the area and I would like to reassure everybody in the local community that we believe this to be an isolated incident and a detailed investigation is now underway.

"Understandably the couple who live in the house are very shaken but thankfully they managed to escape the fire, suffering from only minor smoke inhalation and they are now doing much better.

"It is possible that the offenders may have discarded containers used to carry an accelerant or other suspicious items in the local area so if anybody finds anything of this nature then we would very much like to hear from them.

"I would also like to please urge anybody who may have witnessed the fire being started or anything suspicious in the area at the time to please contact the police."
– Detective Inspector Charlotte Cadden, Greater Manchester Police
Carjackers suspected of being members of an organised crime gang have struck twice in five days in the same street.
Read the full story ›
Advertisement
CCTV has captured the moment a man clung to the bonnet of his car as a thief drove off at high speed in Greater Manchester.
Read the full story ›
A new technical training centre's opened in Bolton to train engineers. United Utilities has invested £1.5 million Sally Cabrini from UU explains why.
A new technical training centre's opened in the region aimed at tackling what's been described as a looming skills shortage. United Utilities has invested £1.5 million in Bolton to teach the next generation of water engineers.
A new £40 million village for up to 850 students in Bolton town centre has moved a step closer.
It's been confirmed it's likely to be in Cheadle Square, behind the arches on Le Mans Crescent. Once agreements have been reached work could start in just over a year's time.
Advertisement
Police have released photos of a man and woman suspected of stealing from vulnerable adults in Manchester and Bolton.
Police say Peter Ellis and Lorna Walker target elderly women and vulnerable people in public places, with one of them distracting the victim while the other grabs a handbag or shopping bag. Officers say they're known to operate at Stretford Mall.
Police are investigating after a 14-year-old girl was sexually assaulted in Breightmet, Bolton last night. It happened on a grassed area off Long Lane, Leverhulme Park, at about 8pm when the girl was walking home from the gym.
The victim noticed a man walking behind her. She started to walk faster but he too speeded up, he then ran past her before grabbing and sexually assaulted her before she managed to fight him off and run away.
The offender is described as a white man, of a slim build and between 20 and 25-years-old. He spoke with a Bolton accent and was wearing a black waterproof, waist-length coat zipped up to the chest and grey tracksuit bottoms.
While I understand this incident will cause alarm among parents in the community, I want to reassure those people this is an isolated incident and we are not dealing with any sort of spate of this type of crime.

"There will be extra patrols in place over the coming days, both to reassure any worried residents but also to gather any information about this incident so that we can trace the man responsible.
– Detective Inspector Charlotte Cadden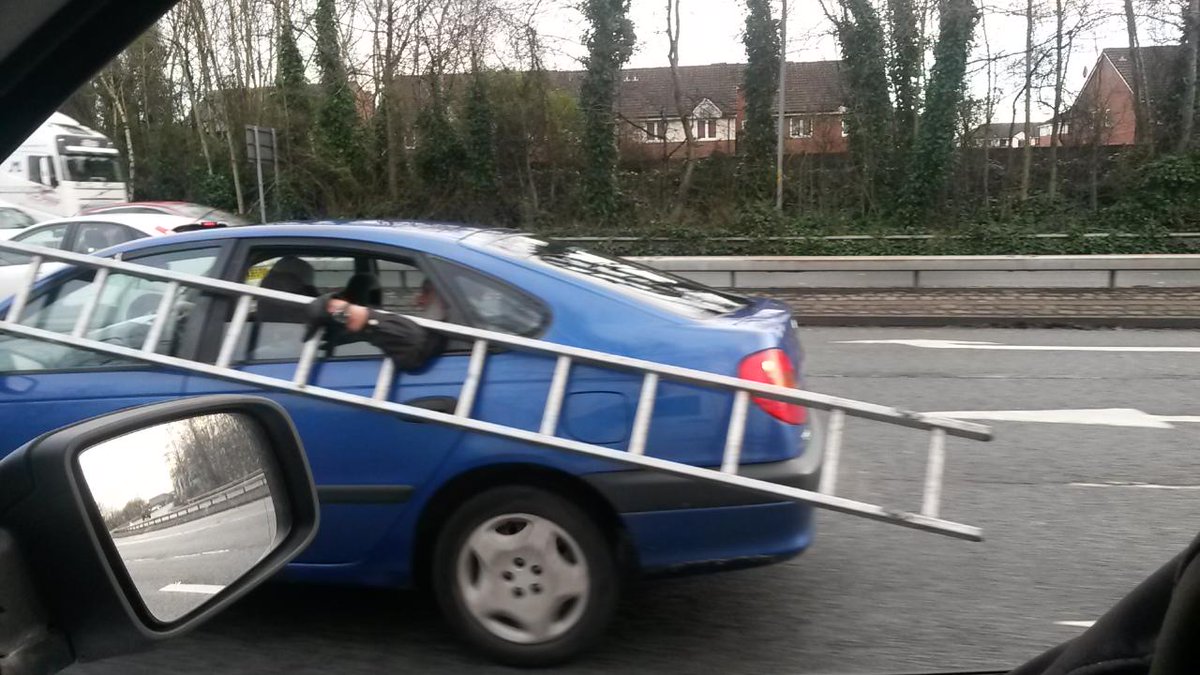 A photo posted on Twitter by a Bolton builder has caused a storm after exposing the risky actions of a man travelling in a car holding a set of ladders out of the window.
Steve Wignall, spotted the scene on St Peter's Way earlier this week, the speed limit on the A666 is 50mph. He told the Bolton News: "Okay, it looks funny but I was a bit annoyed. I've got two young kiddies and there's a potential there for a really bad road traffic accident."
The family of a young woman who died of a heroin overdose are warning that hard drugs are still too easy to buy on the streets of the North West.
Leanne Johnson from Bolton was 26 and had trained to become a hairdresser.
But her life was taken over and destroyed by her addiction to hard drugs - an addiction that even led her to turn to prostitution to feed her habit.
Load more updates