Ashley Derricott, ITV News
A young family have been left stranded abroad at what should be the happiest time of their life.
Jordan Jackson and his girlfriend Karla thought they'd be safe going for a quick break in Benidorm - even though Karla was six months pregnant.
But then Karla went into labour and gave birth to baby Freddie 12 weeks premature.
Now it means the couple will have to stay in Spain until Freddie is well enough to travel home - and they fear they'll be facing thousands of pounds in costs.
Our correspondent Ashley Derricott reports:
A couple have spoken of the dramatic premature birth of their son 1,400 miles from home and their bid to remain by his side.
Jordan Jackson, 21, and girlfriend Karla Hornby, 29, had been holidaying in Benidorm to have a 'final relax' before the arrival of their son.
Karla was not expecting for another 12 weeks and the couple – from Breightmet, Bolton – had been enjoying a day beside the pool last Saturday when her waters unexpectedly broke.
The fashion jewellery retailer was rushed to San Juan Hospital in Alicante and was given an emergency caesarean section after her son's heart stopped beating.
Freddie Jackson was born at 5.45pm later that day weighing 2lb and has been under close observation at San Juan since.
Jordan, an army supplier in the Royal Logistics Core, said the experience had been 'one of the most nerve wracking' of his life.
"When her waters broke I didn't know what to think, I just rang an ambulance straight away.

"I couldn't get in with her so I had to get a taxi, it was one of the most nerve wracking experiences of my life, my mind and heart were racing.

"I arrived at the hospital and I was in the waiting room for 45 minutes, no one was speaking English, it was horrible.

"I was told that she needed an emergency c-section as every time she had a contraction Freddie's heart stopped."
– Jordan Jackson
"It just doesn't feel real, this would have been terrifying in Bolton let alone hundreds of miles away.

"Jordan has been brilliant, I don't know what I would have done without him."
– Karla Hornby
The couple have had an added drama, however, as they need to find £750 to remain in their hotel for a month while Freddie is nursed to health.
"The couple's insurance company had agreed to put them up in another hotel three miles away, but due to a lack of public transport Jordan explained that this was not an option.
He said: "The other hotel is too far away and we want to be seeing Freddie once or twice a day, if we moved it would be very difficult as we would have to get expensive taxis."
Friends back home have rallied around the pair and have set up a fund-raising page, which has so far raised £150, to pay their hotel bill. Visit gofundme.com/st3kxfk
Advertisement
Caroline Whitmore, ITV News
Bolton actress Maxine Peake is back on the big screen in the new film, The Falling.
And its premier has been held in a new venue for Manchester. HOME is the new site for what was the much-loved Cornerhouse.
It's just down the road from the original venue which opened in 1935 as a cinema and contemporary art centre.
Our Entertainment Correspondent Caroline Whitmore went to meet Maxine in the swanky new surroundings.
Bolton's Maxine Peake and Game Of Thrones star Maisie Williams have attended a screening of The Falling.
Read the full story ›
Fresh from her last role as Hamlet at the Royal Exchange in Manchester Maxine Peake now starring in the movie, The Falling.
Its about the outbreak of a mysterious illness at a girl's school in 1969.
She talked to Granada's Entertainment Correspondent, Caroline Whitmore, about the film.
Fire crews are fighting a large blaze which has broken out in a Bolton foundry.
North West Fire Control received reports of a fire on Salop Street just before 3.15pm.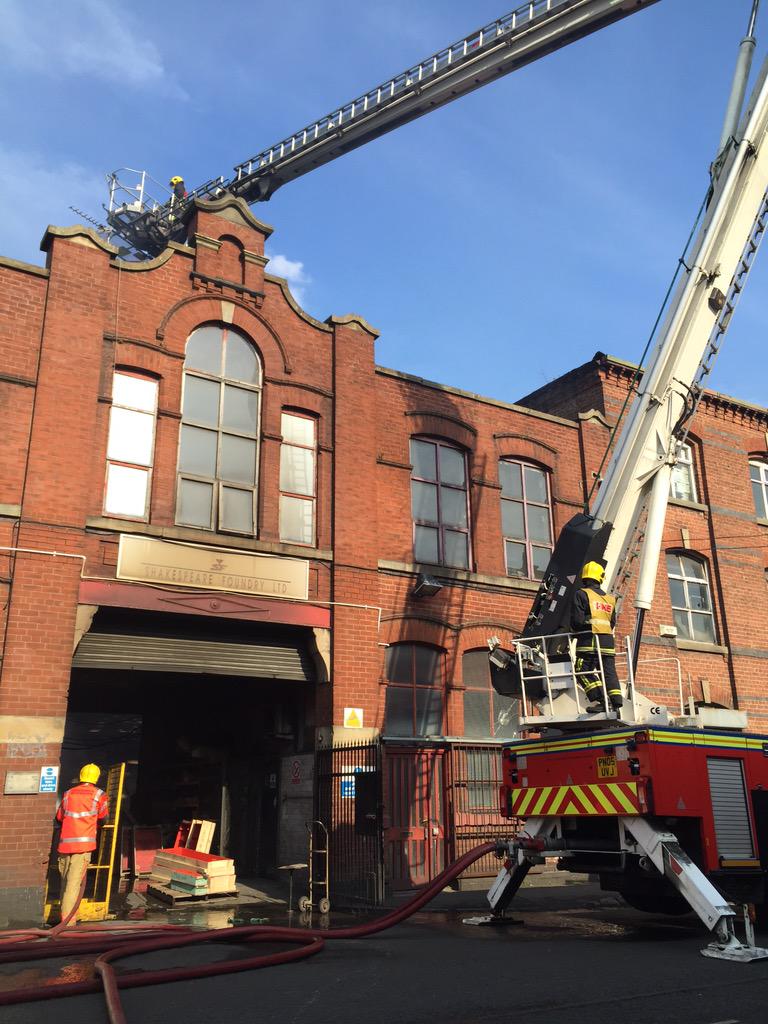 "Approximately 30 firefighters remain at the scene of Shakespeare Foundry and are working hard to get the fire under control which has ripped through the ground, first floor and roof of the three storey building."
– Greater Manchester Fire and Rescue Service
Advertisement
Police are appealing for help to trace a man suspected of breaking into an elderly man's home and attacking him with an iron bar.
Marcus Cameron, 25, from Bolton, is also wanted in connection with an assault in which a man smashed the window of a house and seriously assaulted a woman inside.
He has links to the Manchester and Huddersfield areas.
"These crimes are of a very serious nature and extreme violence was used against the female victims, some of whom are elderly.

"If you see Cameron, do not approach him, but contact police immediately. Should anybody be found to be assisting or harbouring this wanted man, they too will face being arrested and a criminal conviction and a possible prison sentence of their own."
– DCI Rick Jackson, head of Bolton CID, Greater Manchester Police.
Anyone with information should call police on 101 or Crimestoppers on 0800 555 111.
Sylvester Stallone has found a new slice of the action - baking bread in a TV ad for Warburtons.
The 68-year-old Hollywood star plays The Deliverer in the advert for the Bolton-based bakery.
In TV ad The Deliverers, The Expendables star gets up to work as a truck driver, transporting fresh loaves around the country.
Stallone said: "I thoroughly enjoyed my time in Bolton and particularly loved spending time in the bakery. Maybe I should have stopped beating up bad guys a long time ago and gone into baking instead."
A war hero who battled with post-traumatic stress disorder died after taking a fatal overdose of prescription drugs, an inquest has heard.
Read the full story ›
David Cameron took a few hours off wooing the voters of today by trying to impress the voters of tomorrow at a school near Bolton.
The Prime Minister read to a group as he visited the Sacred Heart Roman Catholic Primary School in Westhoughton. They read The Paper Bag Princess by Robert Munsch, but the cameras and encounter with the Tory leader seemed too much for Lucy - who rested her head on the desk.
Meanwhile, Mr Cameron appeared confused about the plot of the book, which sees a princess rescue an ungrateful prince from a dragon.
"Complicated stuff, this," he said.
The PM was in the Bolton West seat - held by Labour in 2010 with a wafer-thin majority of just 92 - to promote the Conservative Party of making children resit exams at secondary school if they do not reach the standard in core subjects at primary.
Load more updates