Anthony Crolla has been granted a rematch with Darleys Perez for the WBA World Lightweight title following their controversial fight in Manchester on July 18.
Crolla produced a superb performance against the Colombian at the Manchester Arena and looked to have landed the belt after Perez had two points deducted for low blows in the latter rounds, only for the fight to be ruled a majority draw much to the dismay of the Manchester man and the packed home crowd.
'Million Dollar' now gets an immediate chance to land the crown and both Crolla and his promoter Eddie Hearn expressed their delight at the decision.
"When I heard the news I was honestly close to tears," said Crolla. "Not getting that decision was hard to take but I was so grateful to even be part of such a great night and no one can ever take those memories away from me. Now I get another chance and I'm more determined than ever. The people of Manchester and the UK have been incredible and I can't wait to get back in there and face Perez again."
"I cannot tell you how happy I am with this news," said Hearn. "Anthony Crolla should be world champion. He hasn't moaned, he hasn't sulked and now he has his chance all over again. I would like to thank the WBA for making the right decision and the public for all their support of Anthony. I hope Manchester is ready for something special.
"We are already in negotiations with Perez's team and we expect to announce the date of the rematch very soon."
Manchester's Tyson Fury will challenge the undisputed king of the division Wladamir Klitschko when the pair fight in Germany in October.
The two giant men came face to face for the first time today and not surprisingly Fury had some choice words for the Ukrainian.
'Boring' and 'Old' is how he described him.
Chris Hall is in Dusseldorf where he's had a ring side seat for Tyson's trash talking.
Advertisement
World Heavyweight champion Wladimir Klitschko has arrived at the venue for his press conference with Manchester's Tyson Fury.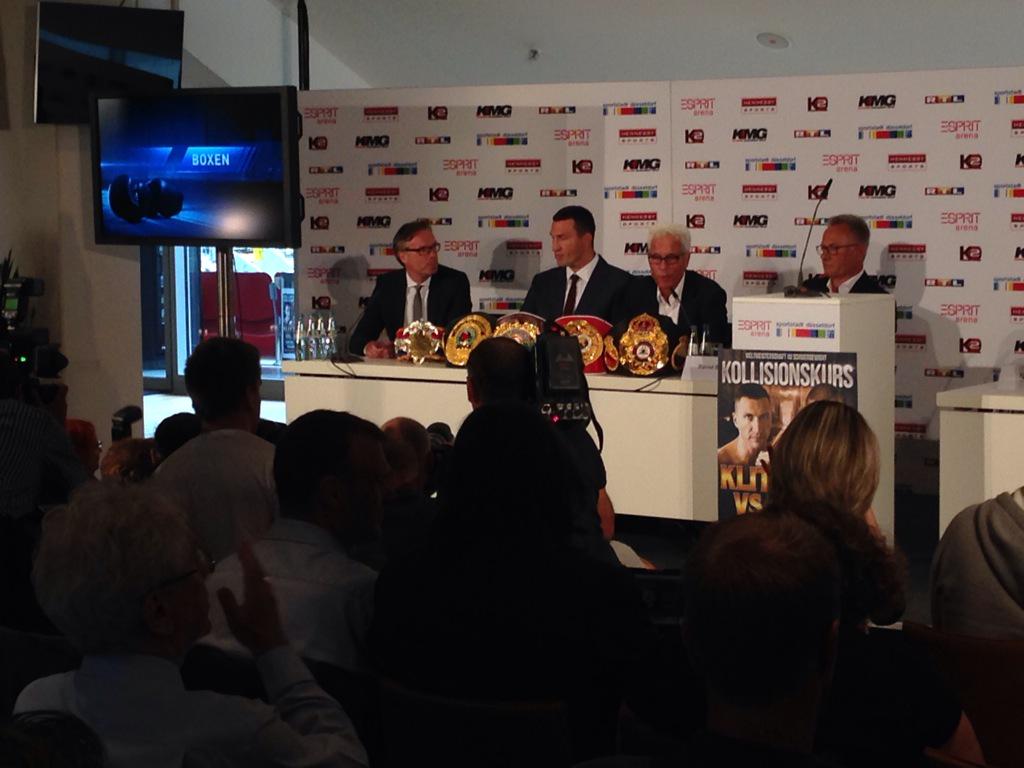 Tyson Fury face his heavyweight opponent Wladimir Klitschko in front of the press later, but he's already started the war of words online.
Read the full story ›
Manchester boxer Tyson Fury is squaring up to the undisputed heavyweight world champion Wladimir Klitschko at a news conference later today ahead of their title fight. Fury, who is unbeaten in 24 fights, will take on the Ukranian in Dusseldorf in October.
Advertisement
Bury boxer Scott Quigg will make his sixth defence of his WBA Super Bantamweight Title this Saturday against former IBF World Champion Kiko Martinez.
The fight will take place at the Manchester Arena on Saturday night, his stablemate Anthony Crolla will also be heading the bill with his comeback title fight.
Quigg says he's expecting the aggressive Spaniard to be one of the toughest fights of his career.
He will also be under extra pressure knowing that his biggest rival Carl Frampton has already beaten Martinez twice:
Ahead of his world title fight Anthony Crolla has been reliving the night he was attacked trying to stop burglars breaking into his neighbour's house.
The 28 year old was left with such serious injuries doctors told him he was lucky to be alive.
After a remarkable recovery he's now preparing to return to the boxing ring where he'll face the reigning WBA Lightweight world champion Darleys Perez.
While the Columbian has the belt Crolla will have the home advantage as the two fight at the Manchester Arena.
He's been speaking to our Sports Correspondent Mike Hall.
Bolton boxer Amir Khan says training through Ramadan is no hinderance as Chris Hall investigates the role religion plays in his career.
Load more updates