A former footballer from Buxton is celebrating after picking up a £5.5m Lotto win. Terry Bradbury, 75 made £25 a week playing for Chelsea in the 1950s before later playing for Chester City.
After scooping the jackpot at the weekend and his wife Eleanor checked the numbers on teletext and couldn't believe they matched. The couple plan to buy a family villa in Spain.
"It's all surreal, it's like living in a fantasy, like a film a fantasy world."
– Terry Bradbury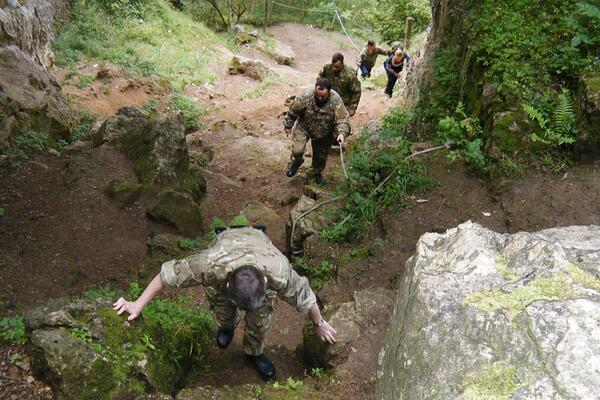 Advertisement
Tourists exploring a cave in Buxton stumbled across treasure that had lain undisturbed for more than two thousand years.
Amy Welch has the story:
A precious hoard of Roman and Late Iron Age coins has been discovered in a cave near Buxton where they have lain undisturbed for more than 2,000 years.
The treasure trove was initially unearthed by a member of the public, who stumbled across four coins in the cavern in Dovedale in the Peak District, sparking a full-scale excavation of the site.
Experts say the find is highly unusual as it is the first time coins from these two separate civilisations have been buried together.
And the setting itself adds to the mystery surrounding the discovery, as while Roman coins have often been found in fields, this is understood to be the first time they have been unearthed in a cave.
Archaeologists discovered twenty six coins, including three Roman coins which pre-date the invasion of Britain in AD 43, and 20 other gold and silver pieces which are Late Iron Age and thought to belong to the Corieltavi tribe.
National Trust archaeologist Rachael Hall said whoever owned the cache, which has been declared as "treasure" by the authorities, was probably a wealthy and influential figure.
Tributes have been paid to a British climber who is feared dead after going missing in Peru.
22-year-old Thomas Jagger from Derbyshire has been missing in the Ancash region of Peru for more than a week.
Really really sad new, Massive respect to him for getting out there and living life passionately."
I know that we will always remember him and be inspired by his love of mountains."
A fantastic and committed mountaineer, he certainly won't be forgotten."
– Facebook tributes
Advertisement
The family of missing Derbyshire hiker, Thomas Jagger, who has gone missing while on a trip to Peru, say they want to be left alone to 'grieve privately.'
Thomas was reported missing to the Foreign Office on 27th July after reports he went on a walk in mountains in the Ancash region of Peru alone. The Foreign Office released a statement on behalf of the family and a close friend of Mr Jagger:
This is a sad time for both families. Tom was a much-loved son, brother and friend and we wish to be given time to come to terms with what has happened. This difficult period is not being helped by speculative and untruthful reports appearing in the tabloid media. We would like to be left alone to grieve privately."
– Stuart, Helen, Frances and Iain Jagger and Mark, Julia and Luke Dyer
The wife of a man who died when two cars plunged into a river in Buxton paid tribute to the "wonderful and loving" father.
Read the full story ›
Two children and their mother are still recovering after a crash in which their father was killed in Buxton.
David Cox was driving his daughter to school when his car skidded off the road and plunged into a river.
A second car containing his wife and son crashed into the river moments later.
A man who died after his car left the road and into a river in Buxton, Derbyshire, has been named as David Cox.
The 42-year-old was taking his 11-year-old daughter Tess to school when their Toyota Aygo left the path and crashed into the River Wye in Derbyshire.
Moments behind them in a separate car, a Toyota Rav 4, was his wife Ruth, 39, and son Ioan, nine.
Mrs Cox also lost control yesterday as she drove along the bridlepath which runs near the Monsal Trail, north of the A6 in Derbyshire.
The children and their mother managed to get out of the cars and get safely to shore but Mr Cox was unable to escape.
Mr Cox was taken to Stepping Hill hospital where he later died.
Load more updates