Wayne Rooney's wife Coleen Rooney took part in a spot of skydiving at Trafford Park.
Read the full story ›
Coleen Rooney says photos of her late sister Rosie, who died in 2013, were stolen from her brother's car.
Read the full story ›
Advertisement
Coleen Rooney has tweeted that her suitcases had been "ransacked" when they arrived late for a holiday in Las Vegas.
Coleen, the wife of Manchester United and England star Wayne, appeared upset when she said bags, shoes, bikinis as were taken.
Feel sick..... just received my 4 cases 2 days late from BA Heathrow to Las Vegas. Opened them all and they have been completely ransacked.
Bags, shoes, bikinis, clothes, toiletries, underwear, pj's, make up, toiletries taken. Disgusting & the customer service getting is terrible
And you can stick all the sarcastic comments about money. It's not all about money it's about people going through my personal stuff and
Coleen also fought back against "sarcastic" trolls who mocked her plight, saying it wasn't about money.
"It's about people going through my personal stuff and taking stuff that I need for my holiday," she said.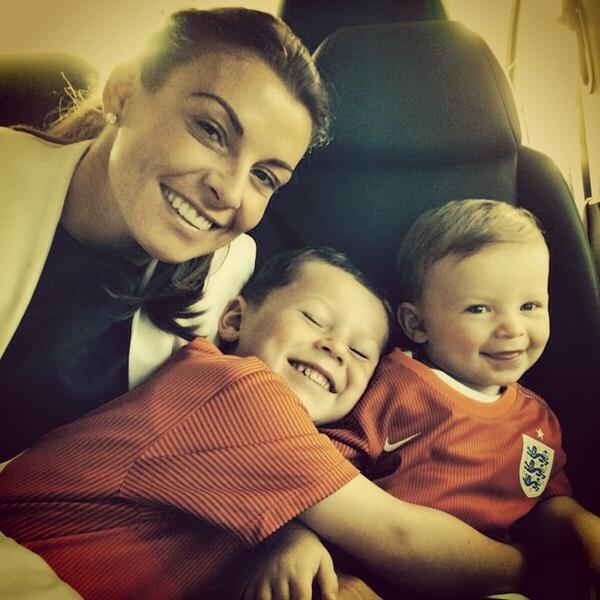 Wayne Rooney's wife Coleen has jetted off to Brazil with their two sons Kai and Klay ahead of Thursday's World Cup game against Uruguay. Coleen apparently arrived in Rio with 15 pieces of luggage.
Rooney has been under fire since the England's 2-1 defeat to Italy last week with claims he should be dropped from the team.
Uruguay striker Luis Suarez says he is "100 per cent" fit to face England in Sao Paolo.
Suarez - who missed Uruguay's shock 3-1 defeat to Costa Rica - said he is ready to expose England's "defensive deficiencies".
Surgery on a knee injury threatened the Liverpool striker's involvement in the tournament, but the 27-year-old has returned to full training ahead of Thursday's crucial Group D encounter.
"I know all the players in the England squad, I know some of them because they are team-mates or rivals," Suarez told Uruguayan website Ovaciondigital.com.
"They have defensive deficiencies and we can take advantage of them."
David Cameron has filmed a good luck message for the England football team ahead of their first World Cup match tonight.
The Prime Minister admitted that the draw - which sees Roy Hodgson's players take on Italy - was "tough", but stressed the country was behind them in a video message for FATV.
"All of those club rivalries fade away and we'll all be joining together, gathering round the television, sitting in the pub - which will be open late - and cheering on our national team," he said.
The flag of St George is to be flown over 10 Downing Street for England's matches in Brazil.
Advertisement
Coleen Rooney has tweeted a picture of her second son Klay, who was born earlier today.
Coleen Rooney's mother Colette Mcloughlin has arrived at Liverpool Women's Hospital to greet the family's new arrival.
Accompanied by Wayne and Coleen Rooney's now-eldest son, three-year-old Kai, she brought in balloons to celebrate the birth of Klay.
The second Rooney son's rare name has left many guessing the inspiration. Can it really be a Liberian town, radio station or sports club?
Read the full story ›
Load more updates