Edward Timpson (C) 22,445 (44.98%, -0.86%)
Adrian Heald (Lab) 18,825 (37.73%, +3.72%)
Richard Lee (UKIP) 7,252 (14.53%, +11.77%)
Roy Wood (LD) 1,374 (2.75%, -12.23%)
C maj 3,620 (7.26%)
2.29% swing C to Lab
Electorate 74,039; Turnout 49,896 (67.39%, +1.44%)
The Conservatives are defending the most marginal seats in the North West; so why was David Cameron in Crewe today? Daniel Hewitt has more.
Read the full story ›
Advertisement
A train from Crewe to London Euston is the most overcrowded service in the country, according to the Department for Transport.
The London Midland service operates at 201% of its capacity. The company says it had operated at "the maximum allowed at that time for the combination of the train path and the rolling stock available".
It also said the service had operated at eight-car carriages since December 2013.
Our political reporter Daniel Hewitt has been in Crewe to speak to residents ahead of the European elections, about the impact of the EU on their town.
Less than 35% of us normally bother to vote in European elections, but 90% of Belgians and 60% of people in Germany.
Luxury carmaker Bentley is creating over 140 jobs.
More than 50 apprentices will be taken on at the company's headquarters in Crewe, as well as 90 engineers.
Bentley is expanding its model range under an £800 million investment over three years.
The announcement follows a record year in 2013, when the company built more than 10,000 models, the highest in its 95-year history.
Transport Secretary Patrick McLoughlin gives his backing to speed up the HS2 link to Crewe
Advertisement
Bentley motors are creating 100 new jobs at their headquarters in Crewe.
The factory is to become a centre of excellence for Volkswagen W12 engine production.
Dr. Wolfgang Schreiber, Chairman and Chief Executive of Bentley Motors, said: "This is an important step, not just for Bentley but also for the UK manufacturing sector.
This W12 centre of excellence is recognition of the long standing engine manufacturing expertise we have that has resulted in performance improvements across the model ranges over recent years.
The production of this advanced engine and its future generations will bring new technologies and skills to Crewe."
No trains will run between Liverpool Lime Street and Crewe until approximately 10:00 because of overhead wire damage near Runcorn that was sustained during yesterday's storm.
London Midland and Virgin Trains passengers can use Northern Rail and First TransPennine Express services between Liverpool Lime Street and Manchester Piccadilly to connect with alternate services to and from Crewe.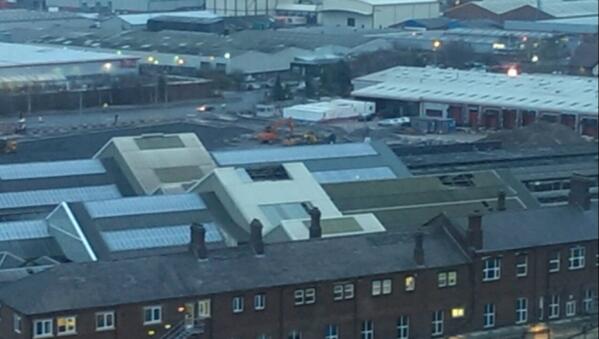 An inquiry is underway after a big fire at a set of commercial greenhouses in Crewe.
Roads were closed and some nearby homes had to be evacuated at Hutchins on Herbert Street.
It affected a high voltage electricity cable, and power to some homes had to be cut.
Load more updates