Around 2,000 Tesco workers have been told their jobs are at risk after the supermarket giant announced the location of 43 store closures.
Seven superstores and six Homeplus outlets are among the unprofitable shops identified for closure by new chief executive Dave Lewis.
Mr Lewis said: "The decision to close the stores has been exceptionally difficult to take. I recognise it will affect many hard-working colleagues, our customers and local communities.
"Our priority is to explain what this announcement means for our colleagues and, wherever possible, offer them alternative roles with Tesco."
County councillors have agreed to delay a decision on proposals for two new fracking sites in Lancashire.
Read the full story ›
Advertisement
Energy company Cuadrilla say they are "committed to the exploration of shale gas in Lancashire".
The company issued a statement after Lancashire County Council agreed to defer a decision on planning applications to drill for gas in the county.
We recognise the careful consideration that Lancashire County Council has given and its subsequent agreement to our request to defer the determination of our planning applications for shale gas exploration at Preston New Road and Roseacre Wood. The additional information we have provided on further mitigation measures will, we believe, fully address the noise and traffic concerns raised by the Planning Officer's in their recommendation to refuse planning permission for both sites.

This additional information will be assessed by the Planning Officers and there will now be an opportunity for the public to properly review and comment on this.

We remain committed to the exploration of shale gas in Lancashire.
– Cuadrilla spokesperson
The environmental group Greenpeace say Lancashire County Council should put the interest of communities ahead of the shale gas lobby.
"Allowing more time for Cuadrilla to tinker with their application is not going to change the fundamental fact that fracking is a massive gamble with low returns for the people of Lancashire.

"This deferral is just one more example of Cuadrilla's aggressive lobbying of Lancashire county council to try and get its way despite overwhelming public opposition to fracking.

"The councillors should look again at the mounting evidence of fracking's environmental, health and climate impacts, and put the well-being of their communities before the interests of the shale lobby."
– Greenpeace UK energy and climate campaigner Simon Clydesdale
Councillors in Lancashire have agreed to a request from energy firm Cuadrilla to defer consideration of planning applications for two fracking sites in the county.
#fracking. Lancs county councillors say will defer @cuadrillauk decision with "greatest regret" and "heavy hearts"
Advertisement
Lancashire county council are advised that they would be 'acting unlawfully' if they don't defer decision over Fracking at 2 sites.
Lancashire County Council has recommended decisions planning applications for fracking in the county are deferred.
It comes after the council broke for legal advice.
Very poor driving conditions expected on Wednesday night into Thursday. Blustery, with temporary blizzards, plus a fierce wind chill
Read the full story ›
Anti-fracking protestors are reporting a "carnival atmosphere" at demonstrations at County Hall in Preston.
Lancashire County Council is meeting to decide the fate of applications to frack for shale gas in the county.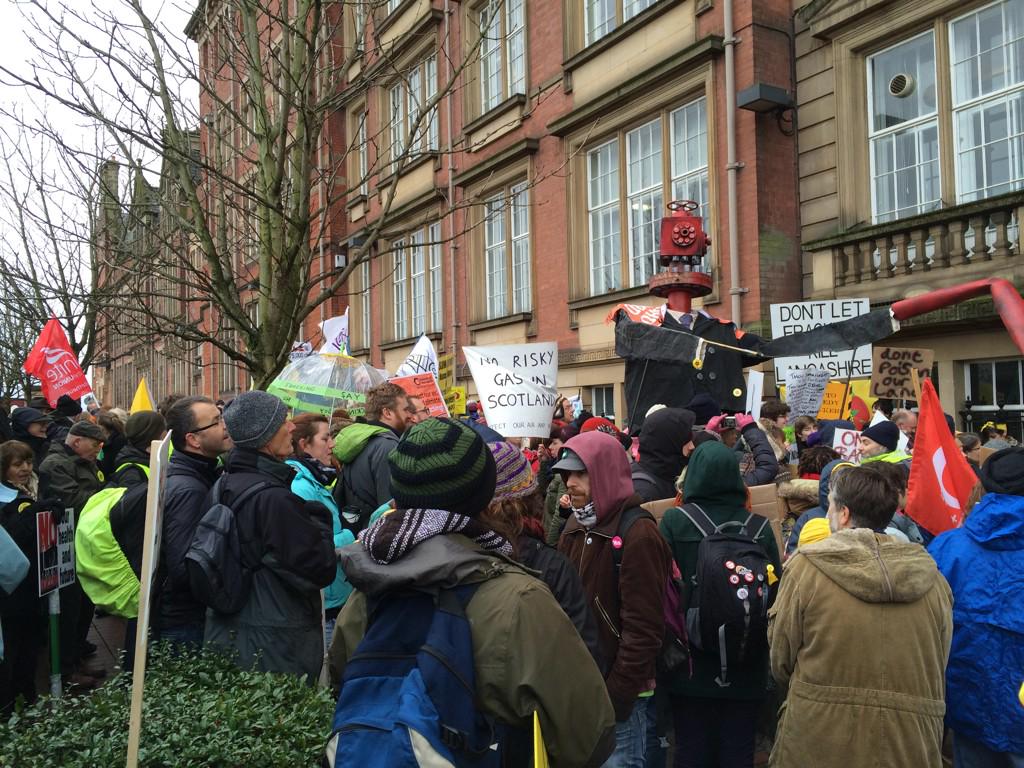 Sorry, this content isn't available on your device.
Load more updates