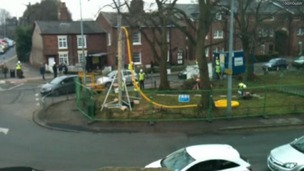 Greenpeace activists have ended an anti-fracking protest at the constituency offices of Chancellor George Osborne in Cheshire, police said.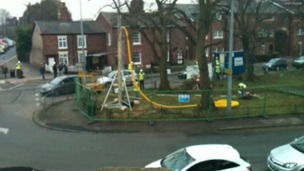 Greenpeace campaigners say they have occupied a local Conservative club in George Osborne's constituency.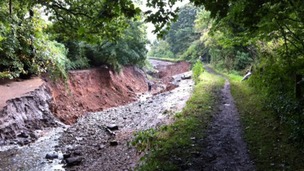 Work is underway to repair a huge breach of the Trent & Mersey Canal in Dutton after it burst its banks in September.
Live updates
Wirral University Teaching Hospital says £6.3m will be spent on reducing the carbon footprint of its Arrowe Park and Clatterbridge Hospitals by "almost one third".
Drawing on long-term funding through the Carbon and Energy Fund, the trust says the 15-year contract is guaranteed to deliver annual cost savings of around £250,000.
Volunteers plant 2,200 trees
Everyone here is amazed at the thought that the trees we are planting will one day become a part of our beautiful local landscape.

Islam places great emphasis on taking care of the environment and particularly on the planting of trees.

We will certainly be encouraging our members to continue supporting the fantastic work being done by the Red Rose Forest team in the future.
– Abdul Rauf Lodhi, an AMYA youth leader
Advertisement
Volunteers plant 2,200 trees
More than 400 volunteers from the Ahmadiyya Muslim Youth Association (AMYA) have helped to plant 2,200 trees as part of the Red Rose Forest community project in Urmston.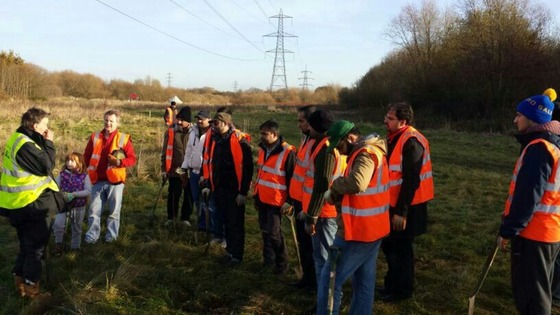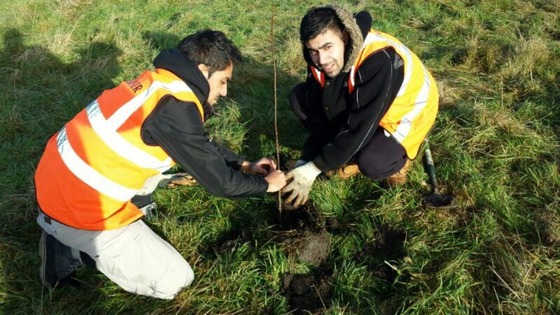 Volunteers have been helping with an ambitious project to protect wildlife and ease access for visitors at a Blackburn nature reserve.
Lancashire Wildlife Trust has been running weekly sessions at the River Darwen Parkway in Blackburn since last month where volunteers have been carrying out coppicing work in the reserve's dense planted woodland.
The project also aims to involve young people from local high schools, who will be able to gain qualifications.
It is fantastic to see local people donating their time and effort to help with the project. The work will help us protect and conserve some of the most threatened species in the area, and encourage more people to enjoy the reserve.
– Kim Coverdale, Lancashire Wildlife Trust
Knowsley gets electric taxi
I chose to go electric due to the increasing fuel costs and wanted to play my part in reducing carbon emissions.

Given the mileage I cover as a taxi driver, it was becoming increasingly expensive to fill up at the pumps.

My vehicle is charged using solar panels installed at my house, so as well as saving money, I am also doing my bit for the environment!

I would encourage other taxi drivers to go electric.
– Electric taxi owner, George Price
Knowsley gets electric taxi
This is a great opportunity for the borough and I hope further taxi and private hire providers may look to broaden their fleet with electric cars.

This supports the council's commitment to reducing carbon emissions and to supporting Knowsley residents in reducing carbon emissions in their community.
– Cllr Thomas Grierson, Chairman of the Licensing Committee
Advertisement
Knowsley gets electric taxi
Knowsley Council has granted a private hire licence to its first all-electric taxi. They say it will help taxi firms understand how electric cars can be integrated into their fleets.
Gas fracking expansion plans
A shale gas firm in Lancashire wants to extract from six new sites on the Fylde coast
Cuadrilla's also applying for permission to carry out more work at an existing site.
The firm says it wants to "explore" bigger than expected gas reserves beneath the North West.
Gas fracking expansion plans
The purpose of all our ongoing exploratory work is to demonstrate that natural gas can be produced from the shale in commercial quantities.

By sharing our plans for the exploratory programme, we hope that people will have an understanding of what we plan to do and why.

The British Geological Survey last week confirmed the exciting scale of Lancashire's gas resource, and we look forward to working closely with local communities and regulators as our exploration work progresses.
– Francis Egan, Cuadrilla's chief executive
Gas fracking expansion plans
A company that drills for gas in Lancashire is applying to expand their operations. Cuadrilla wants to drill and fracture the ground at six new sites on the Fylde coast.
They are also applying for permission to carry out more work at an existing site. The company has been opposed by local campaigners in the past.
Load more updates
Back to top