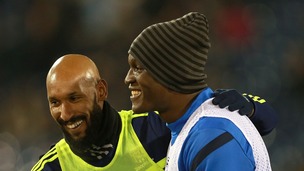 Everton boss Roberto Martinez has stressed Romelu Lukaku does not support Nicolas Anelka's controversial 'quenelle' celebration.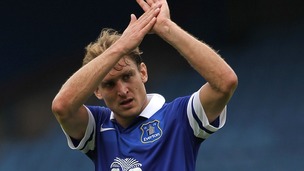 New Hull striker Nikica Jelavic has written to Everton fans admitting his concerns over his World Cup place forced him to move.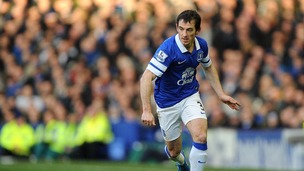 Everton hope to be able to plan for a long-term future with Leighton Baines.
Live updates
Heart screening to save lives
Dr Lynne Millar from the leading heart charity for young people, Cardiac Risk in the Young, has said that 80% of apparently healthy 14 to 35-year-olds who die from young sudden cardiac death will have shown no previous sign of heart defects.
For more information visit the Cardiac Risk in the Young (CRY) website.
Heart screening to save lives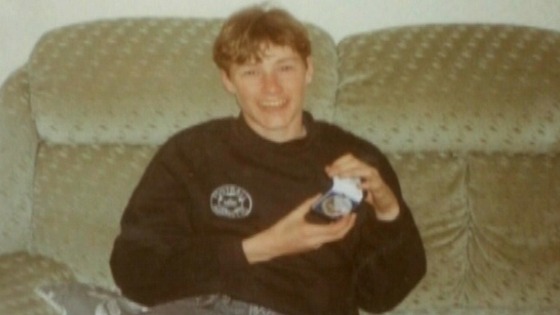 A family from Liverpool have organised free heart screening sessions for youngsters,
Maureen Marshall lost her son John at the age of 16 from a previously undiagnosed heart condition.
He was apparently a healthy youngster and had been signed by Everton and had 12 caps for England schoolboys.
After his death the Marshall family helped launch CRY, Cardiac Risk in the Young.
They're offering free ECG tests today at Edge Hill University in Ormskirk for young people who want a health check.
Screening is taking place betweeen 9am and 4pm.
CRY has also recently launched a hard-hitting, short animation to raise awareness of the impact of young
sudden cardiac death. To see it for yourself go to the CRY website, www.c-r-y.org.uk
Advertisement
Police are appealing for witnesses after a 27-year-old man was shot in the face in the Everton area of Merseyside. Police believe he and a 51-year-old man were hit in a targeted attack which took place on Lance Close yesterday morning.
The men, turned up at the Royal Liverpool University Hospital with gunshot wounds.
The 27-year-old man suffered serious facial injuries and remains in hospital. The 51-year-old received treatment to slight injuries to his leg and he has since been discharged. Patrols in the area have been stepped up in the area to reassure the local community.
We take reports of this nature extremely seriously and I would like to reassure the local community that officers will do everything possible to identify those responsible.

I would appeal to anyone who was in the area at the time and might have seen anything suspicious to call police as you might have vital information which could help our enquiries.
I would also like to speak with anyone who saw a silver car driving in the direction of Hamilton Road at the time of the incident, which might have been driving at speed. I would urge you to call police as you could also have important information for our enquiries."
– Detective Chief Inspector Robbie Slater
Everton manager Roberto Martinez says his players go into Sunday's game with Fulham full of confidence as they look to make in four wins in a row in the Premier League.
Everton manager Roberto Martinez is urging his players to go on and gain as many points as possible in their push to finish in the top four of the Premier League table.
Everton boss Roberto Martinez is relishing a potentially thrilling end to the Barclays Premier League season as he sets his sights on the Champions League.
There are going to be a lot of twists and turns. I just think you can't look elsewhere.

I am just looking at the points tally. I just feel if we can get anywhere near 71, 72 points and that gets us into the Champions League, it will be an outstanding achievement.

If that doesn't get us into the Champions League, it will be a phenomenal season from our point of view, so I am not looking elsewhere at all.

We have got Arsenal to play at home, we have got Manchester United and Manchester City, so in that respect it's a really good fixture list for us, glamorous
– EVERTON MANAGER ROBERTO MARTINEZ
Advertisement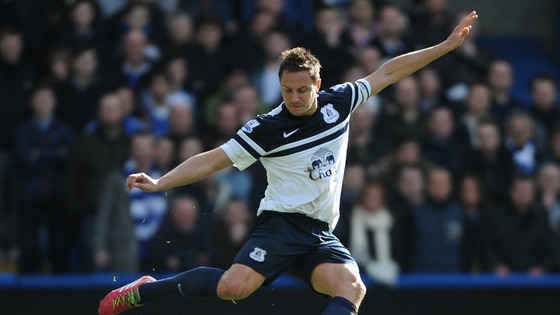 Everton captain Phil Jagielka is now fully fit and manager Roberto Martinez will make a late decision on whether to include him against Newcastle on Tuesday.
The centre-back has missed four matches with a hamstring injury but Martinez may well choose to play him at struggling Fulham on Saturday instead.Midfielder Steven Pienaar continues to be absent with a knee cartilage problem.
Everton has today confirmed an extension to its shirt sponsorship with Chang. The club reports the deal could be worth in excess of £16 million – the most lucrative in the Club's 136-year history.
Everton has enjoyed a special relationship with Chang extending now for 10 years. Everton is exceptionally proud to extend its partnership with a world-class organisation, an organisation where people matter; an organisation where, like us, only the best will do. I would like to thank Khun Thapana and all our friends at Chang for supporting our team."
– Chief Executive Robert Elstone

The deal, which gets underway at the start of next season, runs for three years until the end of the 2016/17 campaign, and is the longest-running shirt sponsorship in the Barclays Premier League.
Chang and Everton Football Club have joined forces once again after 10 years of solid friendship.

Chang's sponsorship with Everton football team is our proudest accomplishment, as we are inspiring people, especially youngsters, regardless of status to become responsible people in the society, with positive thinking and attitude – all gained through football.

Over the years, Chang has seen the steady progress of Everton and to celebrate this this, we are holding Chang-Everton, more good years, celebrating 10 years of great partnership to further boost Thai talent to the next level.
– Mr. Thapana Sirivadhanabhakdi, President and CEO of Thai Beverage PLC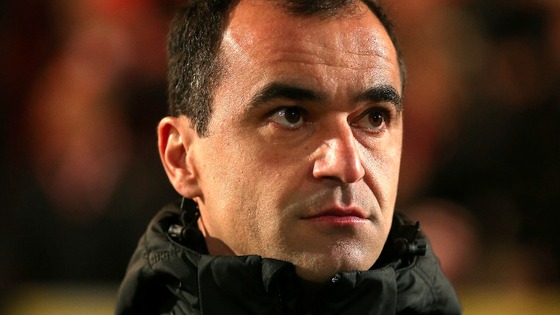 Click HERE for live minute-by-minute updates with ITV Sport.
Roberto Martinez has praised his team's 'magnificent' performance against West Ham at the weekend.
He said Romelu Lukaku, who is just back to fitness after being out for a month, injected a bit of magic into the game.
Load more updates
Back to top