A fire in an apartment block in Manchester's Northern Quarter has been brought under control.
More than 50 fire fighters have been tackling the blaze in the Tib Street area.
Photos taken at the scene show several floors affected by flames and smoke.
It's not clear yet whether there have been any casualties.
One year on from a deadly fire in Manchester's Chinatown detectives say they are no closer to catching the person responsible.
Read the full story ›
Advertisement
Police are investigating after a large amount of cash was reportedly stolen from a supermarket after a huge fire in east Manchester.
Read the full story ›
Manchester Fire and Rescue Service are asking residents affected by yesterday's fire to attend an update meeting this evening.
Read the full story ›
A fire at the Wing Fat cash and carry supermarket is producing huge plumes of smoke which can be seen across Greater Manchester.
Read the full story ›
Police are appealing for witnesses following a "deliberate" fire at at a terraced house in Preston.
The fire on Wellington Road is said to have started at around 3pm on Saturday July 8th.
Police say that no-one was at home when the fire started, although the property has been significantly damaged.
"This incident could have been a lot worse and it is lucky that nobody was hurt and the fire did not spread to any neighbouring properties. However it did cause a large amount of damage to the house in question.

"The fires were started in broad daylight and we believe somebody may have been in the area at the time who saw or heard something that didn't seem quite right. If you have any information, we would urge you to contact us as soon as possible."
– DC Jat Bunger, of Preston CID
Police have asked anyone with information to call them on (01772) 209746 or 101, quoting log number 979 of July 8th.
Alternatively, witnesses can call Crimestoppers anonymously on 0800 555 111, or online at Crimestoppers-uk.org.
Advertisement
Merseyside Fire and Rescue says the incident has been divided into sections in order to deal with the fire.
Part of the roof of the building has collapsed and a large number of tyres are involved in the fire.
The nearby Pilkington's factory has been evacuated but emergency services say it is not currently affected by the fire.
Residents are being advised to keep doors and windows shut until further notice.
An investigation has been launched into a warehouse fire in Salford.
Twenty people had to be evacuated from their homes after a fire at the Wardley Industrial Estate, in Swinton, brought down an overhead power cable, damaging the roof of a house and hanging low across the road.
Firefighters worked through the night into Sunday morning to bring the fire under control.
Greater Manchester Police and Greater Manchester Fire and Rescue Service are working to find out the cause of the fire at the recycling plant.
Roads in the area have now reopened and people have been allowed to return to their homes.
Firefighters were called to a quantity of plastic on fire Sefton tonight.
Merseyside Fire & Rescue Service were called to Leighton Avenue in Maghull after a plume of smoke was spotted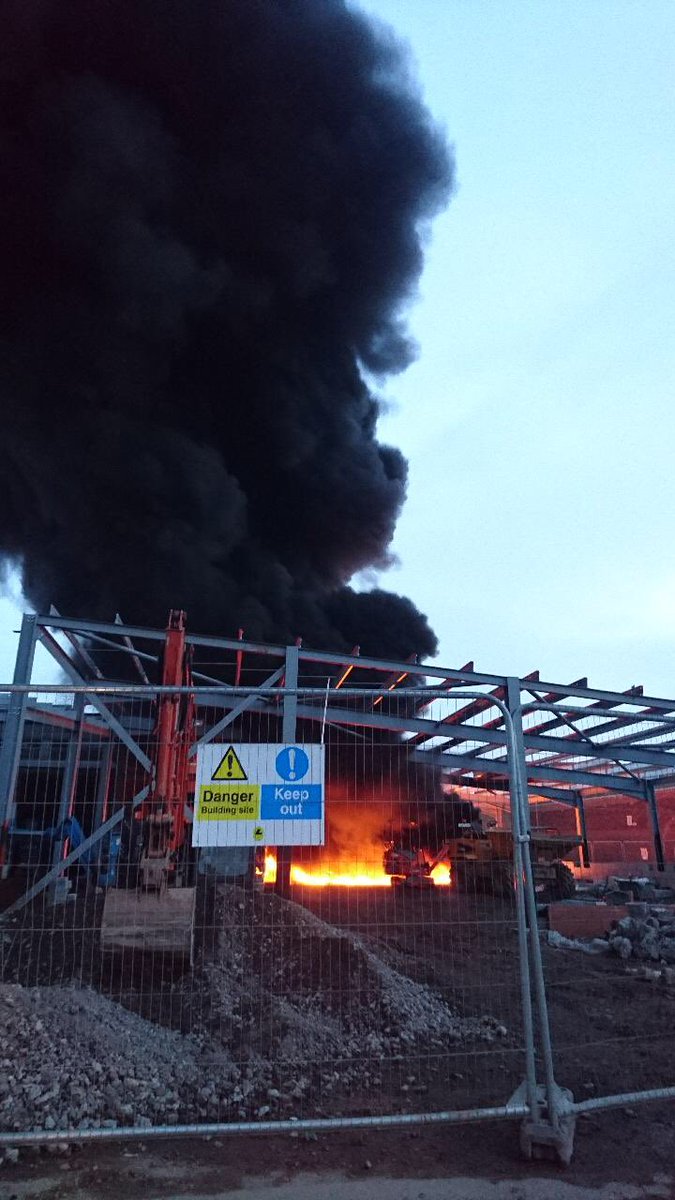 .
Firefighters remained at the scene for around 40 minutes.
The cause is not yet known.
Firefighters are continuing to tackle a huge fire at a metal scrapyard in north Liverpool.
It broke out early this morning at a recycling plant at Alexandra Dock in Bootle.
Public Health England is advising local residents to stay indoors, keep windows and doors closed.
Motorists travelling through the area are advised to keep windows closed, turn off air conditioning and keep air vents closed.
Load more updates