A cordon was earlier placed around a major fire in Newton Heath causing travel problems amid fears that a gas cylinder could explode.
Read the full story ›
Firefighters are warning about the dangers of cooking while under the influence of alcohol, after they rescued two men from separate fires in Manchester overnight.
The 22-year-old and 41-year-old men slept through their fire alarms sounding after leaving food cooking unattended.
Both were rescued after neighbours noticed smoke coming from their homes and called the fire service.
The first incident was in Haydn Avenue near Whitworth Park..
"We had to force our way into the building where the alarms were sounding and it was very smoke logged.

"We searched the property and found a 22-year-old asleep.

"He had been drinking and started cooking oven chips before falling asleep.

"It was really fortunate he had smoke alarms, as they alerted his neighbour.
– Watch Manager Jagjit Dhaliwal
The second fire was in Marriott Street in Withington. A 41-year old man had left food cooking in the oven after drinking.
"The neighbour heard a smoke alarm and saw smoke coming from an open window but they couldn't get any answer from the occupant.

"We forced our way in and the house was full of smoke. We found the resident asleep in bed and led him to safety. He was very lucky not to have been more seriously hurt."
– Watch manager Dave Simpson
Advertisement
A man has been arrested after a large fire at a warehouse in Oldham.
The fire brigade dealt with a large fire at around 12.35am at the Holden Fold Mill warehouse which belongs to the Oldham Sofa Company.
A number of local residents were evacuated from their homes as a result of the blaze.
A 50-year-old man was later arrested by police on suspicion of arson and remains in police custody for questioning.
"We are treating the fire as deliberate and a 50-year-old man has been arrested on suspicion of arson and remains in custody for questioning."

"I do not want people to be unduly alarmed and while I obviously cannot go into specifics, we believe this is the result of an ongoing dispute and is not a random act so I do not want the community to be fearful."

"Firefighters did an excellent job as they always do in bringing the fire under control and there was no damage to people's homes nor were there any injuries."
– Detective Sergeant Simon Haliwell
Anyone with information should contact police on 0161 856 9080 or the independent charity Crimestoppers, anonymously, on 0800 555 111.
A sofa business is counting the cost of a second suspected arson attack in a matter of months.
The warehouse at Holden Fold Mill in Royton, which belongs to the Oldham Sofa Company, was hit by the fire overnight after another fire broke out at the premises in early May.
Fire crews attended the scene and were able to get the fire under control. A man has been arrested on suspicion of arson.
Residents of a block of flats in Wigan say they have lost everything after a fire tore the building apart at the weekend.
The Fire Service took off the roof and demolished part of the building at the Wharfside in Wigan this morning.
Matt O'Donoghue reports.
Advertisement
Demolition is due to begin at Wharfside, Wigan. The top two floors to the right of the building are being taken down. http://t.co/HBcMfXBef7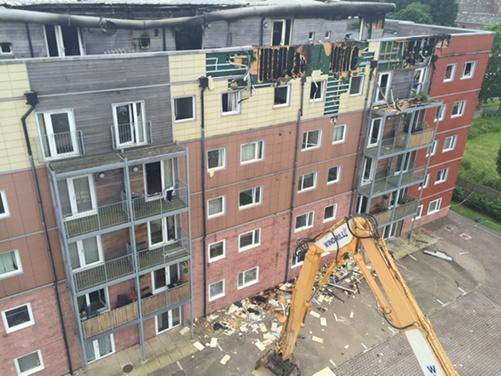 Residents from a block of flats in Wigan are preparing for the demolition of their homes after they were ripped apart by fire over the weekend.
Greater Manchester Fire Service are demolishing the flats over fears that they may not be structurally safe.
It's another sad morning for residents as they watch their homes be demolished. Doing so will allow us to check for further signs of fire.
The demolition at Wharfside has been delayed. Another residents meeting will take place at 10am to update everyone on the plans.
A set of flats in Wigan is to be demolished after a fire destroyed the structure over the weekend.
The Wharfside flats in Wigan were evacuated in the early hours of Sunday, as emergency crews doused the flames.
Firefighters fear that the structure could be at risk of collapsing and have decided the best course of action is to demolish the flats.
The video from the Greater Manchester Fire and Rescue Service shows the extent of the damage.
Wigan Council have set up an emergency helpline number for residents affected by the wharf-side fire. The number is 01942489014.
Pictures have emerged of the damage caused by the fire at Winter Hill.
The fire is now out and investigations have begun into how it started.
Pictures courtesy of Portfolio Design.
Demolition work has started on the former Mr Smith's nightclub in Warrington after it was seriously damaged in a suspected arson last night.
Officers have now arrested eight people in connection with a fire including a 43-year-old man and seven teenagers.
More than 50 Firefighters spent the night battling the blaze and emergency services are still working now.
Load more updates