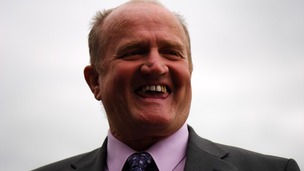 Former Accrington Stanley chairman Eric Whalley has died aged 74.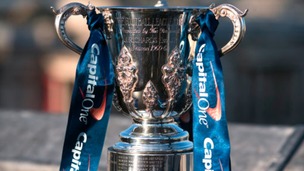 Find out who your team have drawn in the first round of the Capital One Cup.
Tranmere Rovers footballer Joe Thompson has been given the all-clear in his battle with cancer.
Live updates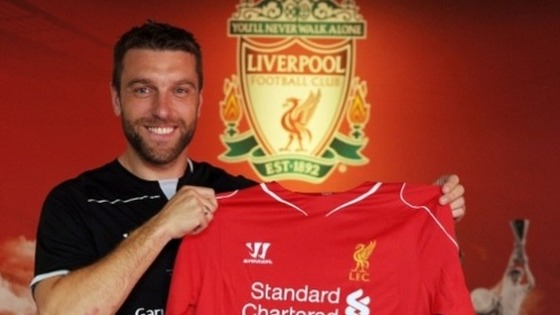 Rickie Lambert has cut short his holiday to begin pre-season training.
The striker reported to Melwood one week earlier than he was required to, following his trip to Brazil as part of England's World Cup squad.
Speaking to Liverpoolfc.com at the club's training complex, he said:
"Probably for the first time in my career I've been looking forward to pre-season - and it's not bad for a 32-year-old to be saying that!

"I was itching to get back, be with the lads and play football. It's good. It's my second day and I'm enjoying it. It's hard, but I'm feeling good.

"This [early start] is what I have to do now; it's no longer a choice for me, really. I know my body and know what I've got to do, to get into the same shape as everybody else and it tends to be that I need to do a little bit more."
– Rickie Lambert, talking to Liverpoolfc.co.uk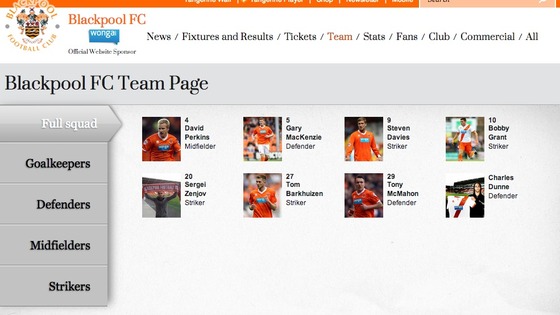 Blackpool FC have cancelled their pre-season trip to Spain because they do not have enough players.
It is just three weeks to go until the start of the new season and the current squad list on the club's official website shows just eight players and no goalkeeper.
Chairman Karl Oyston has held emergency talks with new manager Jose Riga in a bid to end their transfer stalemate.
Advertisement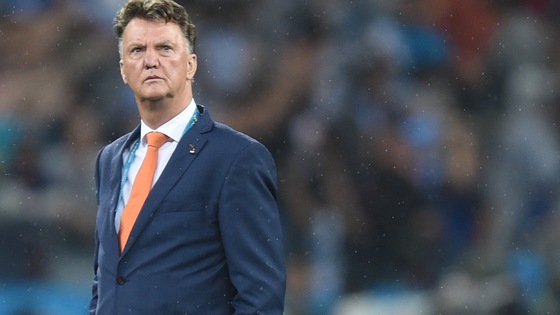 Louis van Gaal says he is relishing the opportunity to manage Manchester United after leading the Netherlands to third place at this summer's World Cup in Brazil.
The 62-year-old Dutchman is refusing to go on holiday and will have just two days off at home before officially taking charge this week.
He told MUFC.co.uk: "That is no problem for me, I don't need a holiday"
"It's great to have such an exciting challenge. To work daily with young people is something that I don't need time off for."
He added: "I hope at Man United I can do my best. I will do my best. Whether that's enough for the fans I will wait and see, but I genuinely hope that will be the case."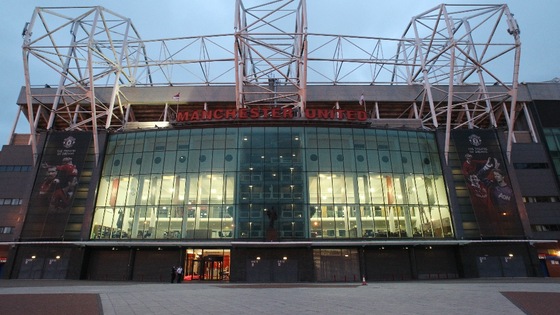 Manchester United have agreed a £70m per year deal with Adidas.
The ten year deal comes after sports brand Nike last week confirmed they would not extend their contract with United beyond the end of next season.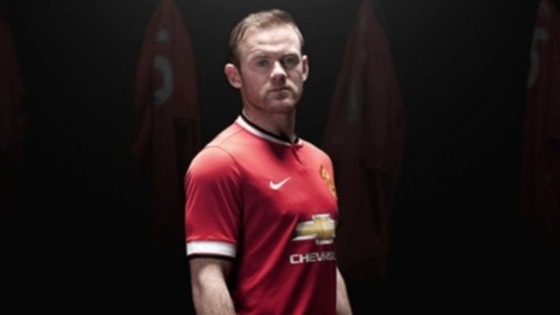 The contract serves as a boost for United as new manager Louis van Gaal gets set to begin his reign in charge after steering Holland to a third placed finish at the World Cup.
Luis Suarez to leave Liverpool
National
Former Liverpool striker John Aldridge said he could "see the logic" in the club letting Luis Suarez leave after he was hit with a four-month ban for biting a player at the World Cup.
Some Liverpool supporters were not overly distressed at the move either - one fan told ITV News he "didn't want him" at the club anyway, while another said he was "not a good role model".
ITV News Sports Correspondent Ian Payne reports.
Luis Suarez to leave Liverpool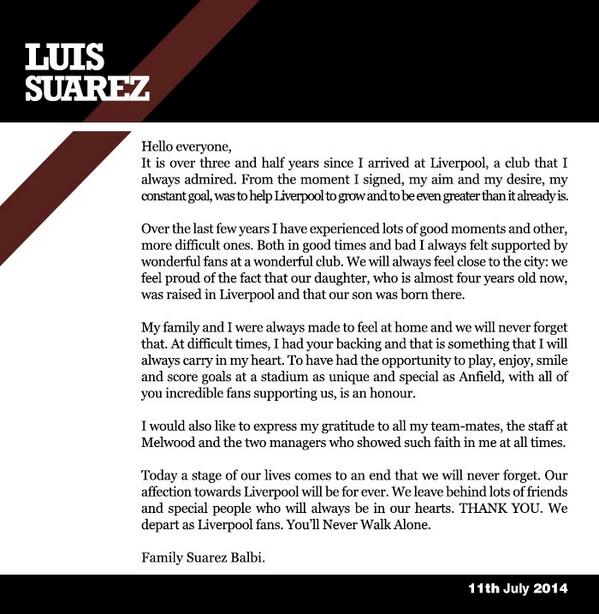 Advertisement
Luis Suarez to leave Liverpool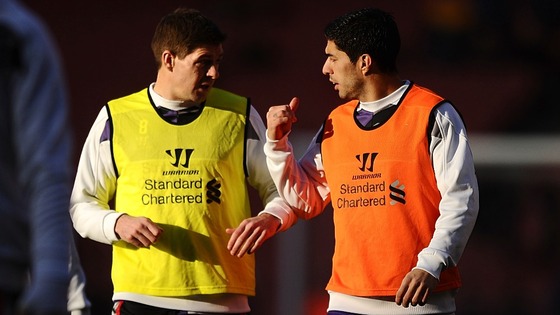 'On an emotional day for me would just like to say what a pleasure it has been playing with an amazing talent such as Luis. I would like to thank him for his outstanding contribution on the pitch and to wish him and his family all the best on his new adventure in Spain'
Luis Suarez to leave Liverpool
National
Liverpool captain Steven Gerrard has issued a heartfelt message praising Luis Suarez as an "amazing talent" and a "legend" at the club.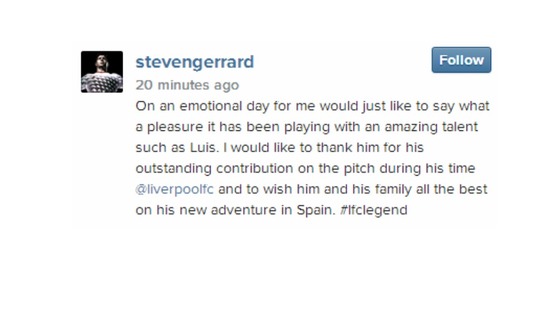 The England international wrote the message on his Instagram account following the news of Suarez's move to Spanish side Barcelona.
Read: Rodgers: Liverpool let Suarez go 'with great reluctance'
Luis Suarez to leave Liverpool
National
Liverpool manager Brendan Rodgers has said the club only accepted Luis Suarez's move to Barcelona "with great reluctance".
In a statement on the Liverpool website, Rodgers said: "The club have done all they can over a sustained period of time to try to keep Luis at Liverpool."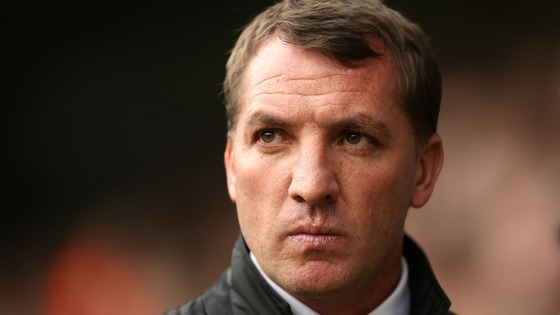 "It is with great reluctance and following lengthy discussions we have eventually agreed to his wishes to move to Spain for new experiences and challenges. We wish him and his young family well; we will always consider them to be friends."
Rodgers described Suarez as a "special talent", but said despite his departure the club would "improve the team further and...be stronger for this coming season".
Luis Suarez to leave Liverpool
Suarez said it had always been a dream and ambition of his to play in Spain and he asked Liverpool fans to understand his decision.
"It is with a heavy heart that I leave Liverpool for a new life and new challenges in Spain."

"Both me and my family have fallen in love with this club and with the city but most of all I have fallen in love with the incredible fans.

"You have always supported me and we, as a family, will never forget it, we will always be Liverpool supporters.
– Luis Suarez

He continued:
"This club did all they could to get me to stay, but playing and living in Spain, where my wife's family live, is a lifelong dream and ambition.

"I am very proud I have played my part in helping to return Liverpool to the elite of the Premier League and in particular back into the Champions League.

"Thank you again for some great moments and memories. You'll Never Walk Alone."
– Luis Suarez
Load more updates
Back to top