Blackpool and Fylde College will be a new centre of excellence for fracking.
It'll offer advanced engineering courses for use in the onshore oil and gas industries.
Test drilling in the region has proved controversial with claims it caused earth tremors.
But supporters say it will help meet growing energy needs.
It's being set up by representative body UKOOG to meet the industry's future skills needs and help the UK to become an international centre of excellence for onshore operations.
The news is being announced by the Business and Enterprise Minister Matthew Hancock on a visit to the college.
"Crucially, this will drive long term investment in the region, meet the demand for highly skilled labour and secure local jobs. To be named as the hub for one of the National Colleges is a privilege. It is testament to the College's well established relationships with industry partners and high quality skills training up to and including honours degree programmes."
– Bev Robinson, Principal and Chief Executive
The College has been supported in its bid by a number of industry-leading organisations including Centrica Energy and Cuadrilla Resources.

"Several independent studies have shown that the development of a shale gas industry in the region will generate tens of thousands of jobs and this new National College will give the North West region a head start in developing the skills that are needed for a productive shale gas industry."
– Francis Egan, CEO Cuadrilla
Energy firm Cuadrilla is seeking planning permission to drill, hydraulically fracture and test the flow of gas from up to four exploration wells on the sites in the Fylde area.
Councillors at Lancashire County Council were due to make a decision on both applications next month, with drilling likely to start early next year if approved then and fracking to follow several months later.
But now planning officials want the decision deadline to go back to December 31 for the proposed site at Preston New Road in Little Plumpton and to January 31 next year for the similar site at Roseacre Wood in Inskip.
The planners have been working since the applications were received in June to consult with the public and other statutory agencies, and assess the applications, to ensure all the information needed to determine them is put before the Development Control Committee.

The council has now written to Cuadrilla asking for further time to receive, organise, assess, and present all the relevant information for the application to be determined by the committee.
– Lancashire County Council
Test drilling was suspended in the Lancashire's Bowland basin in June 2011, following two earthquakes in the area in April and May of that year, one with a magnitude of 2.3 and the other 1.4, with the epicentre thought to be about 500 metres away from a well in Weeton, Lancashire.
Advertisement
An independent report has cleared police of brutality in dealing with anti-fracking protestors at Barton Moss in Salford.
It says Greater Manchester Police must improve the way it handles major demonstrations.
But protestors say the report is a whitewash - their solicitor argues most of the people arrested by officers went on to have all charges dropped against them.
This report from Tim Scott:
An independent inquiry into the policing of the Barton Moss anti-fracking protests has found "no evidence" of police brutality.
Read the full story ›
Anti-fracking protesters will stage a march in Liverpool today and deliver a petition to the Town Hall.
The march has been backed by John Lennon's widow Yoko Ono who tweeted her support for the campaign.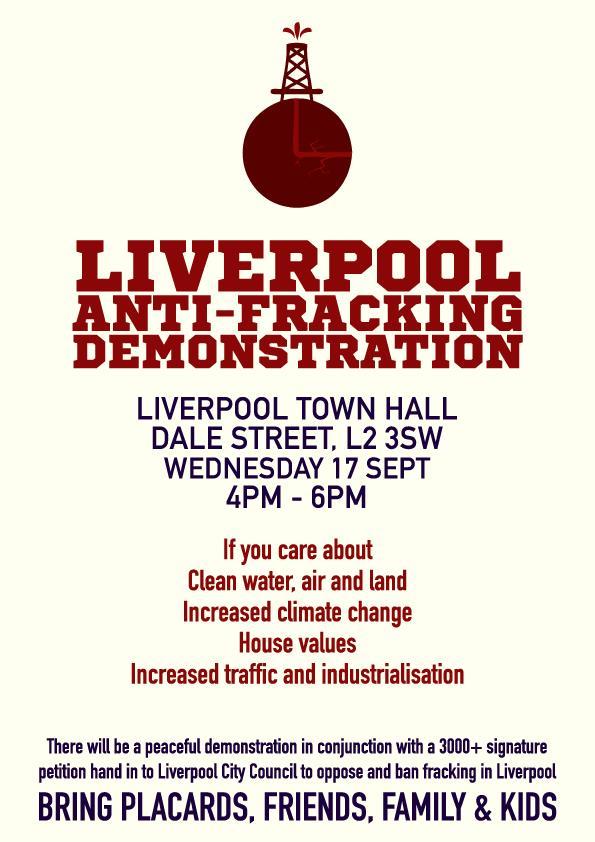 Hundreds of anti-fracking campaigners have set up camp in Blackpool. Reclaim the Power, the action group that disrupted Cuadrilla's operations in Balcombe last year will take 6 days of action in the seaside town. There have already been a number of protests in the region over the gas extraction technique.
Advertisement
Fashion designer Vivienne Westwood is making her presence felt in the political arena.
She's the latest celebrity to add her concerns to the fracking debate in the North West.
Dame Vivienne Westwood is from Glossop and she said fond memories of her childhood spent in Derbyshire and Cheshire make her even more opposed to fracking.
She was the guest speaker at a "We need to talk about fracking" event in Manchester.
Glossop-born Dame Vivienne Westwood says she may return to the North West when she retires.
She's been talking to Daniel Hewitt on her visit to Manchester as part of a tour opposing fracking plans in the region:-
Fashion designer Vivienne Westwood has been in the region to talk about fracking and climate change.
We also asked her about her childhood in Glossop where she lived until she was 17, and her teenage years dancing at The Ritz in Manchester.
Full interview on Granada Reports on ITV at 6pm.
Dame Vivienne Westwood has added her voice to the fracking debate in the region. The fashion designer, best known for haute couture for the stars, said the controversial shale gas technique should be stopped immediately.
Dame Vivienne, has been actively campaigning for some time. In March she joined a huge demonstration in London. She's been to Manchester as part of a tour voicing her concerns about fracking and said politicians need to listen.
Load more updates