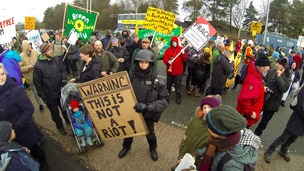 A bid to evict protesters from a controversial fracking site has been put on hold by a court.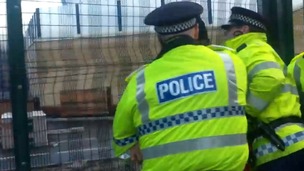 Following the release of a video showing the arrest of a Barton Moss protestor, the IPCC have announced they will open an investigation.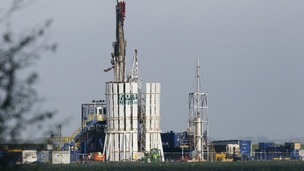 A fracking company has announced plans to explore for shale gas in two new locations in Lancashire.
Live updates
New fracking wells planned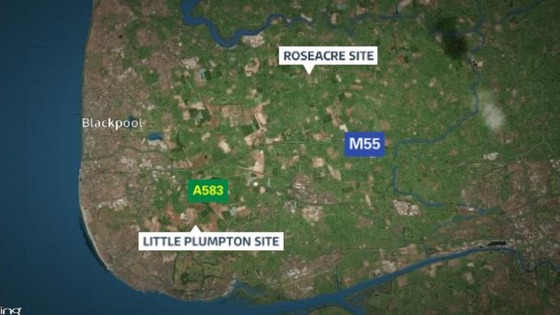 Energy company Cuadrilla intends to drill at two new sites in Lancashire.
A statement said:
"The company intends to apply for planningpermission to drill, hydraulically fracture and test the flow of gas from up to four exploration wells on each of the sites".
New fracking wells planned
A company drilling for shale gas on the Fylde coast says it will drill at two new sites, and drill a total of eight new wells.
The sites are located near to Roseacre and Little Plumpton.
Advertisement
Inside the fracking protest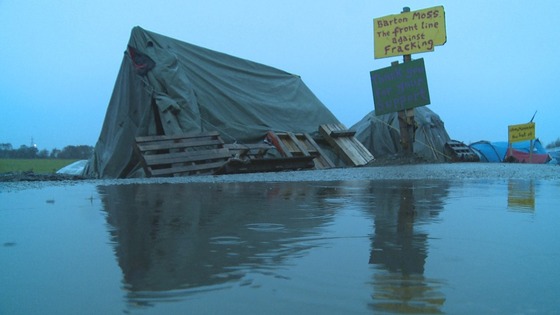 Tonight on Granada Reports, we have an exclusive insight into an anti-fracking camp in Salford.
We have spent a night with the protesters to understand their motives, and see how they keep themselves warm in the middle of winter.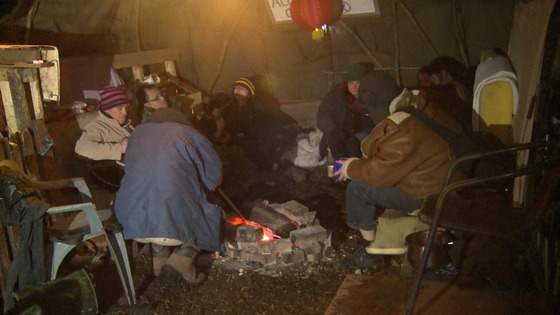 Fracking protest in Barton
National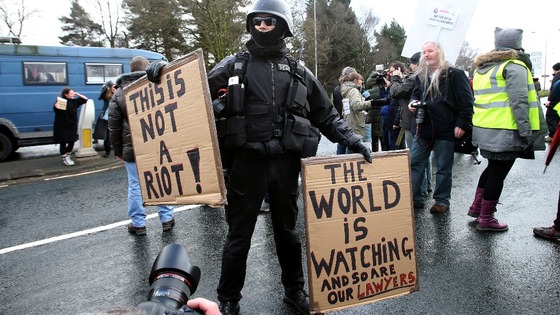 Hundreds of anti-fracking protesters have marched towards Barton Moss in Greater Manchester, where fracking engineers are looking for shale gas.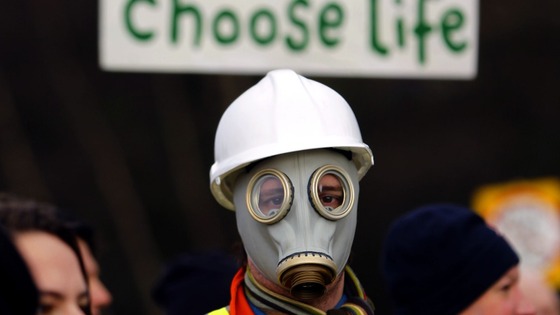 Between 250 and 300 people walked from the AJ Bell Stadium to Barton Moss protest camp.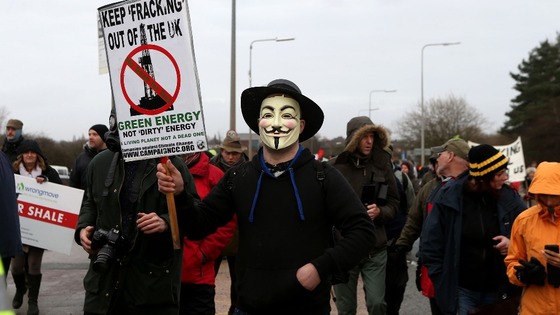 Read more on Granada: Hundreds march in anti-fracking protest
Fracking protest in Barton
Around 250-300 ppl walk from AJ Bell Stadium to Barton Moss protest camp for the 3rd anti-fracking march since Dec. http://t.co/SzJZ9cLa0k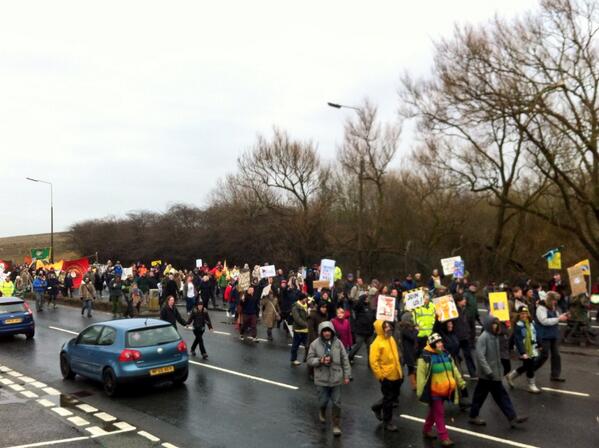 Advertisement
Greater Manchester Police says the total number of protesters arrested at Barton Moss anti-fracking camp has risen to 82, a is rising with each day of deliveries.
The force says 62 of these are from outside the Greater Manchester area, with many from the South of England and that some protestors have been previously arrested at either Barton Moss or other protest sites.
GMP also say protestors are jumping onto moving lorries, spitting at and abusing officers and intimidating local residents.
Chief Superintendent Mark Roberts said:
"At the start of this protest the majority of protesters were peaceful and law abiding but over the past couple of weeks local residents and officers have seen a distinct change to this. It now seems that the majority of people who are arriving at the site are not there to protest against fracking but are there to disrupt and intimidate the local community and to antagonise police. We have seen offences of assaults, damage, harassment of residents and workers, a flare fired at the police helicopter and threats to kill.
"I attended a residents' meeting last week and people there were close to tears and have had enough of this daily disruption to their lives. Locals, who initially supported the protesters, out walking their dogs and driving down Barton Moss Road have been approached by protesters in balaclavas and have been questioned by them which has been extremely intimidating. We have seen a huge increase in the calls to police from that area and this is continuing.
"Officers are verbally abused on a daily basis, one has even been spat at and another officer required stitches to his hand after trying to get a protester down from a fence. The police are there to do a job and that job is to facilitate peaceful protest and to balance the needs of all parties, the residents who live there, businesses who operate from there and the protesters themselves."
Two people have been arrested at an anti-fracking camp at Barton Moss in Salford.
Police were called to the site on Wednesday evening after reports protesters were obstructing vehicles entering the site.
Police says threats were made towards staff during a shift change over.
Two men were arrested for threats to kill, they both remain in police custody for questioning.
Fracking protest arrests
Police say the cost of maintaining law and order at the anti-fracking protest in Greater Manchester has now reached £330,000. And while more than 60 arrests have been made, they claim only a third are from the North West.
The site at Barton Moss has seen more unrest earlier today as demonstrators clashed with officers.
Fracking protest arrests
Five people have been arrested as anti-fracking protests continue at Barton Moss in Salford.
A Greater Manchester Police statement said:
The four men and one women were arrested on suspicion of either obstructing the highway or obstructing police and one offence of drink driving.

Greater Manchester Police respects everyone's democratic right to peacefully protest.

Officers are monitoring the demonstration and working with partner agencies, in particular Salford Council, to ensure it passes safely.

Due to the nature of the protest, a proportionate number of police officers are required to ensure the safety of all sections of the public.
– Greater Manchester Police statement
Load more updates
Back to top