Prince Harry has arrived in Eccles this lunchtime.
He has been visiting a special scheme that aims to get more young people involved in rugby.
Later on this afternoon he will be visiting fire crews in Greater Manchester.
Prince Harry will visit Greater Manchester today where he will help out at a rugby training session and meet fire fighters.
The Prince, who is patron of England Rugby's All Schools Programme, will take part in a training session for teachers which hopes to get more of them to become rugby coaches and enable more young people to take up the sport.
Later, he will meet fire fighters from Greater Manchester Fire and Rescue Service and talk to some of the young people involved in their community cadet scheme.
Advertisement
Fire fighters are tackling a major blaze at Northenden Golf Club in Manchester.
Motorists are being warned that there may be road closures nearby as the fire is brought under control.
With just over three weeks to go to Bonfire night, fire fighters in the North West are launching a new safety campaign which, you might say, packs a bit of a punch.
Greater Manchester Fire Service have signed up the Bury boxing champion Scott Quigg, with a message aimed particularly at children.
And as Tim Scott's been finding out it's all invovled the fighter undering a bit of a gruesome makeover.
Some of you may find the images in his report distressing.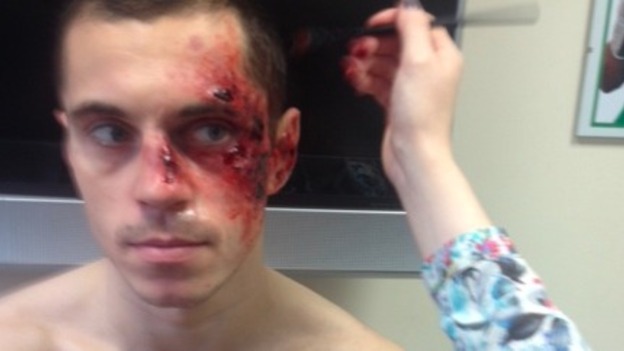 Fire crews have rescued and treated a bearded dragon lizard following a house fire in Bolton.
Firefighters found the lizard in its tank and took it out to the fire engine where they treated it with oxygen therapy - and it made a full recovery.
The occupant of the house, on Chorley Old Road, and her two dogs were unharmed in the incident.
If you're planning on hosting a fireworks party, be safe, not sorry and keep it free from accidents by following the fireworks code.
Fireworks should not be sold to any person under the age of 18;
Ideally attend an organised display
Buy fireworks marked BS 7114;
Keep fireworks in a closed metal box;
Follow the instructions on each firework;
Light them at arm's length using a taper;
Stand well back;
Never go back to a lit firework;
Never put fireworks in your pocket;
Keep a bucket of water nearby if you are setting off fireworks in your garden;
Never throw fireworks;
Keep pets indoors;
Alcohol and fireworks do not mix and may lead to injury
Advertisement
Sports stars Scott Quigg, Adrian Morley and Paul Horton are fronting a new campaign to raise awareness of the dangers of fireworks.
The Boxer, Super League player and cricketer have all been made up to appear as if they have suffered career-ending firework injuries.
The Treacle campaign by Greater Manchester Fire and Rescue Service aims to drive home the message of firework safety ahead of Bonfire Night on November 5.
Fire fighters rescued a man in Stretford after he fell and his foot became trapped in the floor of a loft space.
The man became stuck on the fourth floor of a property under renovation in Norwood Road, Stretford.
There were fears for the safety of the man as the building is undergoing building work.
Crews used a crane and other specialist equipment to free him and the road was closed for a short time.
A spokeswoman for Greater Manchester Fire and Rescue Service said: "As the property is under renovation, it wasn't a stable building so we had to attend to make sure he could make it safely down to ground level."
Load more updates