Two prolific joyriders were rumbled by police after taking a series of 'selfies' inside stolen cars.
Read the full story ›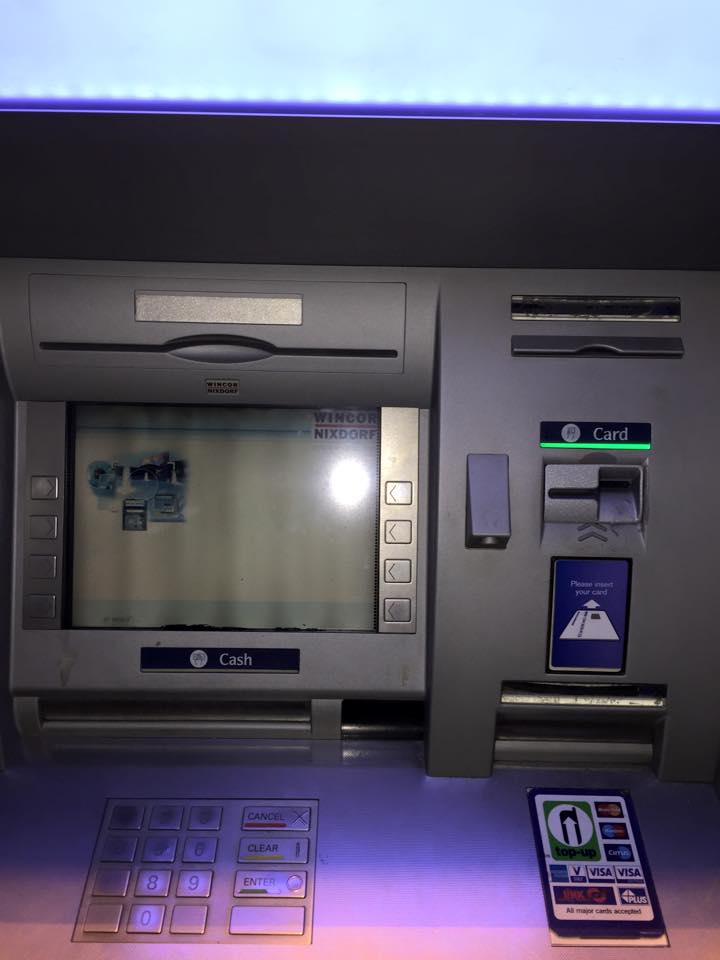 Thieves are targeting cash machines with so-called skimming devices in Chorlton, Greater Manchester.
Police have issued a fresh warning after more 'Lebanese Loops' were planted on ATMs around the south Manchester suburb.
The fake slots 'swallow' the user's card, allowing crooks to later take cash from their account.
Advertisement
Sir Peter Fahy, the Chief Constable of Greater Manchester, has spoken out after a swastika symbol was painted on a pavement in Waterpark Road, Salford - an area with a predominately Jewish population.
Figures released this week by the Community Security Trust showed the highest ever figure of anti-Semitic incidents recorded over the past year.
GMP says there has been an increase in such incidents since the terrorist attack in Paris and also an increase in hate incidents directed against Muslim individuals and institutions.
The force said it's "closely monitoring" all hate incidents and is asking the public to be vigilant.
The use of a swastika in this way is insulting not only to members of the Jewish faith but indeed to the families of all those who fought against Nazism in the Second World War.

"You have to wonder whether people who do this are incredibly stupid and don't understand basic history or are just evil in wanting to cause fear and distress.

"Hate crime is important because it insults people's deeply held beliefs and their backgrounds and history and that is why the police see it as a priority.

"This incident is not just about some paint on a flagstone it has a wider significance because of all the death, destruction and hatred that this symbol represents . "
– Chief Constable Sir Peter Fahy
Police are hunting a soldier who has deserted his Army posting and breached a restraining order.
29-year-old Neil Graham, also known as Neil Boote breached his restraining order last November by sending a series of text messages to the victim.
He also breached a court order by failing to attend an appointment with the Probation Service in December.
At the time of the breaches and still currently, Graham is a deserter from the 1st Battalion Prince of Wales Royal Regiment stationed in Germany.
It is thought Mr Graham has links with the Bury area. Anyone with information about his whereabouts is asked to call police on 101 or the independent charity Crimestoppers on 0800 555 111.
Police are appealing for help in identifying a woman who was found dead on a road in Greater Manchester.
The body of the elderly woman was discovered underneath a car on Coniston Road in Stretford yesterday morning.
Police believe there are no suspicious circumstances and an investigation has been launched to find out who she is.
The woman is described as white, of slim build, between 65 and 80 years old, has brown greying hair, false teeth, was wearing khaki green trousers, a red fleece, grey jacket, three gold coloured rings and a gold coloured necklace.
She also had a Yale Mortice key, two trolley tokens, one with a four leaf clover, the other with the Irish flag and a horse shoe charm.
"We are working to establish how the woman came to be underneath the car and find out her identity. What we do know is that the car she was under was not involved in any type of collision and we do not believe any third party was involved in her death.

"We have checked the register of those missing and the lady does not match any of their descriptions. Obviously, we are desperate to not only find out who she is but also who her next kin are so we can let them know of the sad news. "I would ask anyone who may recognise the description of the woman or who may have seen her walking in or around the area of Coniston Road last night or early this morning, to call us."
– Detective Inspector Joe Clarke, Greater Manchester Police
Anyone with information should phone police on 101 or the independent charity Crimestoppers, anonymously, on 0800 555 111.
Greater Manchester Police give us an insight into their statistical analysis after claims a serial killer is stalking Manchester's canals.
Read the full story ›
Advertisement
Police have denied reports there may be a link between 60 deaths in Greater Manchester's canals and waterways.
It follows publicity in a national newspaper which suggested there may be a connection between the deaths.
Greater Manchester Police said all the deaths, which took place across the force area, have been investigated and there is "no evidence at all" to link them.
It's asked a Birmingham University academic, who was quoted in the newspaper's story, to visit the force next week to discuss his analysis of the issue.
What is very important to bear in mind in all these cases is that they have been subject to separate investigations and there is no evidence at all to suggest these deaths are linked or were suspicious.

"The last thing we want is to cause further suffering and upset to grieving families who may be falsely led to believe from media reporting that there is a linked series of attacks or to cause unnecessary worries to people especially those who live in or frequent Manchester City Centre."
– Detective Chief Superintendent Russ Jackson, head of GMP's Serious Crime Division.
GMP is marking the murders of two French police officers and 10 other people by holding a small ceremony and two minute silence outside its headquarters.
Twenty-four hours after the terrible events in Paris, staff and officers will be joining police colleagues across the country in paying respect to those who lost their lives in the terrorist attack at the head offices of French satirical newspaper Charlie Hebdo.
Photographs of ceremonies taken place within the Force will be sent to the French police to show our support and a book of condolence will be available from Monday at police headquarters for anyone wishing to leave a message.
"Our thoughts and sympathies are with the families of all those who lost their lives in yesterday's tragic and savage events."
– Sir Peter Fahy, Chief Constable of Greater Manchester Police
Tomorrow at 10 30 we will pause to remember our brave French colleagues murdered defending the basic human right of free speech.
Police have made two arrests in connection with a homophobic assault in Manchester City Centre.
A 20-year-old woman and a man, aged 29, have been arrested on suspicion of an aggravated homophobic assault and remain in police custody for questioning.
The attack happened on Saturday, November 1, when the 25-year-old victim was on the tram travelling to Manchester and an argument began between him and another man.
When the victim got off the tram at Manchester Piccadilly tram stop, the man followed him and shouted at him.
The victim was then approached by a group of between 10 and 20 people and was punched and kicked until he lost consciousness and the group fled the scene.
We are still appealing for people to come forward with information and I would urge anyone who witnessed the attack to speak to police.

"The victim was attacked in a busy place and someone may have seen something and have some key information that could help our investigation."
– Detective Constable Tim Greenwood, Greater Manchester Police
Anyone with information about the incident should call police on 0161 856 3229 or Crimestoppers on 0800 555 111.
Load more updates