A man who hit his ex-partner in the head with a hockey stick and killed her during a heated argument in front of their children has been sentenced to life in prison.
Oral David Bryan, 44, of Cadogan Street, Moss Side, will serve a minimum of 20 years for the murder of Nicola McKenzie.
Bryan killed Ms McKenzie on September 17 last year after a heated argument broke out between Nicola and another woman outside his home, Greater Manchester Police said.
After watching it unfold, Bryan took a hockey stick from his house and walked towards the two women before he raised the stick with both hands high in the air and swung it down in an axe like motion and struck the top of Nicola's head.
She lost consciousness and fell to the ground, banging her head on the road in the process. With blood pouring from her head, Bryan attempted to lift the victim off the ground before letting her drop which resulted in her banging her head again.
He ran away from the scene but was arrested nearby a short time later.
The attack was witnessed by the former couple's two children as well as Bryan's other two children from a different relationship and another ex-partner's child.
Nicola was taken to the intensive care unit at Hope Hospital with massive skull trauma and brain injuries but she sadly died two days later.
"This was a tragic incident where the life of a woman was sadly cut short in brutal fashion by a man she was once close to.

"Oral David Bryan showed absolutely no concern about his victim and the only intention in his mind when he retrieved the hockey stick from his house was to cause serious harm.

"His lack of concern was further exemplified when he fled the scene to try and save himself rather than get medical attention for Nicola.

"I know the sentence passed here today won't bring her back or even begin to make up for their loss but I hope it will offer Nicola's family some closure and my thoughts are with them."
– Senior Investigating Officer Duncan Thorpe, Greater Manchester Police
A teenager's has been arrested after a shooting in Manchester.
The 17-year-old was held on suspicion of attempted murder this morning after a 23-year-old man was shot in the leg on Great Western Street in Moss Side yesterday afternoon.
The man was taken to hospital for treatment and his injuries are not believed to be life threatening.
The suspect remains in custody for questioning.
"I know people were anxious and alarmed following reports that a man had been shot in our community.

"I want to reassure people that as a result of the significant inquiries officers have been making, we have this morning carried out a warrant and arrested a man on suspicion of attempted murder.

"We will now be questioning that man so I hope people will understand that I cannot divulge much more details at present.

"However, it is important that our community is made aware of this arrest and of the significant policing operation we have in place both to get to the bottom of this incident and reassure residents living and working here.

"We will keep the community fully updated as our investigation progresses."
– Detective Chief Inspector Andy Cunliffe, Greater Manchester Police
Anyone with information should contact Greater Manchester Police's South Manchester Neighbourhood Policing Team on 0161 856 4436 or Crimestoppers on 0800 555 111.
Advertisement
Greater Manchester Police has taken over 1500 knives and other sharp weapons off the streets during the 'Bin the Blade' knife surrender.
They range from domestic kitchen knives to swords, axes and hunting blades. The most unusual items include wartime cut-throat razors, a small knife in the shape of a shotgun cartridge and a number of ornamental daggers.
The campaign is part of the 'Save a Life, Surrender Your Knife' initiative. Surrendered knives will be used to create a spectacular 15-24 feet tall Angel statue in memory of those whose lives have been tragically lost to knife crime.
Detective Chief Inspector Debbie Dooley of Greater Manchester Police told us about the kind of weapons that have been handed in:
A drug dealer who stashed cocaine in his underwear in an attempt to avoid detection has been jailed.
Wayne Elphick, 43, of Bellscroft Avenue, Manchester, pleaded guilty to possession of cocaine with intent to supply at a hearing at Manchester Crown Court.
He was sentenced to two-and-a-half years in prison.
Last October Elphick was driving a red Seat Leon down Oldham Road, Newton Heath, when he was stopped by North Manchester Organised Crime Unit.
When they searched the vehicle, Elphick was found in possession of £272, two mobile phones and £550 of cocaine hidden in his underwear.
"This conviction shows that GMP will absolutely not tolerate drug dealing in our communities.

"Drugs can have a devastating impact on people's lives, not just the users but their families. I would ask anyone who has information into where drugs are being dealt or produced, to contact police."
– Detective Sergeant Andrew Buckthorpe, Greater Manchester Police
Police are appealing for information after a house in Bolton was set on fire whilst an elderly couple slept inside.
The couple, aged in their 80s, were asleep in their home on Eldon Street, Tonge Moor, when they were awoken by the sound of their fire alarm at around 4am today.
They got out of bed to find the living room full of smoke and quickly managed to alert their neighbours by banging on the internal wall of the property.
With help from their neighbours, the couple were able to make it out of the property alive and were taken to Royal Bolton Hospital suffering the effects of smoke inhalation.
The couple are now safe and well and are being cared for by family members.
A joint investigation between police and the fire service is underway to establish the exact circumstances leading up to the fire.
Police say it's believed to be an isolated incident.
"This is a terrible incident and enquiries are ongoing to try and establish who would target such a vulnerable elderly couple.

"We have stepped up police patrols in the area and I would like to reassure everybody in the local community that we believe this to be an isolated incident and a detailed investigation is now underway.

"Understandably the couple who live in the house are very shaken but thankfully they managed to escape the fire, suffering from only minor smoke inhalation and they are now doing much better.

"It is possible that the offenders may have discarded containers used to carry an accelerant or other suspicious items in the local area so if anybody finds anything of this nature then we would very much like to hear from them.

"I would also like to please urge anybody who may have witnessed the fire being started or anything suspicious in the area at the time to please contact the police."
– Detective Inspector Charlotte Cadden, Greater Manchester Police
Two prolific joyriders were rumbled by police after taking a series of 'selfies' inside stolen cars.
Read the full story ›
Advertisement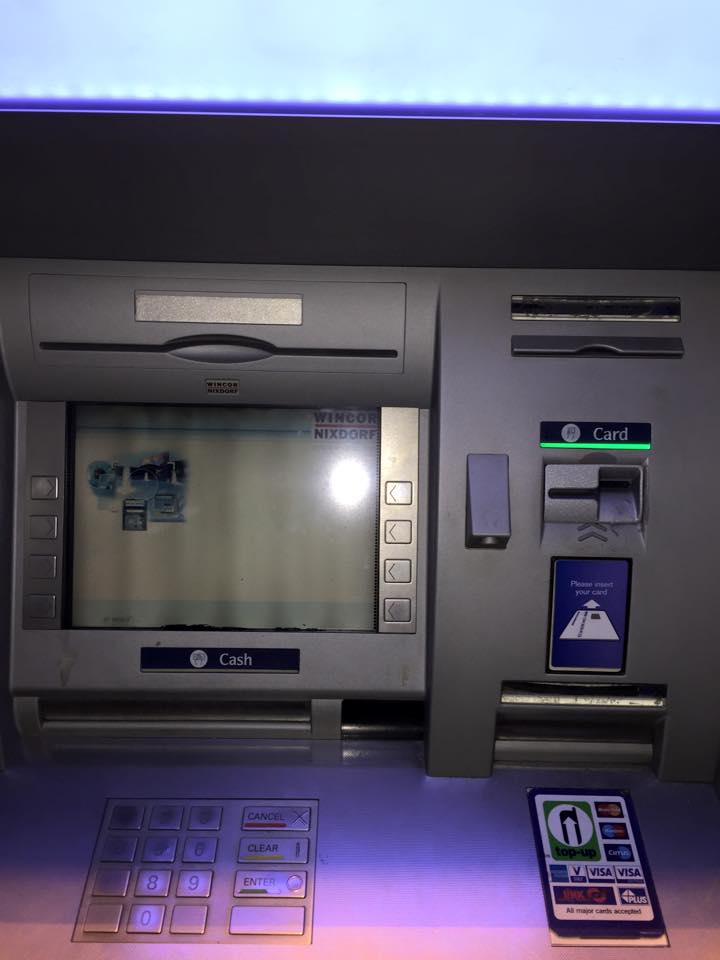 Thieves are targeting cash machines with so-called skimming devices in Chorlton, Greater Manchester.
Police have issued a fresh warning after more 'Lebanese Loops' were planted on ATMs around the south Manchester suburb.
The fake slots 'swallow' the user's card, allowing crooks to later take cash from their account.
Sir Peter Fahy, the Chief Constable of Greater Manchester, has spoken out after a swastika symbol was painted on a pavement in Waterpark Road, Salford - an area with a predominately Jewish population.
Figures released this week by the Community Security Trust showed the highest ever figure of anti-Semitic incidents recorded over the past year.
GMP says there has been an increase in such incidents since the terrorist attack in Paris and also an increase in hate incidents directed against Muslim individuals and institutions.
The force said it's "closely monitoring" all hate incidents and is asking the public to be vigilant.
The use of a swastika in this way is insulting not only to members of the Jewish faith but indeed to the families of all those who fought against Nazism in the Second World War.

"You have to wonder whether people who do this are incredibly stupid and don't understand basic history or are just evil in wanting to cause fear and distress.

"Hate crime is important because it insults people's deeply held beliefs and their backgrounds and history and that is why the police see it as a priority.

"This incident is not just about some paint on a flagstone it has a wider significance because of all the death, destruction and hatred that this symbol represents . "
– Chief Constable Sir Peter Fahy
Police are hunting a soldier who has deserted his Army posting and breached a restraining order.
29-year-old Neil Graham, also known as Neil Boote breached his restraining order last November by sending a series of text messages to the victim.
He also breached a court order by failing to attend an appointment with the Probation Service in December.
At the time of the breaches and still currently, Graham is a deserter from the 1st Battalion Prince of Wales Royal Regiment stationed in Germany.
It is thought Mr Graham has links with the Bury area. Anyone with information about his whereabouts is asked to call police on 101 or the independent charity Crimestoppers on 0800 555 111.
Police are appealing for help in identifying a woman who was found dead on a road in Greater Manchester.
The body of the elderly woman was discovered underneath a car on Coniston Road in Stretford yesterday morning.
Police believe there are no suspicious circumstances and an investigation has been launched to find out who she is.
The woman is described as white, of slim build, between 65 and 80 years old, has brown greying hair, false teeth, was wearing khaki green trousers, a red fleece, grey jacket, three gold coloured rings and a gold coloured necklace.
She also had a Yale Mortice key, two trolley tokens, one with a four leaf clover, the other with the Irish flag and a horse shoe charm.
"We are working to establish how the woman came to be underneath the car and find out her identity. What we do know is that the car she was under was not involved in any type of collision and we do not believe any third party was involved in her death.

"We have checked the register of those missing and the lady does not match any of their descriptions. Obviously, we are desperate to not only find out who she is but also who her next kin are so we can let them know of the sad news. "I would ask anyone who may recognise the description of the woman or who may have seen her walking in or around the area of Coniston Road last night or early this morning, to call us."
– Detective Inspector Joe Clarke, Greater Manchester Police
Anyone with information should phone police on 101 or the independent charity Crimestoppers, anonymously, on 0800 555 111.
Load more updates