Salford have continued their recruitment for 2015 with the signing of St Helens prop Carl Forster.
The 22-year-old made only one Super League appearance for Saints in 2014 after spending the first month of the season on loan to London Broncos.
"Pleased to announce the signing of another young, hungry rising star of the game," said Red Devils chairman Marwan Koukash on his Twitter account.
Pleased to announce the signing of another young, hungry rising star of the game Carl Forster from St Helens
An angler from Manchester has been left reeling after breaking two world records. Warren Harrison managed to catch the biggest brace of all time, consisting of two enormous mirror carp, during a fishing trip to Hungary.
The father-of-two from Denton, said he was amazed when he landed the monster fish. He was even more shocked when he went on to catch the biggest ever common carp in history, which weighed a whopping 90lb.
Advertisement
Ed Miliband received a prolonged standing ovation that exceeded three and a half minutes after finishing his keynote speech at the Labour party conference in Manchester.
ITV News deputy political editor Chris Ship has tweeted:
EdM: let me say it plainly: our future lies inside not outside the European Union #Lab14
EdM: David Cameron has "got no chance" of reforming Europe. He lost 26-2 on @junckereu and he'll need to win 28-0 to get reforms he wants
Ed Miliband has claimed that David Cameron has "learned the wrong lessons" from the Scottish independence referendum after the Prime Minister's pledge to introduce English votes on English laws.
He said: "Why is David Cameron seeking to divide us?"
Mr Miliband claimed that Ukip was the reason Mr Cameron was introducing this policy, adding that the "laws are pandering to them" and that was "one more reason he is not fit to be the Prime Minister of this great country".
Ed Miliband has vowed that a Labour government would give the vote to 16 and 17-year-olds at General Elections.
Advertisement
Ed Miliband has pledged that a Labour government would raise £2.5 billion for the NHS in a 'Time to Care' fund by introducing a mansion tax on homes above £2 million.
He said: "We'll clamp down on tax avoidance including tax loopholes...which will raise £1 billion.
"We will use proceeds of mansion tax on homes above £2 million and we will raise extra resources from tobacco companies."
Labour will aim to half the number of people in low-paid work as part of Ed Miliband's "ten-year plan" for the UK.
It is one of six goals Mr Miliband is setting out in his keynote speech to party activists.
Speaking at the Labour conference, Mr MIliband said: "Our first national goal is that we halve the number of people in low pay by 2025, transforming the lives of 2 million people in our country."
This Government's record is "one of the worst ever", Ed Miliband has told Labour activists at his keynote speech to their annual conference.
"The record of this government, friends, isn't just mediocre - it is one of the worst ever," the Labour leader said.
"The longest fall in living standards since 1870, wages rising slower than prices for 51 months. For your family five years of this government, five years of sacrifice, zero years of success."
A passer-by caught the moment the arm of a digger smashed through the window of a bus in Middleton.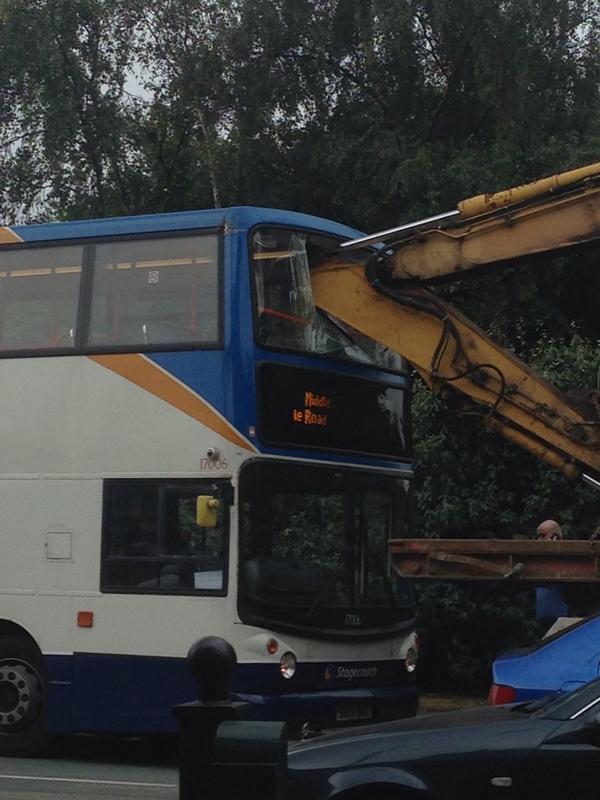 The image was captured by Andy Ogden at the junction of Greengate and Grimshaw Lane in Middleton on Tuesday lunchtime.
Stagecoach Greater Manchester tweeted soon after: "112 Delays of up to 15 minutes due to a RTC near to Middleton Junction."
It's not yet known if anyone was on the top deck at the time of the collision
Load more updates