Sorry, this content isn't available on your device.
A Merseyside solicitor acting for some of the Hillsborough families says its unlikely a bill forcing police to be truthful in public enquiries will be passed before the general election.
It's a year since since inquests returned unlawful killing verdicts on the 96 Liverpool FC fans who died in the disaster on 15 April 1989.
This summer, prosecutors will announce whether they'll bring criminal proceedings against any suspects.
There are concerns the proposed Hillsborough Law is unlikely to get past its initial stages in parliament.
Elkan Abrahamson, solicitor with the Hillsborough Justice Campaign, said he hopes there 'political will' for the law will still be among MPs after June's vote.
Andy Bonner reports:
"It was introduced under the 10 Minute Rule which is a procedure whereby bills are introduced but generally don't get beyond that stage.

"However, it's there now. It's in Hansard. It's printed as a bill. We hope that's there as a foundation if the political will emerges after the next election."
– Elkan Abrahamson, solicitor
A low-key memorial service will take place on Saturday to mark the 28th anniversary of the Hillsborough tragedy.
Annual services at Anfield to remember the 96 Liverpool fans who died in Britain's worst sporting disaster will no longer take place at the request of the families belonging to the Hillsborough Family Support Group (HFSG) who organised it.
From this year the city's two cathedrals will take it in turn to host simple commemorations in an initiative from the Bishop of Liverpool, the Right Reverend Paul Bayes, and the Archbishop of Liverpool, the Most Reverend Malcolm McMahon, in liaison with Mayor of Liverpool Joe Anderson.
The half-hour service at Liverpool Anglican Cathedral will start at 2.45pm and maintain a minute's silence at 3.06pm - when the fateful 1989 FA Cup semi-final between Liverpool and Nottingham Forest was stopped at Hillsborough stadium in Sheffield.
It will include simple prayers and time for silent reflection but will not include any sermons or other words beyond the simple prayers on the service sheet.
"On behalf of all the churches we count it a great privilege to offer this brief and simple service.
"We will remember the 96 before God, and pray for their families, for the survivors and for all those who remain deeply affected by the tragedy.
"Our cathedrals are here for the people and we are proud and glad to offer the opportunity on April 15 to reflect and to pray in peace."
On behalf of all the churches we count it a great privilege to offer this brief and simple service.

We will remember the 96 before God, and pray for their families, for the survivors and for all those who remain deeply affected by the tragedy.

Our cathedrals are here for the people and we are proud and glad to offer the opportunity on April 15 to reflect and to pray in peace.
– Bishop of Liverpool
Media have been asked not to attend the Hillsborough service as it is "a private act of worship".
Players and staff of Liverpool FC will also pause to observe a minute's silence at 3.06pm and the day's training session at Melwood will stop so that respects can be paid alongside the temporary Hillsborough memorial which will be moved to the complex at the request of HFSG.
Advertisement
A crowdfunding site has been set up for Hillsborough families ordered to pay the costs of the former South Yorkshire Police chief constable.
David Crompton was asked to resign from his position as chief constable of the force by Police and Crime Commissioner Dr Alan Billings following the verdict of the Hillsborough inquests, which found 96 Liverpool FC fans were unlawfully killed.
Mr Crompton is seeking a judicial review at the High Court, which is due to be heard later this month.
Five Hillsborough relatives, Dorothy Griffiths, Barry Devonside, Becky Shah, Wendy Hamilton and Charlotte Hennessy, were ordered to pay Mr Crompton's legal costs, which had been estimated as £28,000, although the figure was due to be negotiated.
A Justgiving page set up by friend of the families Diane Lynn has already raised more than £4,500, with any extra money raised going to Alder Hey Children's Hospital.
It's great people are prepared to help the families. Mr Crompton is entitled to ask for his costs, although none of the other three parties involved in the case did. That amount of money is a lot for anyone to find."
– Elkan Abrahamson, lawyer for the families
Donations can be made at www.justgiving.com/crowdfunding/diane-lynn.
Ukip has claimed "cock-up rather than conspiracy" after it tweeted a photo said to show campaigners in Stoke when they were actually in Bolton.
The party's Twitter account pictured its "people's army" gathered in a car park with "Vote Ukip" placards, adding they were in the West Midlands city to aid leader Paul Nuttall's bid to become MP for Stoke-on-Trent Central.
But other Twitter users insisted the location was more than 50 miles away near the Macron Stadium, home to Bolton Wanderers and the venue for Ukip's spring conference on Friday.
Ukip said the error was caused following a mix-up with its digital team, with a spokesman stating the photo was taken before activists set off to Stoke.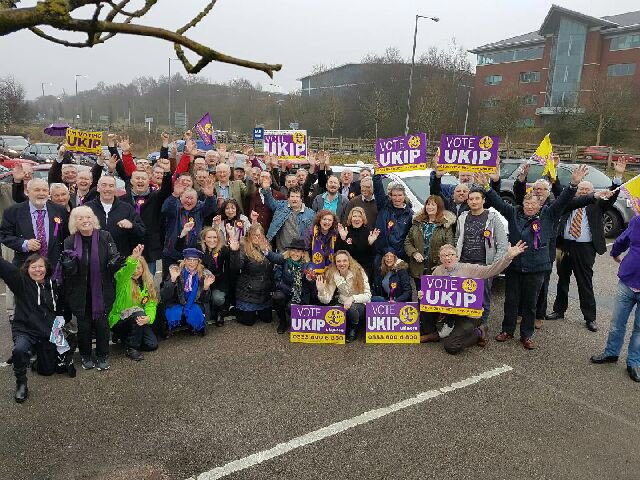 UKIP's party's leader Paul Nuttall has faced fresh questions about claims made on his website.
He's hoping to take the Stoke-on-Trent Central seat from Labour in Thursday's by-election.
But he faced further claims about inaccuracies on his website after a training charity denied an assertion on his website that he had been on its board.
His website, which has been taken down for "scheduled maintenance" after it emerged that claims he lost "close personal friends" in the Hillsborough disaster were false, suggested that he was joining the board of the North West Training Council (NWTC).
A press release from September 2009 said the North West England MEP was invited to the post after accepting an invitation to visit the NWTC.
"They are doing a first-class job and I am thrilled at the honour of being a board member," Mr Nuttall said.
But the organisation's chief executive, Paul Musa, said Mr Nuttall had never served on the board.
He told the Guardian: "Mr Nuttall was never invited to become a board member of NWTC as this would need to be a directive of the NWTC board, who he never met."
A Ukip spokesman said he was "rather surprised that this has just cropped up" and insisted the press release was put out with NWTC's knowledge.
"If it had not been accurate, don't you think it would have been complained about at the time?" the spokesman said.
Members of UKIP stood and applauded their embattled leader Paul Nuttall at the party's Spring Conference.
There was anger this week when it emerged claims on his website that he lost close friends at Hillsborough were in fact false.
But today the politician from Bootle hit out at what he called a "smear campaign" against him, after some claimed he wasn't at the disaster at all.
Advertisement
Nigel Farage has described multi-millionaire Ukip backer Arron Banks as a "good friend" despite his Hillsborough gaffe comments.
Read the full story ›
UKIP Leader Paul Nuttall will face his party for the first time today since the revelations of false claims made about Hillsborough.
The party faithful will be in Bolton as the UKP Party Conference gets underway.
Mr Nuttall came under fire after he was forced to apologise about false claims that he lost close personal friends in the disaster.
They were posted on his website, though UKIP press officer Lynda Roughley has said she was "entirely responsible" for the website post and had offered her resignation.
Mr. Nuttall is just days away from contesting a Parliamentary by-election in Stoke-on-Trent,
Paul Nuttall's website has been taken offline days after criticism for posts which wrongly claimed he lost close friends at Hillsborough
Read the full story ›
There is growing pressure on the UKIP party leader Paul Nuttall after it was revealed claims he made about losing a close friend at Hillsborough were false.
Mr Nuttall has apologised, and said he hadn't read the claims on his website.
Meanwhile, UKIP's financial backer, the businessman Arron Banks, has been tweeting about it claiming the families have been milking the disaster and he describes it as an accident.
Our correspondent Elaine Willcox has tonight's top story.
Load more updates