Olympian Laura Kenny and husband Jason Kenny have welcomed a baby boy. Laura announced her special arrival on her instagram post.
Six time gold medal winner Jason Kenny, who's from Bolton married fellow olympic champion Laura last September. The couple, who now live in Cheshire, took to social media to announce the arrival of Albert Louie Kenny who was born on Wednesday.
Sorry, this content isn't available on your device.
Olympic gold medallist Laura Kenny said she raced in the National Madison Championships while she was six weeks pregnant.
Laura, who married Bolton Olympic cyclist Jason Kenny in September, told Good Morning Britain she only found out the day before the race.
The golden couple both received CBEs from Princess Anne on Tuesday in recognition of the string of gold medals they have won for Team GB.
Advertisement
Six-time Olympic champion Jason Kenny is contemplating retirement, his wife Laura Kenny said on Friday.
The 29-year-old Bolton rider won three Olympic golds in Rio last August to draw level with fellow cyclist Sir Chris Hoy as Great Britain's most successful Olympian with six golds and one silver.
Kenny is absent from this week's Track Cycling World Championships in Hong Kong, taking an extended break post-Olympics as he considers whether to continue to the Tokyo 2020 Games or to quit altogether.
Four-time Olympic champion Laura Kenny told BBC Sport: "He's having six months to decide what he wants to do, whether to carry on or whether to retire.
"I'm not sure he even knows to be totally honest. As athletes, you always want to carry on, you always want to go to the next one.
"He's going to give himself a bit of time.
"As athletes you become this self-absorbed kind of person and everything's just about you, but there's bigger things in life than that."
Laura Kenny was working as a pundit on BBC's coverage of the competition, as she is now pregnant with the couple's first child.
Jason Kenny emulated Hoy to become just the third Briton in 108 years to win three Olympic golds at one Games.
The plan was always for Jason Kenny to have an extended sabbatical post-Rio, which was his third Olympics.
He won Olympic team sprint gold at the Beijing 2008 Games, where he finished with sprint silver behind Hoy aged 20.
Kenny was selected ahead of Hoy in the sprint four years later in London and justified the call by winning gold, as well as team sprint gold again.
And in Rio he took a hat-trick of titles with victories in the team sprint, sprint and Keirin. He married Laura (nee Trott) last September.
Cycling's golden couple Jason Kenny and Laura Trott have got married.
Kenny, 28, confirmed they had tied the knot on Saturday with a tweet today which said "Good morning Mrs Kenny."
It showed a photograph of a smiling Trott, snuggled up in a duvet in bed with the couple's dogs Sprolo and Pringle - a Springer Spaniel cross and a poodle - at her feet.
Trott, 24, and Kenny, 28, from Cheshire, scored enormous success at the Rio Olympics, with Trott winning two golds to become Britain's most successful female Olympian. Kenny triumphed on three occasions to take his gold medal tally to six following successes at the Beijing and London games.
Trott's proud father also wrote on Sunday: "So pleased to announce that my darling daughter @LauraTrott31 married @JasonKenny107 yesterday. Thank you to everyone. A wonderful day."
He shared two photographs of the happy couple at the church. Trott looked radiant in her long-sleeved wedding dress with a wide lace scoop neck and sweetheart bodice.
Kenny, who has previously joked that he is unmarketable because he is "a miserable sod" was beaming in his dark grey three-piece suit.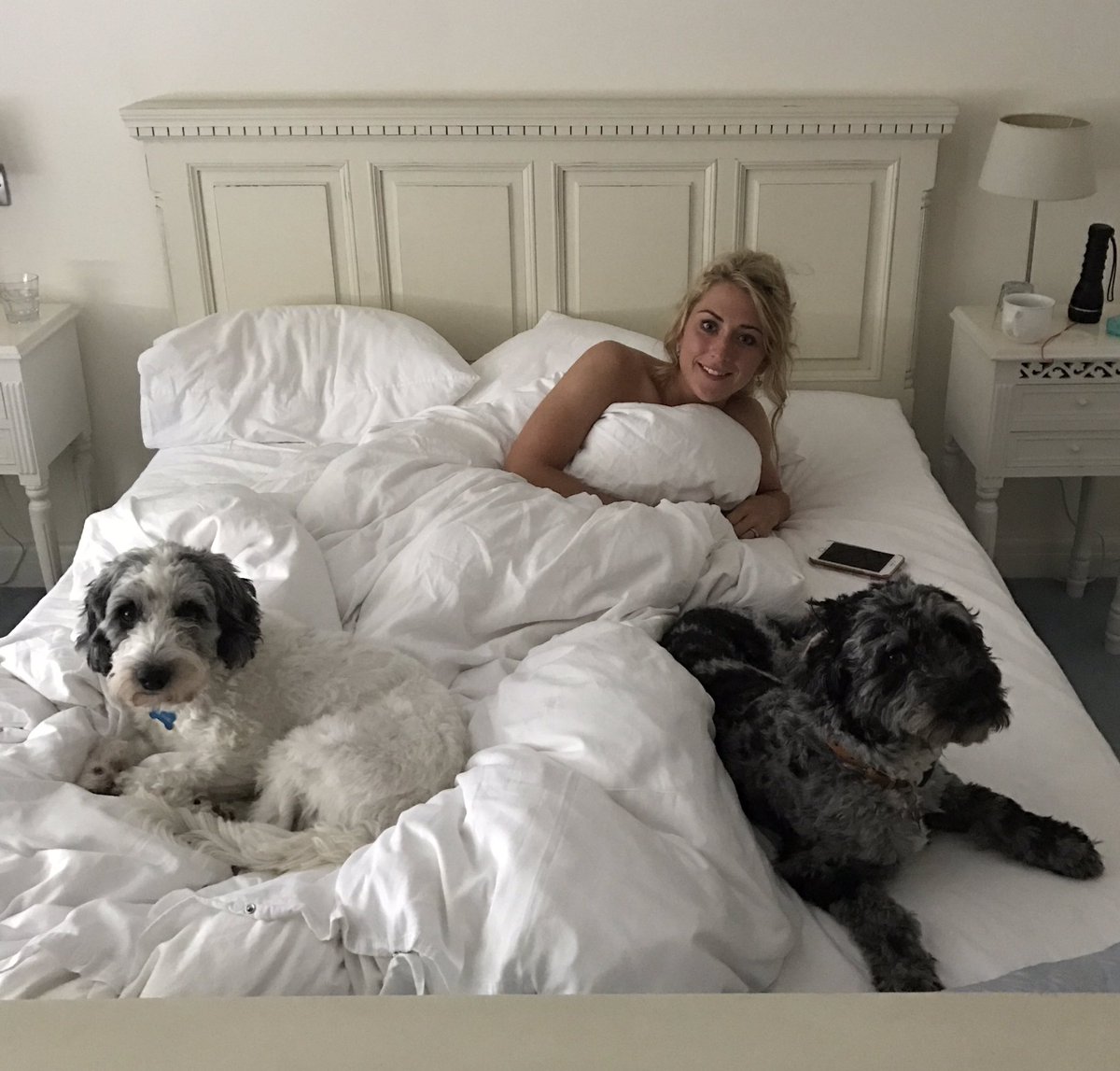 Bolton cyclist Jason Kenny has arrived home after his Olympic gold medal success in Rio, and says he wants spend the rest of his life in Manchester.
His fiancee Laura Trott became the first British woman to win four Olympic gold medals, and Jason Kenny equaled Sir Chris Hoy's British record of six.
Advertisement
An MP from Calgary, a man from Virginia and a fellow Bolton lad have been congratulating Jason Kenny on his Olympic golds after being mistaken for the cyclist on Twitter. Hundreds of messages intended for the sportsman were sent to other Twitter users with similar names.
Kenny, 28, drew level with Sir Chris Hoy's record medal haul after he claimed his sixth Olympic gold overall, including three at Rio.
Fans have been celebrating Bolton cyclist Jason Kenny's sixth Olympic gold medal win.
Dozens turned out to watch the men's keirin event at the Manchester Velodrome, where Jason trains.
It's the third gold medal he has won in five days, and he's now equaled Sir Chris Hoy's British record.
Several Twitter users who share a name with Jason Kenny have been congratulated on their Olympic wins as fans mix up social media accounts.
Read the full story ›
Load more updates