New plans for a bypass around Kendal have been revealed.
The road will aim to ease traffic in the town.
It will also double as a flood defence after Kendal was badly hit by the recent flooding which caused the closure of the Victoria Bridge.
Councillor Sylvia Emmott from South Lakeland District Council, Lib Dem
A man has died after a serious house fire in Kendal.
Emergency crews were called to Aynam Road last night and found a young man who was already dead. A 22 year old escaped with serious burns and has now been transferred to Wythenshawe hospital in Manchester for treatment.
The road is closed between Miller Bridge and Nether Bridge. Motorists are advised to avoid the area and use alternative routes.
Advertisement
A church in Kendal helping people who have been flooded says the emergency £500 given to those affected is running out and residents urgently need more help.
Sandylands Methodist Church is in an area where many people don't have insurance and are struggling to dry out their properties, using dehumidifiers on pay-as-you go electric meters.
The Reverend Wendy Thornton says people need to know they're not on their own.
Watch here at flood hit communities brace themselves for more heavy rain
A group of musicians from the Lake District have recorded a Christmas song and pledged to give all proceeds to communities hit by flooding.
The recording is called "It won't be long til Christmas' by Help the North.
Richard Doyles and Evie Plumb have already donated the proceeds from one of their recent gig in Kendal.
Emergency services are dealing with a fire at a building on Aynam Road in Kendal.
The road is closed between Miller Bridge and Nether Bridge. Motorists are advised to avoid the area and use alternative routes.
Cumbria Police is advising members of the public to avoid the area while the incident is dealt with.
Croney has travelled over 7000 miles to the island of Borneo to retrace the steps of his distant relative Ken Crone
Read the full story ›
Advertisement
People in Cumbria and Lancashire are continuing efforts to clean up their communities after the devastation caused by the flooding following Storm Desmond.
Photos show a school playground in St Michael's on Wyre completely flooded with equipment strewn around as a result of the storm.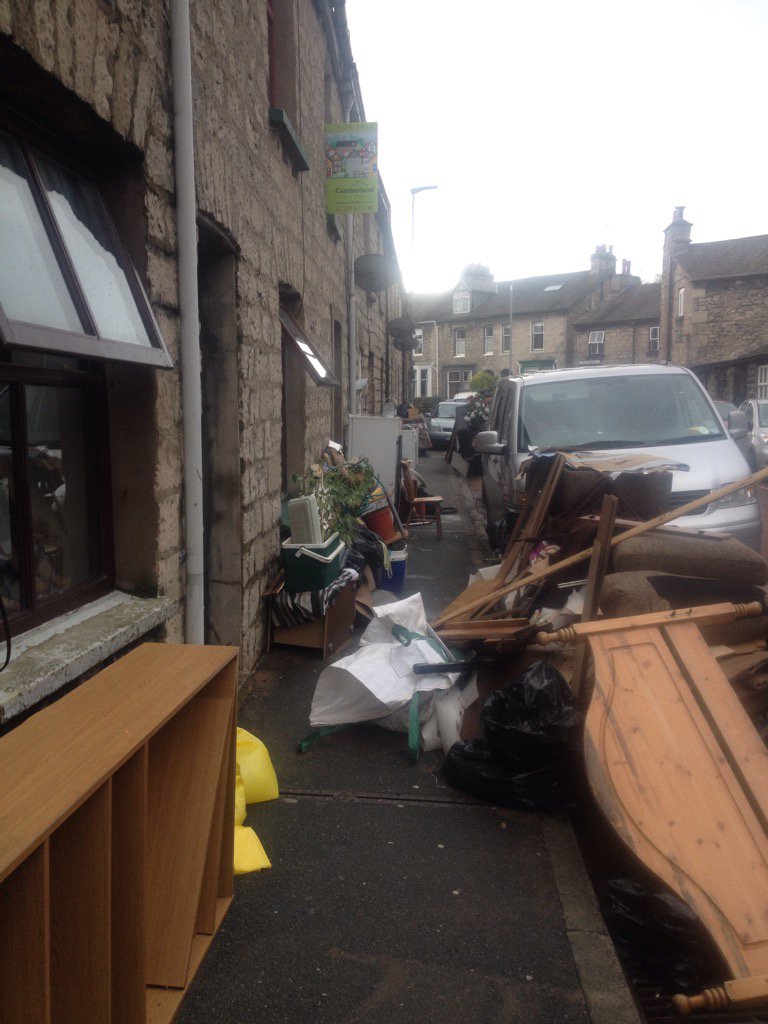 Police are searching for a self-service till robber who stole money from a Morrison's in Kendal.
Officers say they are keen to speak to the man in the image in connection with the theft of £40 which he found at the self-service till in the store on Queen Katherine's Avenue.
The incident happened on April 18th 2015.
The suspect is described as a white male, of slim build, and was wearing a grey shirt, black trousers and black shoes.
Anyone who recognises him or has any information about the incident is asked to call Cumbria Police on 101 and leave a message for the attention of PC Phelps at Kendal Police Station.
Police have seized an estimated £200,000 worth of cocaine and amphetamine after a car was stopped on the M6 near Kendal.
A 42-year-old man from Carlisle has been arrested on suspicion of possession with intent to supply controlled drugs, and is being questioned by police.
Firefighters have spent a third day at the scene of what they say is the biggest fire the town of Kendal in Cumbria has seen for 20 years. The fire on Westmorland Business Park began on Saturday night.
At its peak, around 60 firefighters battled the flames, which could be seen across much of the area. Small fires are still breaking out in the building and investigations into the cause are now underway.
From Kendal, Fiona Marley Paterson had this report:
Load more updates