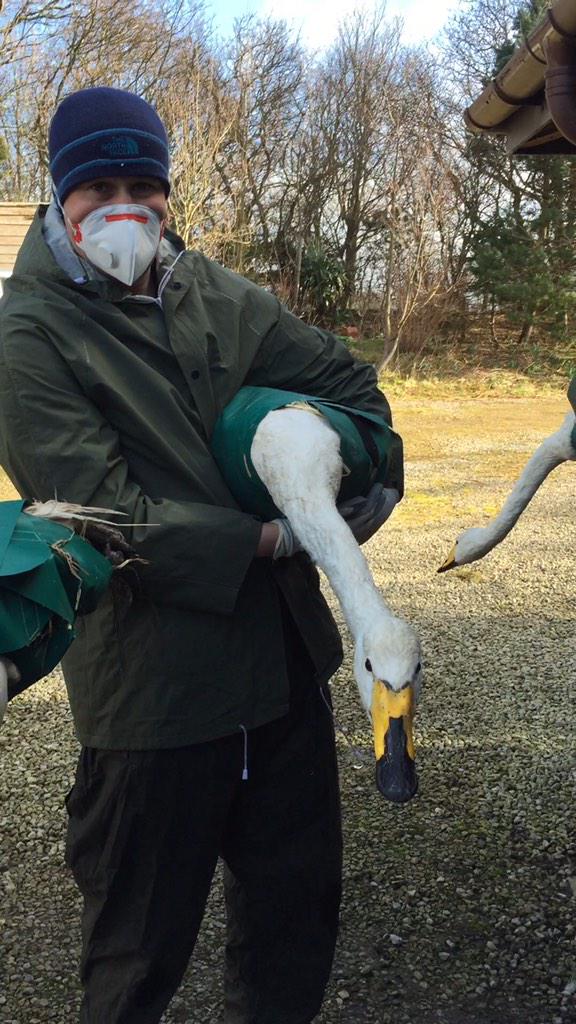 Participating in the #SwanCatch provided WRCOs with hands-on experience and the chance to learn from @_bto ringers and @wwtworldwide staff
Anti-slavery police have raided a house in Burnley and taken a suspected victim to a "place of safety".
Officers targeted the address on Albert Street after complaints a man was being kept against his will and made to work.
Today's action was part of Operation Proteus, an on-going investigation into modern slavery and people trafficking.
Lancashire Police said the man is currently in a safe place where he is being supported by a number of charities and agencies.
No arrests have been made.
Advertisement
There's a warning from the Lancashire Police Federation that they fear for the safety of the public if the force has to make further cuts.
Lancashire Police had more than 3,500 police officers in 2009 but 1,200 are predicted to go over the next six years.
Its Police and Crime Commissioner are now asking people in the county if they would pay more council tax to keep bobbies on the beat.
Our correspondent Ann O'Connor has the story:
"Police reform is working and crime has fallen by more than a fifth under this Government according to the independent Crime Survey for England and Wales.

"There is no question police will still have the resources to do their important work. The police are making their contribution to reducing the deficit and Her Majesty's Inspectorate of Constabulary recently found that forces are successfully meeting the challenge of balancing their books while protecting the frontline and delivering reductions in crime.

"We have made it easier for the police to do their job by cutting red tape, scrapping unnecessary targets, and giving them the discretion to use their professional judgement. Under this Government there is significantly greater local accountability and transparency and police leaders have taken the opportunity to radically reform the way they deliver services to the public."
– Policing Minister Mike Penning
The Lancashire Police Federation say they fear for the safety of the public if the force has to make further cuts.
The force had more than three and a half thousand police officers in 2009 - 12 hundred officers are predicted to go over the next 6 years.
The police Minister says the force will still have enough resources to do important work but the Federation describe the cuts as 'ludicrous'.
Lancashire Police Federation's Rachel Baines told ITV News now is not the right time to be making these cuts.
Lancashire Police had more than three and a half police officers in 2009 - but they're are predicted to lose 1200 officers in the next 6 years.
The police federation have described the cuts as "ludicrous" and will put people "at risk".
The police Minister says the force will still have the resources to do their important work.
We fear for the safety of the public in Lancashire because we won't be able to do the job as it should be done. "If anyone tries to assure the public that losing over 1250 police officers is not going to have an effect on frontline policing then they are deluded."
– Rachel Baines, Lancashire Police Federation
Advertisement
Staff from the emergency services in Lancashire are staging a boxing tournament tonight to raise funds for charity.
The event in Preston, involving police, fire and ambulance personnel will support eight-year-old Bradley Moyles, who has Cystic Fibrosis and needs new equipment.
"We are all looking forward to getting in the ring and taking on our emergency service colleagues after months of training.

"As with any kind of sporting event between the services, there has been lots of banter and competition between us, all in good spirits, to get us prepared for the night.

"We are all delighted to be doing this for such a good cause and we know just how much every penny will go towards trying to help Brandon live a relatively normal life, despite suffering from cystic fibrosis.

"We want to raise as much money as we can for Brandon so I am urging as many people as possible to buy tickets. I am sure plenty of people would love to see police officers taking a punch or two, so come along!

"All donations are really appreciated."
– Organiser DC Tom Wignall, Lancashire Police
Many police forces are rightly proud of their dog units, none more so than Lancashire Constabulary, which has trained dogs for police work since 1948.
Today the animals who fell in the line of duty, and those who passed away after retiring, get a dedicated memorial. Our correspondent Rob Smith reports:
Lancashire Police will unveil a memorial to police dogs that have served in the force.
It's to mark their contribution to policing.
The memorial is being paid for by the Retired Police Dogs Benevolent Fund which was established in 2004 to support handlers in caring for their retired dogs.
Police dogs are an integral part of operational policing within Lancashire and provide an invaluable service to our county; therefore it is right that they should be recognised by way of this memorial."
– Sergeant Neil Fitzgerald, Dog trainer
Police in Lancashire are asking the public for help after a van containing £10,000 of medicine, including vaccinations for children, was stolen.
The white Mercedes Sprinter was taken from outside High Street Medical Centre in Rishton around 1pm on Thursday afternoon.
It was last seen on junction 7 of the M65. The van's registration is RX13 JAU.
Sgt Sean Frodsham said:
"I would ask the public to remain vigilant and report any sightings of the van, registration number RX13JAU, to police.

"I would also urge anyone who may have any information about the theft to contact us on 101."
– Sgt Sean Frodsham
Anyone with information can contact police on 101 quoting log 0573 of 16th People with information can also contact the independent charity Crimestoppers anonymously on 0800 555 111 or on-line at Crimestoppers-uk.org. No personal details are taken, information is not traced or recorded and you will not go to court.
Load more updates