Six British soldiers from the North West who died in the trenches of Belgium during World War One have finally been buried with honours.
The remains of the men from The Lancashire Fusiliers and The King's Own Royal Lancaster Regiment lay undiscovered for nearly 100 years in a farmer's field near Ypres.
But a team of local archaeologists managed to track down which Lancashire regiments they belonged to, and even made sure the men would be laid to rest with full military honours.
Paul Crone has the first of two special reports:
Dawn over the battlefields of Ypres.The mystery of 6 North west WW1 soldiers found in farmer's field.G. reports @ 6 http://t.co/4FlbOO5cYf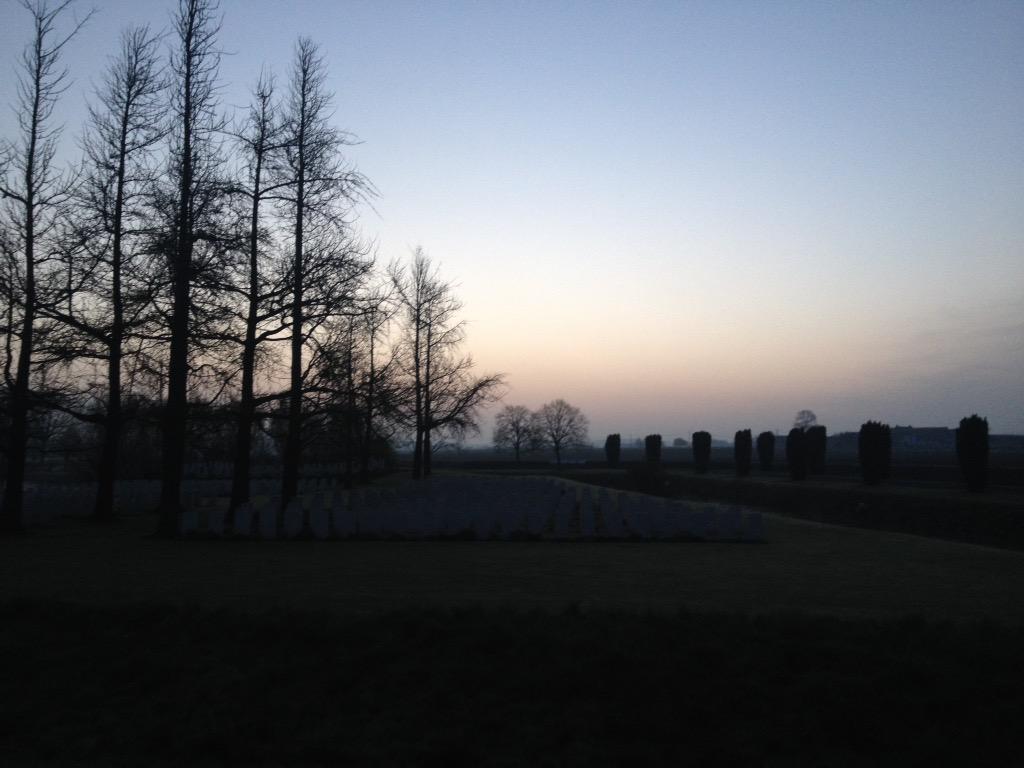 A British armoured vehicle carrying four Cheshire soldiers rolled into a canal after colliding with an Afghan National Police car.
Read the full story ›
Advertisement
Tuesday looks like our best day in terms of sunshine and temperatures. Dry but more cloud from midweek. Breezier with showers by Friday
Read the full story ›
Liam Livingstone has set a new batting world record after smashing an astonishing 350 in a 45-over game for Nantwich Town Cricket Club.
Read the full story ›
British Police have travelled to Australia as investigations continue into an alleged terror plot in the country.
Detective Chief Superintendent Tony Mole, from the North West Counter Terrorism Unit said the team would work with police in Australia to investigate the alleged plot.
It comes as a a 14-year-old boy arrested in Blackburn remains in police custody on suspicion of preparing for an act of terrorism in relation to an alleged plot in Australia.
A Blackburn teenager who is being questioned in connection with a terror plot in Australia was first arrested earlier this month on suspicion of preparing for an act of terrorism, police said.
Officers uncovered communication between a teenager in Blackburn and a man in Australia and the information was subsequently passed to Australian authorities, Greater Manchester Police said.
A force spokesman said the teenager was first arrested on April 2 on suspicion of preparing for an act of terrorism under Section 5 of the Terrorism Act 2006.
The arrest followed examination of a number of electronic devices and a search of an address in the town.
On Saturday April 18, he was further arrested on suspicion of being concerned in the commission, preparation or instigation of acts of terrorism, and is currently being questioned by police in custody.
Advertisement
Two planespotters from Greater Manchester, held in the United Arab Emirates over alleged national security breaches, have been released without charge.
Conrad Clitheroe and Gary Cooper, both from Stockport, and ex-pat Neil Munro were reportedly taking notes near Fujairah Airport, 80 miles from Dubai, when they were arrested in February.
Ashley Derricott, ITV News
People with Parkinsons in the North West say they feel isolated and invisible because of the way they're treated by other people.
Over half of people with Parkinson's surveyed in the North West have experienced hostility and rudeness from members of the public - according to data released today by Parkinson's UK.
Parkinson's affects 127,000 people in the UK, and an estimated 14,000 in the North West.
In a joint statement, police in the Australian state of Victoria and the country's Federal Police said they "can confirm a link between the arrest of a 14-year-old boy in Blackburn, Lancashire, in the United Kingdom on Saturday with Operation Rising, a Joint Counter Terrorism Team operation."
"Investigators received information from UK authorities after they allegedly uncovered communications between the teenager and a man in Australia.

"The nature of the communication will form part of the investigation and therefore it would not be appropriate to comment further."
– Joint statement by Australian authorities.
Counter-terrorism officers in Australia arrested two teenagers on Saturday on suspicion of planning an attack at an Anzac Day ceremony in Melbourne later this month. The plot is alleged to have involved targeting police officers.
The annual Anzac Day ceremonies - commemorating Australian and New Zealand Army Corps' First World War battle in Gallipoli on April 25 - take on extra significance this year as the centenary of the conflict in Turkey is marked.
Load more updates