One man's passion has landed him in the record books.
When Nick Bennett bought his first Aston Martin twenty years ago it started a life long fascination - not with cars but with James Bond.
Now, two decades on, his collection has more than 12,000 pieces in it and could be worth in excess of half a million pounds.
We sent our very own Odd Job, Matt O'Donoghue, to find out more: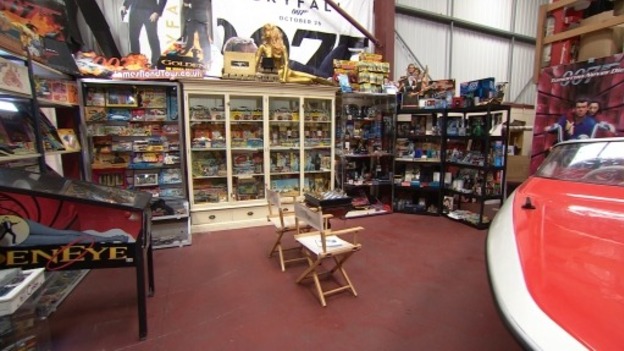 A Bond buff from Leigh has got into the Guinness Book of Records for having the biggest collection of 007 memorabilia.
Our own Man with a Golden Pun, Matt O'Donoghue, has been out to meet Nick Bennett.
So what's your favourite Bond film? Who's the best, or can no one touch Connery? Let us know your thoughts on our Facebook page.
Advertisement
Nick Bennett is a collector of memorabilia. A record breaking collector. And his specialist subject is James Bond. The film buff has amassed more than 12 thousand different items all connected with the world's most famous secret agent. And they are lovingly looked after at his home in Leigh.
His collection is so extensive Nick's made it into the latest edition of Guiness World Records. He said "It's a dream come true. As a child I read the book from cover to cover and I cannot believe that I will actually be in this year's book as an official record holder."
A seven-year-old schol boy from Leigh has become one of the youngest people ever to get an A* GCSE grade.
The home-schooled boy genius, Thomas Barnes, was awarded the grade in maths after taking an exam with students more than twice his age.
The youngster, who also loves science, now plans to study physics and chemistry.
Thomas's father, Simon, 41, told the Manchester Evening News:
A man has been charged with murder after a woman was found dead in the garden of a house in Wigan.
Thomas Flanagan, 57, of Wigan Road, Leigh, will appear before Wigan Magistrates' Court later today.
Police were alerted just after midnight yesterday with a call from a member of the public who reported concerns for the welfare of a woman who lives at the house.
The victim, believed to be in her late 50s to early 60s, has not been named. She was found dead in the back garden.
A Home Office post-mortem examination will take place later to establish the cause of death.
Advertisement
Police are appealing for witnesses after a family was assaulted and robbed in their home in Leigh. The family were asleep when four masked men burst their way in downstairs at around 11.40pm on Wednesday 2 July.
Having forced their way into the house on Coronation Drive, they headed for the victim's bedroom and began to attack on man whilst demanding money. They also went into another bedroom and attacked the victim's family, before stealing property and escaping.
The men are described as being between 5ft 7in and 5ft 10in tall, having local accents and all were wearing dark clothing and balaclavas.
Police looking for missing man Robert Paxton have found a body in Leigh. Police found the body of a man in a secluded area of shrub land just behind the golf course at Pennington Flash at 3pm yesterday.
There are not believed to be any suspicious circumstances surrounding the man's death. The man is yet to be identified.
A family's pet cat died in a house fire sparked by an e-cigarette the Manchester Evening News are reporting.
The nicotine vaporiser had been left plugged in upstairs at the home in Leigh when the woman living there heard a bang.
When she went to investigate the noise she discovered a blaze had broken out in the bedroom, which spread to the loft. She escaped unhurt with her partner and three children, aged 13, nine and four - but their cat was not so lucky.
Leigh are hoping to pull off an almighty shock against Leeds in their game tonight.
The Championship club are up against the Super League leaders at Headingley in their Challenge Cup quarter final.
David Chisnall went to see the club hoping to go straight to the top of the class.
Load more updates