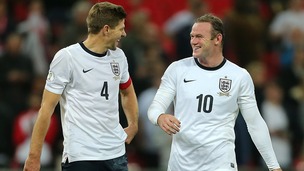 Steven Gerrard has backed Wayne Rooney to succeed him as England captain.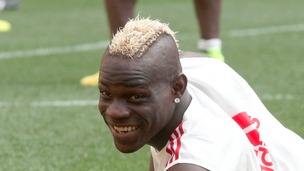 Liverpool boss Brendan Rodgers has indicated he sees signing Mario Balotelli as a risk but one worth taking.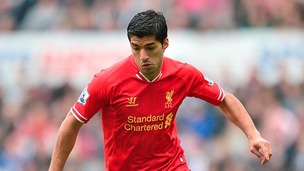 Former Liverpool midfielder Dietmar Hamann feels the club will be better off in the long term without Luis Suarez.
Live updates
Liverpool target Balotelli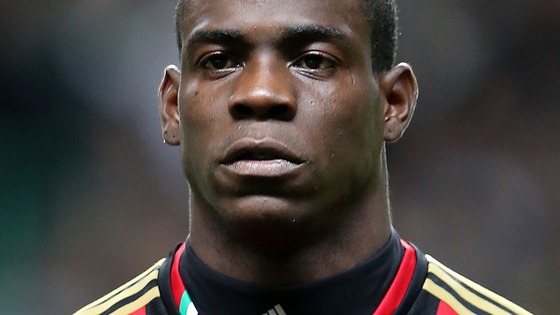 Talks between Mario Balotelli's representative and Liverpool are understood to be 'progressing well' as the club seek assurances about the player's behaviour - although any deal will not be completed in time for him to feature against Manchester City.
Reports have suggested the Reds have agreed a £16million fee with AC Milan for striker Balotelli's proposed move to Anfield.
And while Liverpool have not commented, Press Association Sport understands productive discussions involving Balotelli's agent and the club took place in England on Thursday and are continuing on Friday.
A key aspect of those discussions is believed to be the Merseyside outfit's desire to obtain some kind of guarantee about the discipline of the mercurial 24-year-old Italy international.
Balotelli himself remains in his homeland for now and will not be able to take part in Liverpool's Barclays Premier League clash with his former side City at the Etihad Stadium on Monday as the transfer would need to be completed by midday on Friday for him to be eligible.
The Liberal Democrats have announced they'll allow standing in Premier league and Championship football grounds as part of their 2015 election manifesto. The document will say clubs can introduce 'rail seating' meaning stands can be easily converted.
The party say it would allow clubs to offer cheaper tickets for fans. However, the families of the 96 Liverpool fans who died in the Hillsborough disaster have condemned previous campaigns to bring it back.
Advertisement
Liverpool target Balotelli
Liverpool FC are believed to have agreed a fee of £16m with AC Milan.
And Balotelli could arrive on Merseyside just in time for a trip to the Etihad Stadium and a game against his old club, Manchester City.
So, after losing Luis Suarez, are the fans happy to bring in another controversial character?
We sent David Chisnall to find out.
Liverpool target Balotelli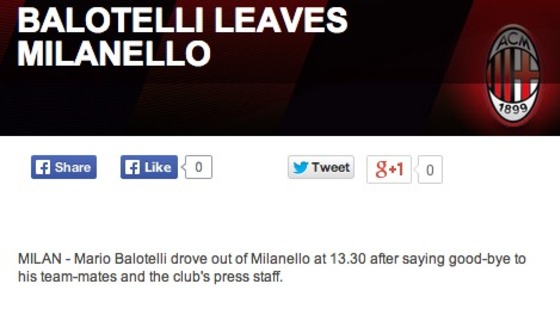 Milan said on their website on Thursday afternoon that Balotelli had bid farewell to his team-mates before leaving training.
The statement on the club's website read: "Mario Balotelli left Milanello's sporting centre at 13.30 (local time), after saying goodbye to his team-mates. "Before leaving the premises, the striker has said goodbye to members of Milan's press office."
Liverpool target Balotelli
Balotelli, quoted by Sky Italia, said: "It's my last day at Milanello (club training ground)."
Liverpool target Balotelli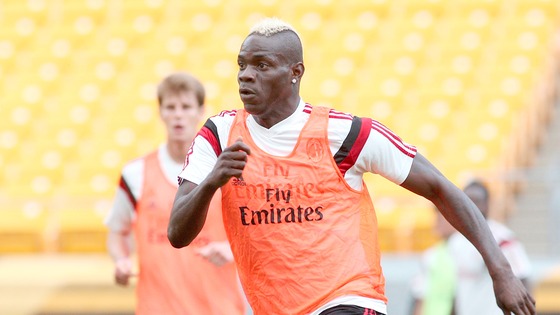 Liverpool are considering a move to bring AC Milan striker Mario Balotelli back to the Barclays Premier League.
Reports linking the former Manchester City star with the Anfield club earlier this summer came to nothing but Press Association Sport says the Reds have now declared their interest in the former Manchester City star.
Any deal for the 24-year-old would be a permanent transfer, with a loan arrangement thought to be off the table. Balotelli enjoyed a whirlwind stint at City between 2010 and 2013, winning an FA Cup and Premier League title with the club but gaining notoriety for his unpredictable off-field behaviour.
His tendency to appear in the gossip pages led to a famous goal celebration when, after scoring against neighbours Manchester United in October 2011, he lifted his shirt to reveal a slogan that read "Why Always Me?".
Balotelli eventually left England for Milan when then City boss Roberto Mancini decided to cash in on the eccentric forward.
Liverpool boss Brendan Rodgers has experience with difficult characters, of course, having coaxed the best out of Luis Suarez before his departure for Barcelona.
Suarez's disciplinary problems - including biting Chelsea's Branislav Ivanovic on Rodgers' watch - as well as a publicly stated desire to leave in 2013 caused headaches for Rodgers but the Uruguayan thrived on the pitch.
He swept the board at the end of season awards and the #65-75million Liverpool eventually banked from Barca largely funded a squad-building spending spree this summer.
But Rodgers remains in the marker for a marquee striker to share the load with Daniel Sturridge, with Rickie Lambert currently the only frontline support.
Monaco's Radamel Falcao is another big name who has been linked but Balotelli, who has been valued at around #17.5million, would be a more attainable target.
He scored 16 times for Milan last season, as well as grabbing Italy's winner in the World Cup opener against England in Manaus.
Milan club administrator Adriano Galliani said on Wednesday they had yet to receive an offer from the Reds for Balotelli, but on Thursday the Italian club's TV channel reported that the Rossoneri were in negotiations with the Premier League outfit over the striker.
Milan president Silvio Berlusconi, meanwhile, said previously he came close to selling Balotelli - who is under contract at the San Siro until June 2017 - to an unnamed English club before the World Cup.
Advertisement
North West stars takes on the Ice Bucket Challenge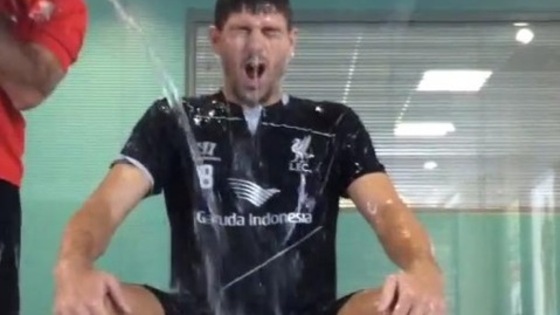 Steven Gerrard and Daniel Sturridge have become the latest North West stars to take the ice bucket challenge to raise awareness and money for charity.
Sturridge was drenched by a member of the backroom team with ice-cold water at Melwood this morning - which he then posted in a clip on his official Instagram account.
Gerrard soon followed suit, again using his official Instagram account to post the clip from Melwood.
The Ice Bucket Challenge has been adopted by Macmillan Cancer support in the UK, with celebrities including tennis star Andy Murray and golfer Ian Poulter taking part.
Watch: GMB presenters take the Ice Bucket Challenge live on air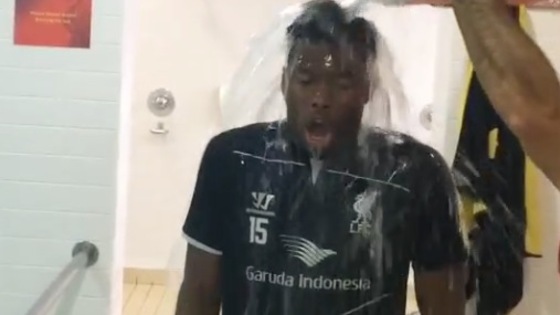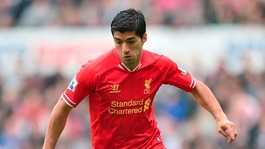 Former Liverpool midfielder Dietmar Hamann feels the club will be better off in the long term without Luis Suarez.
Read the full story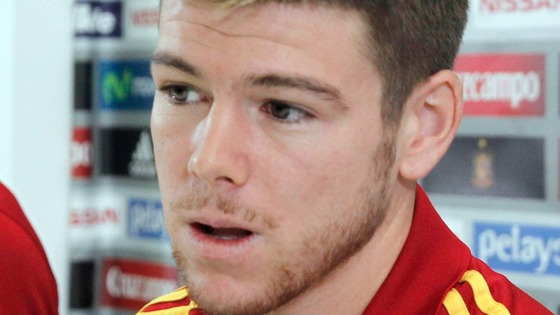 Defender Alberto Moreno admits his departure from Sevilla has been emotional and complicated but he is relishing the prospect of joining Liverpool.
The 22-year-old arrived at the club's Melwood training ground on Wednesday to finalise a #12million move to Anfield after Sevilla relented in Liverpool's long pursuit for the left-back.
Moreno was pulled from his side's starting line-up to face Real Madrid in the UEFA Super Cup in Cardiff on Tuesday night and bade a tearful farewell to fans and team-mates after the 2-0 defeat at the Millennium Stadium.
"I am living a strange situation because I'm leaving the club of my life.

"I was always aware of the two teams (trying) to agree. I never got into that but Sevilla have understood that Liverpool's offer was good and I am going.

"(I have) many feelings together. What happened on the pitch, with the fans, will remain forever etched on me and I could not help but mourn (his departure) because I did not expect it.

"First came the parting with colleagues, then with the fans...all very complicated.

"Liverpool are a great team and of course I'm super-motivated. I hope things go well."
– Alberto Moreno, speaking to ABC de Sevilla

Moreno's arrival will be the eighth through the doors at Anfield this summer, although Belgium striker Divock Origi has immediately returned to former club Lille on loan.

Acquiring the defender, providing much-needed competition for Jose Enrique, will take manager Brendan Rodgers' spending past the #100million mark this summer.

However, that has been significantly offset by the #75million sale of Luis Suarez to Barcelona and offloading high-earning goalkeeper Jose Reina to Bayern Munich, while the imminent sale of Martin Kelly to Crystal Palace could bring in another #2million.

The future of Denmark captain Daniel Agger remains in doubt now Rodgers has six centre-backs to choose from but for one of that group the way forward is clear.

Trabzonspor were keen on veteran Kolo Toure but the Ivory Coast international intends to see out the final year of his Reds' contract.

"Trabzonspor are interested in me but I have expressed my pleasure at being a Liverpool player," Toure told Sport-Ivoire.

"Yes, it is always a possibility to join a lower league for more playing time but I am a competitor and I decided to stay at Liverpool.

"The season is full of matches in the league and Champions League and I know I have time to prove I'm still hungry but I know I will not play every game, that's for sure.

"I had talks with the coach, who clearly indicated that I was part of his plans.

"I feel good physically and at 33 years of age I am ready for any challenge.

"I continue to work hard in training to keep up the momentum and it is why the coach wants to keep me at Liverpool, because I am a fighter.

"I intend to start the season with the same goals: to enable the club to progress and to please all fans of Liverpool.

"It is a privilege to be at Liverpool. I am very happy to wear the shirt of this legendary club.

"The situation can change at any time but for the moment I am at Liverpool and I want to carry on with the club."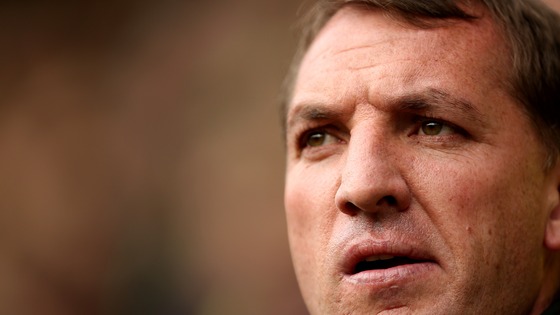 At the other end of the scale Rodgers has been impressed by the progress made by 19-year-old Raheem Sterling, who has carried on the impressive performances of the previous campaign into Liverpool's pre-season games.
"Something we said to Raheem when he first broke into the team and we've reiterated is that you have to have an identity as a player," Rodgers told liverpoolfc.com.
"His identity is he has to score goals and create goals. That's what the job is. He scored 10 goals last year and this kid is only going to get better.
"When you look at the finish against Manchester City in New York, how many times have we seen [Lionel] Messi produce a touch like that, taking it through bodies when it's so tight in the box?
"The great thing with watching him now is that he gets you off your seat. When he gets the ball you think 'Something could happen here'.
"He's taking it all in his stride and now he's in a good place with every part of his game.
"It's just about maintaining that commitment to his work. He's still only 19, but in big games he's performed and he's a wonderful talent."
Liverpool have been linked with a move for veteran former Barcelona and Inter Milan frontman Samuel Eto'o.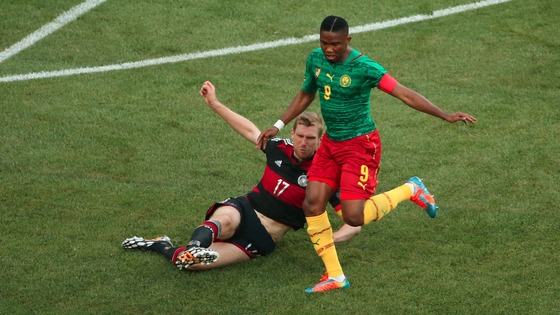 Manager Brendan Rodgers remains keen to add to his squad before the summer transfer window closes at the end of the month.
Rodgers has already made a number of signings but is still thought to want another forward following the £75million sale of Luis Suarez to Barcelona.
The Reds were close to landing France striker Loic Remy from QPR last month but a deal collapsed after a medical.
Eto'o, who is out of contract after leaving Chelsea at the end of last season, is the latest name to have been linked with Anfield.
Rodgers told the club's website, www.liverpoolfc.com: "We would still like to do some business.
"Across the board we still want to add a little bit more depth to what we have."
Liverpool have already signed international strikers Rickie Lambert and Divock Origi this summer, although the latter is to be loaned back to former club Lille.
Adam Lallana, Emre Can and Lazar Markovic have been brought in to bolster midfield options while defenders Dejan Lovren and Javier Manquillo have also been added to the squad.
Liverpool completed their pre-season programme with a 4-0 win over Borussia Dortmund at Anfield on Sunday.
They open their Barclays Premier League campaign at home to Southampton - the club from which they signed Lambert, Lallana and Lovren - on Sunday.
Load more updates
Back to top