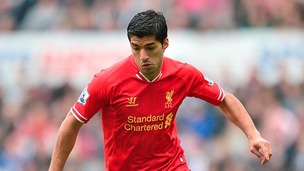 Former Liverpool midfielder Dietmar Hamann feels the club will be better off in the long term without Luis Suarez.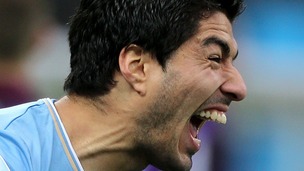 After being banned for 9 international games and from all football for 4 months we look at the previous controversies involving Luis Suarez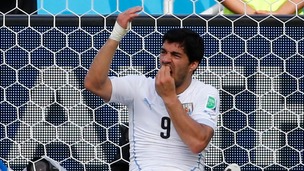 Suarez needs to be frustrated on the training ground so he can learn how to respond differently, a sports psychologist has told ITV News.
Live updates
Liverpool manager Brendan Rodgers has spoken of his wish to sign more players before the new Premier League season kicks off.
He was speaking at the University of Ulster where he received an honorary degree for his 'outstanding contribution to sport'.
Luis Suarez gets nine match ban over 'bite' incident
Sportswear giant adidas says its 'reviewing all marketing activity involving Luis Suarez'.
The Liverpool striker has been banned from all football for four months after being found guilty of biting for the third time.
Suarez's boot deal with adidas could be in jeopardy after the sportswear manufacturer announced on Thursday that it would consider its partnership with the 27-year-old, who has returned to Uruguay after his World Cup accreditation was withdrawn.
His contract with 888poker was terminated on Friday.
Advertisement
Luis Suarez gets nine match ban over 'bite' incident
National
Diego Maradona has attacked Fifa's ban on Uruguay and Liverpool striker Luis Suarez as "criminal" and said world football's governing body might as well handcuff the striker and lock him up in Guantanamo prison.
Maradona, who made to comments during his soccer commentary programme broadcast on Venezuela's Telesur and Argentine public television on Thursday night, asked: "Who did Suarez kill?"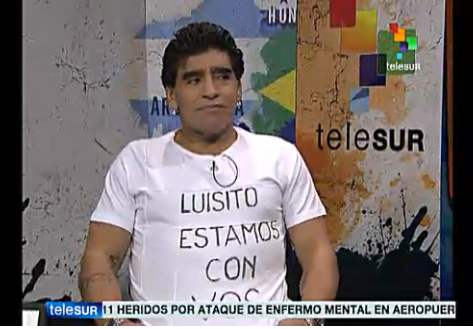 The Argentine footballing legend added: "This is football, this is contact.
"They may as well handcuff him and bring him to Guantanamo directly.
"If he made a mistake, fine, they should punish him, but they shouldn't exaggerate, they shouldn't be moralistic."
Maradona, who like Suarez rose to fame from a poor background, fervently defended Suarez throughout the programme and unveiled a T-shirt with the words "We're with you Luisito" scrawled on the front.
Adam Lallana signs for Liverpool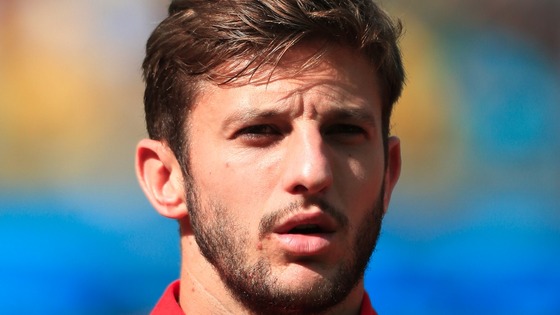 Adam Lallana is undergoing a medical at Melwood, ahead of a £25 million move to Liverpool, according to reports.
The Southampton midfielder is understood to be joining former teammate Ricky Lambert, who joined the Anfield club earlier this month.
Luis Suarez gets nine match ban over 'bite' incident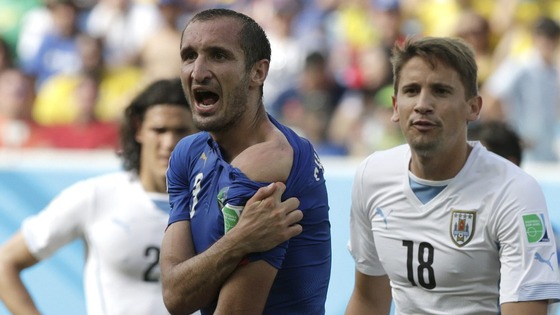 Italian defender and victim of Luis Suarez's latest bite Giorgio Chiellini has spoken for the first time since FIFA confirmed it's ban on Thursday. The Liverpool striker was handed a four-month suspension from all football and fined 100,000 Swiss Francs:
"Now inside me there's no feelings of joy, revenge or anger against Suarez for an incident that happened on the pitch and that's done. There only remain the anger and the disappointment about the match," reads a statement from Chiellini on his own website.
"At the moment my only thought is for Luis and his family, because they will face a very difficult period.
"I have always considered unequivocal the disciplinary interventions by the competent bodies, but at the same time I believe that the proposed formula is excessive.
"I sincerely hope that he will be allowed, at least, to stay close to his team mates during the games because such a ban is really alienating for a player."
Luis Suarez gets nine match ban over 'bite' incident
One of Luis Suarez's sponsors has dropped its relationship with the Liverpool striker.
An 888poker statement said: "888poker signed Luis Suarez following a fantastic season for which his achievements were widely recognized.
Regrettably, following his actions during Uruguay's World Cup match against Italy on Tuesday, 888poker has decided to terminate its relationship with Luis Suarez with immediate effect."
Advertisement
Luis Suarez gets nine match ban over 'bite' incident
National
The Uruguay football association has told local media it will decide whether to appeal Luis Suarez ban in the coming hours.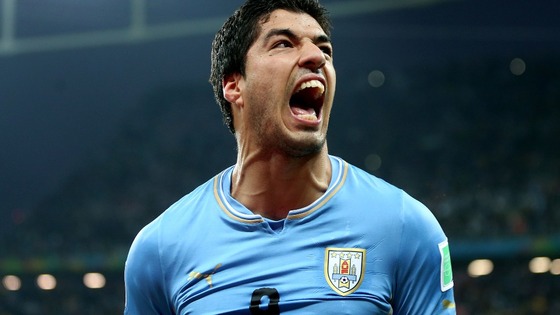 Luis Suarez gets nine match ban over 'bite' incident
National
ITV News has captured footage of Liverpool and Uruguay striker Luis Suarez training with his national team earlier today. Fifa has since banned him for nine matches and for four months from all football-related activity.
Luis Suarez gets nine match ban over 'bite' incident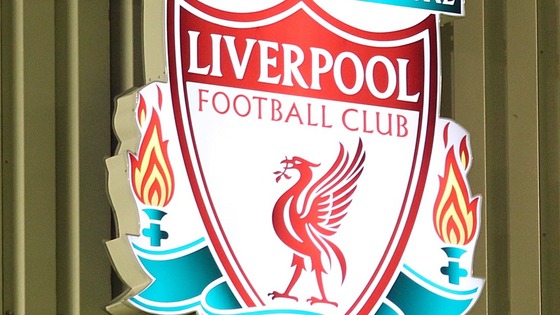 Liverpool Football Club has released the following statement in response to the FIFA Disciplinary Committee's decision regarding Luis Suarez.
Ian Ayre, chief executive officer, said: "Liverpool Football Club will wait until we have seen and had time to review the FIFA Disciplinary Committee report before making any further comment."
Luis Suarez gets nine match ban over 'bite' incident
National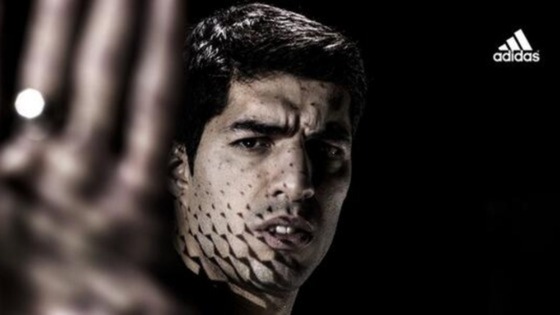 Adidas officials have said they "fully support FIFA's decision" in banning Luis Suarez for biting an opponent during a World Cup match.
A spokesman said: "Adidas certainly does not condone Luis Suarez's recent behaviour and we will again be reminding him of the high standards we expect from our players.
"We have no plan to use Suarez for any additional marketing activities during the 2014 FIFA World Cup.
"We will discuss all aspects of our future partnership directly with Suarez and his team following the World Cup."
Load more updates
Back to top