The Chorlton Runner who was carried across the London Marathon finish line has joked that he feels like a "slight fraud".
Read the full story ›
A former Marine from Bolton starts a 250 mile run on Monday to raise money for the Royal British Legion. It includes the London Marathon.
Read the full story ›
Advertisement
A runner from Lancashire has shared a 'phenomenal' moment with the world as he held hands with his idol Paula Radcliffe nearing the finish of the London Marathon.
Rob Danson, from Kirkham, is a member of the Wesham Road Runners, put out his hand to the race record-breaker 100m before the finish line.
Seriously though, what a moment, and one I will cherish forever, never forget & find extremely difficult to ever beat in running. Phenomenal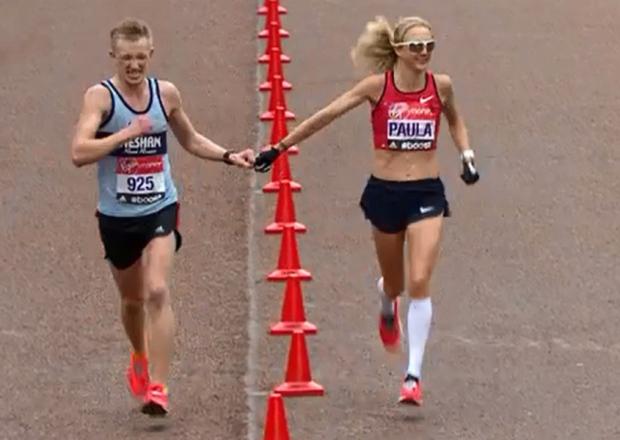 Th pair did it as the first London Marathon was won jointly by two men who held hands to cross the finish line 35 years ago. It was Paula's retiring race.
The pair, who hugged after crossing the finish completed the race in two hours and 36 minutes.
There will be a lot of sore feet across the region today after this year's London Marathon.
Thousands of people travelled down to the capital, many returning with cash for good causes.
Among them, a man called Mark Maddox from Liverpool who became one of the first to people with Motor Neurone Disease to take part in the race.
Our Merseyside correspondent Andy Bonner reports.
A former professional footballer is aiming to become the first person with motor neurone disease to run the London Marathon.
Read the full story ›