England's 112 motorway services have been ranked from best to worst in a new survey by Transport Focus.
Read the full story ›
main carriageway from j18 still closed - also the slip j18 traffic can get back on the m6 at j17
The M6 Southbound in Cheshire is closed because of an oil spillage caused by an overturned lorry.
The carriageway is closed betweeen J18 (A54 Middlewich/Holmes Chapel) and J17 (A534 Sandbach/Crewe)
Work to recover the overturned lorry is underway.
Traffic is advised to follow the Solid Square diversion - leaving then M6 at J18 and then take the A54, A50, A534 to re-join the M6 at J17.
Police are asking people to be patient when trying to contact them as they are receiving a high number of calls.
Advertisement
The Thelwall Viaduct near Lymm has been completely shut southbound as emergency services work to put out the blaze.
Witnesses say traffic is back up for miles because of the fire between J21 at Woolston and J20 the Lymm Interchange.Police are urging motorists to avoid the area and find alternative routes if possible warning of long delays.
Anyone stuck in the congestion is asked to stay in their vehicles while the incident is ongoing.
NW Motorway Police tweeted:
We have pedestrians leaving their vehicles and walking toward the scene,please don't this is not SAFE.

Vehicles stuck in the traffic M6 sb at J21 are not to turn and go against the flow of traffic, we have further fire engines making.
– NW Motorway Police
Sorry, this content isn't available on your device.
Police have now confirmed that one lane has been opened to relieve traffic.
Sorry, this content isn't available on your device.
Sorry, this content isn't available on your device.
M6 Northbound blocked, stationary traffic due to accident, eight vehicles involved between J26 M58 / A577 (Orrell Interchange) and J27 A5209 (Standish), congestion on M6 to J23 A580 (Haydock).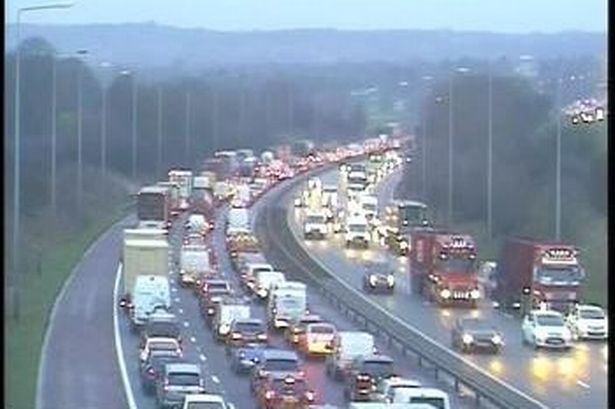 Police are appealing for witnesses after a man died on the M6 in the early hours of this morning when he crashed into a tree between junctions 33 and 32.
The driver, a 75 year old man, was sadly pronounced dead at the scene.
Sgt Claire Pearson of the Road Policing Unit said: "We are trying to establish how this collision occurred and I would ask anyone who witnessed the collision or saw the Fiesta on the hard shoulder to contact us."
Advertisement
Clark Greenwood, 62 years of age, and from Ashton-Under-Lyne was seriously injured in the collision which happened late on Saturday evening. Mr Greenwood was a passenger in a Ford Focus car which collided with a broken down on the carriageway of the M6. He sadly died on Sunday.
Clark Greenwood's family said: "We are heartbroken to have lost our dad, granddad, brother, uncle, and friend. Clark was a wonderful and funny family man and to lose him in these circumstances is so sad. His comedic outlook on life and his overwhelming kindness is an inspiration to us all."
One man is critically ill and three others were injured when their Ford Focus struck a broken down Mercedes in the centre lane of the M6.
The cars collided when the Mercedes had been abandoned after it broke down in stationary traffic and could not be restarted.
The abandoned vehicle had been reported to Cheshire Police when the occupants realised it could not be moved and warnings signs were set to advise motorists of the danger as traffic officers were dispatched to the scene.
A 62-year-old man, remains in hospital in a critical condition.
Two others, aged 29 and 48, were treated for injuries.
A third man, 57, was not seriously injured.
All are from the Rochdale area.
The occupants of the Mercedes, all from Bradford, were not harmed and awaited recovery at the side of the motorway.
The incident happened just before 11pm last night between junctions 17 at Sandbach and 18 at Holmes Chapel.
As the collision occurred after Cheshire Police had been notified, a voluntary referral to the Independent Police Complaints Commission has been made by the force.
Witnesses should ring Cheshire Police on 101.
Barrow MP John Woodcock is calling on ministers to explain the rise in the number of accidents and road closures on the northern M6 in the last three years.
He also says that the average length of time it takes to reopen the road after an accident has more than tripled.
An investigation is underway after a man died after being hit by a car on the M6 motorway last night.
The man, from the Blackpool area, had earlier failed to stop for a police patrol in Blackpool at about 9pm. He then made off at speed in a grey Ford Focus Sport.
He made his way on to the M55 and then on to the M6 southbound. At about 9.20pm and around one mile north of Charnock Richard services he stopped the car on the hard shoulder and crossed the three lanes of the southbound carriageway on foot. He was then hit by a car on the northbound carriageway.
The motorway was closed in both directions between Junctions 27 and 28 but reopened around 8:30 this morning.
An investigation is underway to establish the full circumstances and the matter has been referred to the Independent Police Complaints Commission.
Load more updates