Flights at Manchester Airport were disrupted earlier due to a "potential drone sighting" in the area.
Some flights were delayed at Manchester Airport and some were diverted to other airports while a police helicopter investigated the report of the sighting.
But nothing was found.
"Due to a report of a potential drone sighting in airspace near to the airport, some flights have experienced short delays and a small number of flights have diverted to alternative airports while Greater Manchester Police carried out an investigation using their police helicopter.

"Upon inspection, nothing was found. As the safety and security of all of our passengers is paramount, operations on runway one were suspended for 20 minutes. Runway two, which was unaffected, will remain open for an hour so normal traffic flows can resume."
– A Manchester Airport spokeswoman
A drug smuggler who risked his life by swallowing more than 70 bags of cocaine before boarding a flight to Manchester has been jailed for five years.
Wade Williams, 53, was stopped by Border Force officers on Valentine's Day after his flight from Barbados landed at Manchester Airport.
The incident adds to another high profile case, with another smuggler caught at Manchester Airport last month.
It's understood Williams, of Georgetown, Guyana in South America, began to 'produce' the packages after high-tech border checks and during questioning and he was promptly taken for an X-ray.
The scan confirmed he had swallowed 1.5 kilos of high-purity cocaine in 72 small packages - each the size of a 'large gherkin'.
The drugs' likely street value once cut would have been £200,000. The bags were so potent that had just one of them split it could have been fatal.
This demonstrates the desperation shown by smugglers to get illegal drugs into the UK. His actions were foolish to say the least - had just one of the 72 packages swallowed by Williams broken or split it is likely the consequences would have been fatal.

It also shows that it doesn't matter how well traffickers hide the drugs, we can still find them and stop them.
– Rob Miles, head of the National Crime Agency's Manchester border investigation team
Advertisement
An inaugural Virgin flight from Manchester to Atlanta was delayed for a day – after fire crews sprayed it with FOAM instead of water during a salute.
The first flight had been due to take off at 10.35am yesterday, with the bigger Airbus A330-300 taking over from Delta's Boeing 757-200 aircraft, boosting passenger numbers from 164 to 266.
It's understood the salute often carried out by airport fire engines to celebrate a new flight went awry after fire suppressing foam shot out from one of the vehicles. The blunder put the aircraft temporarily out of action by clogging up the vital and sensitive jet engines and hi-tech turbine blades delaying the flight by a day.
The M56 will be closed this weekend at Manchester Airport. The motorway will shut in both directions between junctions 5 and 6 for work to install a £5.5m new bridge after the old one was demolished. It will close at 10pm tonight.
The simple message is that the M56 is closed this weekend at Manchester Airport and unless you need to catch or meet a flight then please, please stay clear for everyone's sake.

"Local roads around the airport will be very busy so we appeal to anyone who does not need to travel to the airport or communities in the area to avoid the M56." More
– Highways Agency project manager Mark Mosley
Mark Mosley Project Manager for the Higways Agency says Manchester United supporters are being urged to follow the official diversions for tomorrow's match at Old Trafford, and on Sunday, City fans are being warned to use alternative motorways for their game at Anfield.
ALERT Flybe flight #BE7354 has landed at Paris CDG after declaring an emergency during their flight from Manchester to Milan - @newshazbail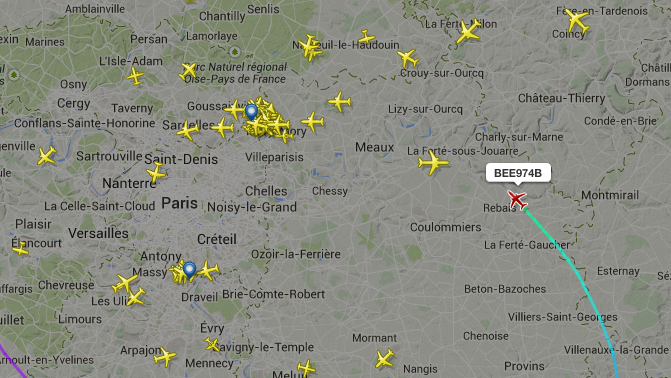 Advertisement
The very first tram on the brand new Manchester Airport Metrolink landed this morning.
Trams from the airport will run as far as Cornbrook in South Manchester, the new line means that the airport is now accessible by tram, train and bus.
The line opened a year ahead of the planned schedule.
The Metrolink line to Manchester Airport will take its first passengers today a year ahead of schedule.
Trams from the airport will run as far as Cornbrook in South Manchester.
Wayne Poole, Passenger Services Director, Manchester Airport Group says residents and travellers will both benefit.
A passenger jet may have come within moments of hitting a person-shaped object as it flew towards Manchester Airport.
Read the full story ›
Ebola screening for travellers arriving in Britain from affected areas in West Africa is to be extended to Manchester and Birmingham airports, the head of Public Health England has said.
In his weekly message to staff, Duncan Selbie said that once the existing measures covering Heathrow, Gatwick and the Eurostar terminal at St Pancras had "settled", they would be rolled out to other ports of entry.
Next week the focus will be on Gatwick and St Pancras and, once settled there, we will then move to include Manchester and Birmingham," he said.

I appreciate very much that we are taking people away from their normal work, and please be assured that we are thinking hard and listening carefully to those on the ground to see how we can make this more sustainable.

What I am certain of is that we have the people who know how to keep the country safe and that is exactly what we will do.
– Duncan Selbie, head of Public Health England.
Load more updates