ALERT Flybe flight #BE7354 has landed at Paris CDG after declaring an emergency during their flight from Manchester to Milan - @newshazbail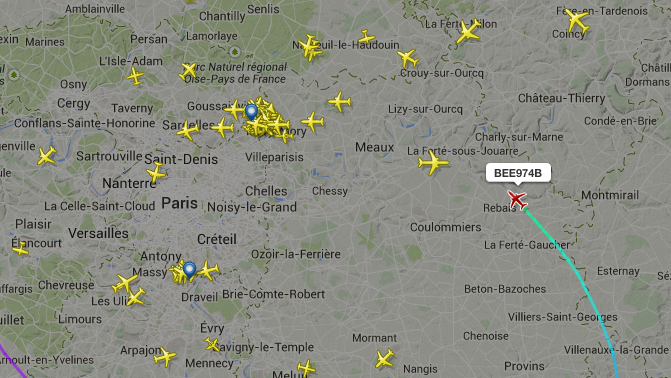 Advertisement
The very first tram on the brand new Manchester Airport Metrolink landed this morning.
Trams from the airport will run as far as Cornbrook in South Manchester, the new line means that the airport is now accessible by tram, train and bus.
The line opened a year ahead of the planned schedule.
The Metrolink line to Manchester Airport will take its first passengers today a year ahead of schedule.
Trams from the airport will run as far as Cornbrook in South Manchester.
Wayne Poole, Passenger Services Director, Manchester Airport Group says residents and travellers will both benefit.
A passenger jet may have come within moments of hitting a person-shaped object as it flew towards Manchester Airport.
Read the full story ›
Ebola screening for travellers arriving in Britain from affected areas in West Africa is to be extended to Manchester and Birmingham airports, the head of Public Health England has said.
In his weekly message to staff, Duncan Selbie said that once the existing measures covering Heathrow, Gatwick and the Eurostar terminal at St Pancras had "settled", they would be rolled out to other ports of entry.
Next week the focus will be on Gatwick and St Pancras and, once settled there, we will then move to include Manchester and Birmingham," he said.

I appreciate very much that we are taking people away from their normal work, and please be assured that we are thinking hard and listening carefully to those on the ground to see how we can make this more sustainable.

What I am certain of is that we have the people who know how to keep the country safe and that is exactly what we will do.
– Duncan Selbie, head of Public Health England.
Advertisement
A passenger jet carrying 278 people was returned to Manchester Airport shortly after departure today when the captain reported a technical fault.
The flight to Dalaman in Turkey, operated by a Thomas Cook Airlines, was turned around shortly after its departure from Manchester at 7.15am.
During the early part of the flight, when the aircraft was still in UK airspace, a technical fault was reported and as a precaution the flight returned to the airport.
The plane is now being examined by engineers and passengers will be placed on an alternative aircraft.
We can confirm that flight TCX2534 from Manchester to Dalaman landed normally after a priority landing was requested by the Captain - the aircraft returned to Manchester and our engineers are now inspecting the aircraft.

"We'd like to thank our customers for their patience during the delay to the start of their holiday."
– Thomas Cook Airlines
Vernon Kay, Gary Lineker and Gok Wan will be joining 200 runners on Sunday 21st September for a charity runway run at Manchester Airport. The 4k run is in aid of two special children's charities Flying Start and a medical centre in the african country of Uganda.
Runners and walkers will wear red outfits to complete the course around the edge of the runway.
Passengers waiting to go on holiday at Manchester airport were seen queueing out of the terminal doors and through the car park early on Friday morning.Security measures have been increased at airports across the UK this week after a terror warning from the United States authorities.
Police have made an arrest under the terrorism act after a man was stopped at Manchester airport.
Abdul Benhammedi from Whalley Range was detained last Friday. The 20 year old is charged with possessing an article for a purpose connected with terrorism. He'll appear at court later.
Load more updates